The latest news stories across the state of Oregon from the digital home of the Oregon coastal cities, OregonBeachMagazine.com
Tuesday, September 21, 2021
Oregon Beach Weather
Today– Mostly sunny, with a high near 75. Northeast wind 5 to 8 mph becoming west in the afternoon.
Wednesday– Cloudy through mid morning, then gradual clearing, with a high near 66. Light and variable wind becoming northwest 6 to 11 mph in the afternoon. Winds could gust as high as 18 mph.
Thursday– Sunny, with a high near 69. North wind 6 to 14 mph, with gusts as high as 22 mph.
Friday– Sunny, with a high near 73.
Saturday– Mostly sunny, with a high near 66.
ODOT Construction on Hwy 101 Starting in Florence
Oregon Department of Transportation is starting working on phase 2 of the ADA curb ramp project and replacing the bridge deck on the Siuslaw River Bridge.
ODOT will be replacing the bridge deck on the Highway 101 Siuslaw River Bridge. Construction staging started on Sept. 20 and the deck replacement will begin on Oct. 11.
What to Expect:
Sept. 20 to Oct. 11: Crews installing scaffolding from 8:30 a.m. to 3:30 p.m. One lane of traffic controlled by flaggers as needed.
Oct. 11 to Oct. 16: Crews replacing the deck from 8 a.m. to 5 p.m. One lane of traffic controlled by 24 hour flagging.
Oct. 17 to Oct. 29 Periodic flagging as needed to finish installing counter weights.
ADA Curb Ramp Project – ODOT is restarting construction on 161 ADA curb ramps on Highway 101 through Florence.
"The project was split into two phases," said Shane Prohaska, resident engineer. "The first phase was completed earlier in the year and the second phase starts this week. We estimate completing the project by February 2022. ​Some work is weather dependent and may change our schedule."
What to Expect:
Pedestrians, including those with disabilities, will have access through or around the work zone. The path will be marked with signs.
There will be noise and dust during work hours.
Only one corner of each intersection will close at a time.
Work may occur at multiple intersections at the same time.
Work may be done during the day or at night depending on the traffic and can occur between Sunday, 6 p.m. and Friday, 9 a.m.
Visit the project webpage at www.oregon.gov/odot/projects/pages/project-details.aspx?project=22118 for more information on construction staging and traffic impacts.
For 24/7 road conditions and traffic alerts visit tripcheck.com or call 5-1-1. Check out the interactive construction map at TripCheck.com for the most up to date information on road conditions and congestion.
UPDATE: Fatal Crash on Hwy 126W Near Walton
On Monday, September 20, 2021 at approximately 7:14 AM, Oregon State Troopers and emergency personnel responded to a four-vehicle crash on Hwy 126W near milepost 37.
Preliminary investigation revealed a Kenworth log truck, operated by Shane McVay (64) of Eugene, was eastbound when the loaded trailer tipped over.
The trailer struck a westbound Toyota Prius, operated by Sarah Susman (25) of Springfield and a Dodge Ram towing a boat, operated by Randall Tokich (70) of Eugene. The Dodge Ram then struck an eastbound Ford Mustang, operated by Jordyn Tippett (20) of Coquille.
McVay and Tippett were transported to Sacred Heart Medical Center at Riverbend with injuries. Tokich had minor injuries.
Susman sustained fatal injuries and was pronounced deceased.
Western Lane Ambulance District officials confirmed Monday afternoon that one of their employees was killed in a crash on Highway 126 east of Walton earlier in the day.
In a Facebook post, they said Sarah Susman was headed into work when the crash happened. She was a part-time employee with the district.
The highway has been closed since just after 7 a.m. According to Lane Fire Authority, commuters could expect a lengthy closure and detours. Traffic was being detoured to Highway 36 at Mapleton and Poodle Creek Road, the Oregon Department of Transportation said.
During the closure, officials will be removing logs from the road while law enforcement investigates and reconstructs the crash. An ODOT employee on scene said the closure could last the entire day. OSP was assisted by Lane County Sheriff's Office and ODOT. Oregon State Police
Oregon reports 3,359 new confirmed and presumptive COVID-19 cases, 25 new deaths
There are 25 new COVID-19 related deaths in Oregon, raising the state's death toll to 3,594 the Oregon Health Authority reported 3,359 new confirmed and presumptive cases of COVID-19 bringing the state total to 313,161.
The 25 new deaths and 3,349 new cases reported today include data recorded by counties for the 3-day period between Friday, Sept. 17 and Sunday, Sept. 19.
The new confirmed and presumptive COVID-19 cases reported today are in the following counties: Baker (26), Benton (74), Clackamas (258), Clatsop (15), Columbia (40), Coos (59), Crook (3), Curry (5), Deschutes (225), Douglas (115), Gilliam (1), Grant (3), Harney (18), Hood River (15), Jackson (226), Jefferson (32), Josephine (127), Klamath (56), Lake (16), Lane (363), Lincoln (35), Linn (171), Malheur (38), Marion (398), Morrow (14), Multnomah (413), Polk (55), Tillamook (19), Umatilla (49), Union (67), Wallowa (7), Wasco (23), Washington (313) and Yamhill (80).
Oregon reports 1,597 confirmed and presumptive COVID-19 cases on Sept. 17, 996 new confirmed and presumptive COVID-19 cases on Sept.18, and 766 new confirmed and presumptive COVID-19 cases on Sept.19.
Jackson, Josephine and Douglas counties in southwestern Oregon are currently among the 100 worst counties in the country for seven-day rates of COVID spread.
Coronavirus cases in Oregon declined for the third week in a row Monday, with new data showing a 10% weekly drop. In all, Oregon recorded 11,657 cases in the past week, averaging 1,665 a day. That's down by about 28% from the summer apex. But cases remain just above the winter peak.
In 2021, approximately 800,000 acres have burned across Oregon. In 2020, we watched as a million acres burned within just one week. While the weekend rain was welcome, we need more soaking days and nights to put an end to this year's fire danger.
New significant fire potential will be low today and through much of the workweek due to the wet weather received over the weekend. Fire danger will rise a bit during the week but no critical weather patterns are expected.
Despite recent rains, fuels are still extremely dry and can carry fire quickly. Fire restrictions are still in place on federal, state and private wildlands in Klamath and Lake counties. All open fires, campfires, and charcoal use are prohibited, restricting smoking to enclosed vehicles only, and prohibiting motor vehicle use except on designated roads and trails.
Cougar Peak Fire is 90,784 acres and 49% contained. There are now 13 active uncontained fires and complexes in the Pacific Northwest — 6 in Washington and 7 in Oregon.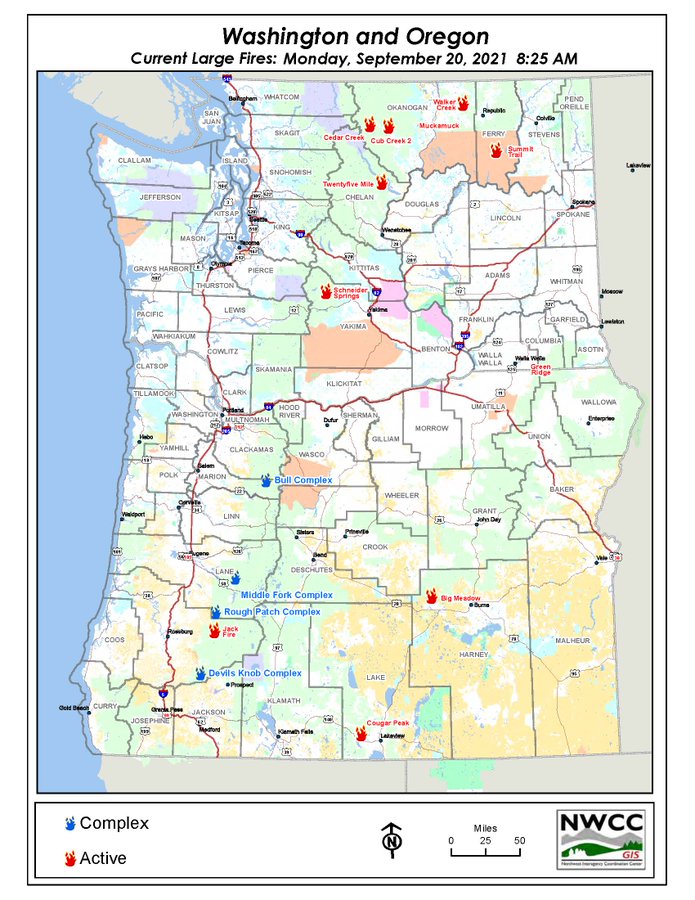 South Central Oregon Fire Management Partnership is moving to Industrial Fire Precaution Level III effective this morning. Fire Danger remains "Extreme" and Public Use Restrictions and Regulated Use Closures are still in effect. Commercial woodcutters and other members of industry are reminded of their responsibility to stay informed of current IFPLs and all restrictions that apply to activities conducted on public lands. Failure to comply with precautionary fire requirements may result in the issuance of a Violation Notice.
Discounted or Free Phone or High-Speed Internet Service For Eligible Oregonians
National Lifeline Awareness Week runs September 20-24, 2021
In celebration of National Lifeline Awareness Week, the Oregon Public Utility Commission is reminding Oregonians about Lifeline, a federal and state government program that provides discounted or free phone or high-speed internet service to qualifying low-income households.
Oregon Lifeline is currently offering a monthly discount up to $15.25 for phone service or $19.25 per month for high-speed internet service through participating service providers. Lifeline also offers free wireless voice minutes and data service from Access Wireless, Assurance Wireless, or enTouch Wireless. Oregon residents on federally-recognized Tribal lands may qualify for an additional $25 discount each month.
"We want to encourage all eligible Oregonians to take advantage of Oregon Lifeline services," said Megan Decker, PUC Chair. "This program helps eligible residents stay connected and provides access to local emergency services, healthcare, jobs, education, and other important resources."
Oregonians receiving benefits from select public assistance programs such as Medicaid or the Supplemental Nutrition Assistance Program (SNAP) may qualify for Oregon Lifeline, which is limited to one person per household for either the discounted or free service.
For additional information about the Oregon Lifeline program, call 1-800-848-4442, weekdays between 9 a.m. and 4 p.m., or view details online at: https://www.oregon.gov/puc/Pages/Oregon-Lifeline.aspx.
The Oregon Public Utility Commission (PUC) regulates customer rates and services of the state's investor-owned electric, natural gas and telephone utilities, as well as select water companies. The PUC mission is to ensure Oregon utility customers have access to safe, reliable, and high quality utility services at just and reasonable rates, which is accomplished through thorough analysis and independent decision-making conducted in an open and fair process. Oregon Public Utility Commission
Open enrollment for 2022 health coverage extended: Nov. 1 to Jan. 15
(Salem) – On Friday, the federal government announced the extension of the annual open enrollment period to purchase private health insurance for the 2022 plan year from Nov. 1 to Jan. 15.
Along with the extension, Oregonians will have the opportunity to access the most amount of financial savings that have ever been available through the Oregon Health Insurance Marketplace due to the American Rescue Plan.
The American Rescue Plan initiated additional savings by removing the upper income limit to qualify for financial assistance, and also decreased the amount of premium that consumers are responsible to pay before tax credits are available.
More than 80 percent of Oregonians have been determined to be eligible for financial help through the Marketplace since April 1 when American Rescue Plan provisions took effect.
Oregonians are receiving an average of $437 per month in premium tax credits to reduce their monthly premium under the expanded eligibility.
The Oregon Health Insurance Marketplace offers a quick snapshot of the plans and savings to eligible Oregonians. The tool, available at OregonHealthCare.gov/WindowShop, has been updated to correctly calculate additional savings now available to people shopping through the Marketplace. The window shopping tool will be enhanced again this Fall to allow Oregonians to determine if their preferred providers are covered by each plan. Oregonians will also be able to see if their prescription drugs are covered and what the estimated costs will be for prescriptions on each plan. Enhancements will be live in the tool in October.
Still need health coverage for 2021? You may be able to enroll under a special enrollment period. Start at OregonHealthCare.gov to get to the right application or to find an insurance agent or community partner organization to help complete the application and enroll. Insurance agents and community partners provide local, one-on-one assistance at no charge. This help is available virtually, on the phone, and in person following safety protocols.
The Oregon Health Insurance Marketplace, a part of state government, helps people get health insurance when they do not have job-based coverage, and do not qualify for the Oregon Health Plan or another program. The Marketplace is the state-level partner to HealthCare.gov. For more information, go to OregonHealthCare.gov.
DAS Publishes Annual Maximum Rent Increase for 2022
Salem, OR – The Oregon Department of Administrative Services last week published the annual maximum rent increase allowed by statute for calendar year 2022. The DAS Office of Economic Analysis has calculated the maximum percentage as 9.9%.
Following the passage of SB 608 in the 2019 legislative session, Oregon law requires DAS to calculate and post to its website, by September 30 of each year, the maximum annual rent increase percentage allowed by statute for the following calendar year. Per statute, OEA calculates this amount as 7% plus the Consumer Price Index for All Urban Consumers, West Region (All Items), as most recently published by the Bureau of Labor Statistics.
The allowable rent increase percentage for the 2022 calendar year is 9.9%. DAS will calculate and post the percentage for the 2023 calendar year by Sept. 30, 2022.
Information about the maximum annual rent increase percentage, as well as the provisions of ORS 90.323 and 90.600 (statutes governing rent increases), can be found on the OEA website.
For information on the new law, please see the full text of SB 608 at the link below. DAS does not provide legal advice regarding other provisions of SB 608.
Links:
Oregon Jobs Information Shifting Due to Pandemic
Oregon employers have been struggling to find workers all year due to the pandemic. There are many reasons for the state's labor shortage. Some workers are staying home to care for the kids; some don't want to work because they fear exposure to COVID-19; others don't feel they need to work after pocketing last year's stimulus money; some were still collecting expanded jobless benefits.
Above all, though, there's a simple mismatch between supply and demand. Oregon's job openings have been soaring even as the number of people looking for jobs has fallen.
That means that Oregon's job market is tighter now than it was in the winter of 2020, before the pandemic hit, when the jobless rate was near an all-time low.
The state's employers had nearly 98,000 openings last spring, according to a quarterly survey by the Oregon Employment Department. That's nearly double the number of openings just three months earlier and the highest tally, by far, in the eight years the department has been conducting the survey.
Oregon's jobless rate was in steep decline during the same period, from 10.3% in June 2020 to 5.6% this past June.
The number of job vacancies nearly doubled while the jobless rate fell by nearly half. Last spring, Oregon had 1.3 unemployed people for every open job. That's an extremely tight labor market by historical standards. Over the prior eight years, a stretch that included some of Oregon's strongest job growth on record, the average was 2.6 unemployed people per open job.
Complicating matters, Oregon's job openings aren't distributed equally.
Health care and hospitality had the most openings in the spring of any sectors, according to Anna Johnson with the employment department, each reporting around 20,000. That exacerbated the labor squeeze by amping up competition for workers within those industries.
Oregon's jobless rate continued to fall over the summer, dropping to 4.9% in August, suggesting that the job market remains tight.
Updated job vacancy data won't be available until October, but last month's job figures suggest that health care employment has been flat all year. The job vacancy data tells us that's not because the field has stopped hiring, instead, the issue seems to be that health care employers simply can't fill their open positions with qualified workers.
The job shortages have squeezed all kinds of employers, limiting hospital capacity, prompting restaurants to close early, and constraining electronics production, Oregon's largest export. The upside, for workers, is that the labor squeeze is prompting employers to pay more.
Oregon's average private-sector wage in August was $30.48 an hour, up 10.1% from February 2020, the last month before the pandemic. That's averaged out. Most jobs in Oregon really only pay minimum wage to $15 an hour now as employers have upped starting wages to attract employees.
Median household income ranges from a high of $82,819 in Washington County to a low of $39,579 in Wheeler County. Oregon's urban counties tend to have higher median household incomes than rural counties.
Household income can vary a lot depending on the age, race, and ethnicity of the householder. The location makes a difference too, as median incomes vary a lot by county, and households in urban counties generally have higher incomes than households in rural counties.
Newberg Elementary School Teacher Showed Up To School In Blackface To Protest Vaccine Mandate
An elementary school teacher in Newberg, Oregon, showed up to school in blackface last week and claimed to be portraying Rosa Parks to protest a COVID-19 vaccine mandate, according to the Newberg Graphic.
The state of Oregon imposed a vaccine mandate in August for K-12 teachers, saying they must be fully vaccinated by October 18.
The Newberg School District released a statement on Monday saying the district takes all incidents of racism seriously. The district said the teacher has been placed on administrative leave, though it's unclear from the district's statement if the teacher is being paid while on leave.
"Last Friday, one of our employees reported for work in Blackface. The employee was removed from the location, and HR has placed the employee on administrative leave," according to the statement. "The administration of Newberg Public Schools condemns all expressions of racism."
"The employee was removed from the location, and HR has placed the employee on administrative leave," the statement read. "The administration of Newberg Public Schools condemns all acts of racism."
The blackface incident is a part of a pattern of racist incidents in the school district.
Just last week a group of parents alerted the school district about a group chat that several students were in called "Slave Trade" where students would jokingly bid money on their Black classmates, called for their deaths, and asked for "another Holocaust."
The news of the "Slave Trade" game occurred hours before the Newberg school board went over a new ban on "controversial political symbols" in its schools, including Black Lives Matter and LGBT pride flags.
Guided Tours Open Again At Tule Lake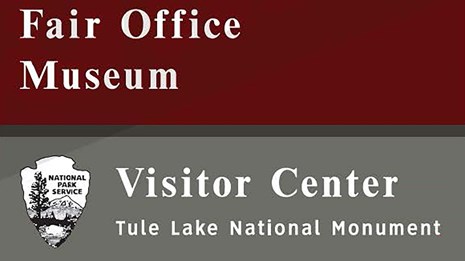 People wanting to learn more about the complex story of the "prison within a prison" at the Tule Lake National Monument can do so through ranger-led tours.
Visits to the prison were halted while repairs were being made to the 1943 building, one of the few remaining structures from the World War II camp.
At its peak, Tule Lake had 18,789 people of Japanese descent, two-thirds of them U.S. citizens, incarcerated at the camp near Newell. The stockage was built at the Tule Lake Segregation Center in 1944.
Ranger-guided tours explain how people from two families, one that was incarcerated at the camp and another of local farmers who lived nearby, were key figures in the prison's history.
Arrangements for ranger-guided tours of the Tule Lake Segregation Camp prison, which must be made at least two weeks in advance, can be made by calling the Tule Lake National Monument office at 530-260-0537 or Angela Sutton at 530-667-8119. https://www.nps.gov/tule/index.htm