The latest news stories across the state of Oregon from the digital home of the Oregon coastal cities, OregonBeachMagazine.com
Friday, September 9, 2022
Oregon Beach Weather
Active Weather Alerts
...AIR QUALITY ADVISORY IN EFFECT UNTIL 10 AM PDT SATURDAY...



The Oregon Department of Environmental Quality, and the Lane Regional Air Protection Agency has issued an Air Quality Advisory, which is in effect until 10 AM PDT Saturday

Wildfires burning in the region combined with forecasted conditions will cause air quality to reach unhealthy levels at times through Saturday.

More information about air quality can be found at: http://www.oregon.gov/DEQ
...RED FLAG WARNING REMAINS IN EFFECT FROM 11 AM THIS MORNING TO8 PM PDT SATURDAY FOR WIND AND LOW RELATIVE HUMIDITY FOR FIRE WEATHER 



* AFFECTED AREA...In Oregon, Fire Weather Zone 601 North Oregon Coast and Fire Weather Zone 612 Central Oregon Coast.

* WINDS...East 10 to 20 mph with gusts up to 40 mph.

* RELATIVE HUMIDITY...As low as 20 percent.

* IMPACTS...Conditions may be favorable for rapid fire spread
which may threaten life and property. Use extra caution with
potential ignition sources, especially in grassy areas.
Outdoor burning is not recommended.
...HAZARDOUS SEAS WARNING REMAINS IN EFFECT UNTIL 2 AM PDT SATURDAY...
...SMALL CRAFT ADVISORY REMAINS IN EFFECT UNTIL 2 PM PDT SATURDAY...



* WHAT...Very steep and hazardous seas 9 to 13 ft at 8 seconds and north winds 15 to 25 kt with gusts up to 30 kt.
 
* WHERE...Very steep and hazardous seas are expected for the outer waters and near Cape Blanco, with Small Craft Advisory conditions elsewhere.

* View the hazard area in detail at https://go.usa.gov/x6hks

PRECAUTIONARY/PREPAREDNESS ACTIONS...

Recreational boaters should remain in port. Commercial vessels should prepare for very steep seas and consider remaining in port until conditions improve.
Planned Power Shutoff Warning For Extreme Wildfire Conditions Along Coast
The utility that provides electricity to rural communities in north Lincoln County says it may cut power to customers there by 10 a.m. Friday as a precaution to lower the chance of wildfires in the Salmon River canyon.
Changing from a warning on Wednesday, Pacific Power said Thursday it may cut electricity to 12,000 customers stretching from Neotsu, Otis and Rose Lodge to communities in the Santiam and lower Umpqua river canyons.
"We continue to prepare to turn off power ahead of Friday's wind event," Pacific Power said Thursday evening on its website. "Wind prone, rural areas that are deeper in the mountains will experience shutoffs first. As the windstorm progresses throughout the day, additional shutoffs will happen."
Pacific Power said its "best estimate" of shutoffs could start about 6 a.m. Friday in portions of Linn, Marion and Douglas counties then move to the Otis area of Lincoln County, Tillamook and Polk counties by 10 a.m. "however it might be sooner if conditions warrant."
Utilities, fire agencies and weather forecasters became increasingly concerned Wednesday and Thursday about east winds forecast to hit western Oregon on Friday and Saturday – similar but not as strong as the winds that helped create conditions that lead to the devastating wildfires almost exactly two years ago.
Consumer Power, which is based in Philomath and provides electricity in the Alsea River valley east of Waldport, said it was considering shutoffs in the Sweet Home, Stayton, Detroit and other communities on the west slopes of the Cascades – but nothing so far in the Coast Range.
The Central Lincoln Peoples Utility District, which has customers stretching from Salishan in the north to North Bend in the south, said it had no immediate plans to shut off power but was monitoring weather and fire conditions.
"We are aware of the 'Red Flag' warning and we are monitoring what Pacific Power is doing," said CLPUD spokeswoman Chris Chandler.
While gusts of the dry, east wind are forecast to be 20 miles per hour lower than those of Sept. 7, 2020, they are expected to hit 30 mph in areas along the coast – a highly unusual event. Temperatures in coastal towns of Waldport and Lincoln City are expected to be 78-80 degrees Friday and Saturday, but reaching 87 degrees or higher for inland communities such as Otis and Tidewater.
Sunday, the weather is predicted to return to normal.
Although investigations into the causes of the massive Labor Day 2020 fires in Otis, the Santiam Canyon and elsewhere are still in progress, Pacific Power is being sued for damages after fires ignited when power lines were knocked down. The lawsuits claim the utility should have shut down power during a time of extreme danger– a practice now common in much of California.
Fire departments from Yachats to Lincoln City are calling in extra staff and asking any volunteers to be on hand during the weekend to help respond quickly to any fires or other emergencies.
Ironically, the east wind is hitting at the same time survivors of the Echo Mountain Fire in Otis are gathering Saturday afternoon to remember the fire that destroyed nearly 300 homes Sept. 7-8, 2020 and celebrate the ongoing recovery.
The Lincoln County Fire Defense Board, made up of chiefs from all fire departments in the county, has banned all types of outdoor burning at least through the weekend in all parts of the county.
Oregon State Parks, which sets rules for beaches, will prohibit fires on beaches and in its campsites from 8 p.m. Friday to 6 p.m. Sunday. Only propane cooking stoves with a shutoff valve will be allowed.
The Oregon Department of Forestry has put restrictions on state-protected lands in northwest Oregon including Lincoln County due to the fire danger. Restrictions start Friday and will close off-highway vehicle trails, ban campfires and close some forest roads.
Pacific Power issued a warning Wednesday alerting the public to a possible shutoff due to forecasted high winds during "extreme wildfire conditions."
Lincoln City was among a list of communities that could experience a "public safety power shutoff" around 10 a.m. Friday morning through late Saturday night.
CHECK PUBLIC SAFETY POWER SHUTOFF AREAS
"Our advanced weather modeling is indicating a potential for dangerous fire weather conditions," Pacific Power Meteorology Manager Steve Vanderburg said. "We're gaining an understanding of the impacts to our system this specific weather event could bring, and have issued Public Safety Power Shutoff notices to several Pacific Power communities."
From a Pacific Power news release:
A Public Safety Power Shutoff is a proactive effort to reduce wildfire risk during hazardous fire weather conditions, including extremely low humidity, dry vegetation, elevated levels on key weather indexes and sustained winds and gusts. Current forecasts indicate conditions for a Public Safety Power Shutoff could be met around 10 a.m. Friday morning. The power shutoff could last late into Saturday evening.
Pacific Power sees the move as being proactive and an effort to reduce the risk of a possible wildfire. Power crews will actively patrol and remove debris from lines and make repairs as needed.
The Echo Mountain Wildfire that struck in 2020 had similar conditions prior, but the winds predicted Friday and Saturday are not as high and officials will be using the shutoff as a last resort.
Residents can find information on how to protect their homes and what supplies they should have on hand at Pacific Power's website.
For all non-emergency questions about the Public Safety Power Shutoff, customers and the public should call Pacific Power at 1-888-221-7070.
Missing Florence woman and daughter found UPDATE: Kristin and Skye Williams have been located and are in contact with family members. The Lane County Sheriff's Office thanks the public for their help in the case.
Extreme Fire Danger
Western Lane Fire and EMS responded to a report of an illegal burning last night south of the bridge just past Resurrection Lutheran Church.  This comes on the heels of a notice released by WLFEA Deputy Chief Matt House stating that Florence has been added to the Red Flag Weather Conditions that begin today and last through tomorrow evening.
House's statement placed the region at an Extreme Fire Danger level.  He stated that the region may return to a High Danger on Monday but for now people should use extreme caution.  ODF guidelines for Extreme Conditions limit all fire activity including the mowing of dried or cured grass, chainsaw use, and campfires.  Off Road motorized vehicle use is also prohibited in areas that include flammable vegetation.  This ban also includes campfires at all Oregon State Parks.
Planned Power Outages announced for Lane and Douglas Counties
Several power companies including Lane Electric, Pacific Power and the Eugene Water and Electric Board have announced they will be shutting off electricity to certain areas over the weekend of September 9 through September 11 to curtail the risk of a wildfire starting near electrical infrastructure.
In all cases, utilities companies said the power is being shut off to help guard against the possibility of fires starting in their coverage areas. With high temperatures, low humidity, and heavy winds in the forecast over the weekend, utilities are seeking to reduce the risk of power line-related fire ignitions. Other parts of Oregon including Linn County will see similar outages for the same reason.
Lane Electric sent an email to customers saying they will implement a planned electric shutoff starting at 5 p.m. on Friday, September 9 through the evening of Saturday, September 10. They say the communities of Oakridge, Lowell, and Veneta, as well as rural areas, will be affected. City centers of those communities will remain powered to provide key services. Power will be restored in the daylight hours of Saturday.
Pacific Power says it will be shutting off power in specific parts of Douglas County at 6 a.m. on Friday, September 9. The area from Toketee Falls east to Diamond Lake will be without power initially, with nonspecific "additional areas" added around 4 p.m. A temporary community resource center will be open at 8 a.m. to 10 p.m. on Friday and Saturday at Glide High School at 18990 north Umpqua Highway.
EWEB will be shutting off power for customers in the McKenzie Valley area starting at 5 p.m. on Friday evening. The company says about 3,000 customers east of Hayden bridge up to Vida will be affected, including the Camp Creek, Upper Camp Creek, Cedar Flats, Deerhorn, and Walterville areas. Customers are being told to prepare for at least 48 hours without power.
As Pacific Power continues to prepare for Public Safety Shut Offs ahead of Friday's wind event, the utility has updated its estimates of when the power will be shut off to specific communities and set up resource centers.
In Douglas County, the estimate is 6:00 a.m. for an area between Toketee Falls east to Diamond Lake with additional locations added around 4:00 p.m.
In Linn, Marion, Lincoln, Tillamook and Polk counties, the estimated shut off times vary between 6:00 a.m. and 10:00 a.m.
Locally, a temporary community resource center will be open from 8:00 a.m. until 10:00 p.m. Friday and Saturday at Glide High School, on the North Umpqua Highway. Other centers will be open in Marion and Linn counties as well. The facilities will have air conditioning, water, non-perishable snacks, seating, restrooms, televisions and Wi-Fi and other amenities. They could close earlier if power service is restored sooner.
For non-emergency questions about the shutoff, call Pacific Power at 1-888-221-7070.
Due to elevated wildfire conditions, Pacific Power is performing a Public Safety Power Shutoff in certain areas around the Umpqua National Forest, including the Diamond Lake area.
Chris Bentley of the UNF said it is an effort to prevent a fast-moving, hard to fight wildfire. It is only being used as an absolute necessity to ensure community safety. The shutoff could last through Sunday morning.
Bentley said impacts could include water systems at forest campgrounds, including wastewater and drinking water. Some campgrounds in the Diamond Lake area will have limited or no access to drinking water with potential access to shower facilities or flush toilets at more developed campgrounds.
Broken Arrow Campground and Wolf Creek Campground are closed through the weekend. The group site within Wolf Creek Campground will remain open. With the challenges to restoring water services to these two campgrounds, they may remain closed for the rest of the recreation season, reopening in 2023.
Bentley said all campers are asked to conserve water the best they can. It is recommended that campers bring a sufficient supply of their own water in case facilities are not available.
Campers should consider camping at campgrounds not affected by the power shut-off. More forest information is at: https://www.fs.usda.gov/umpqua
Pacific Power continues to monitor wind conditions, anticipates shut-offs later today
PORTLAND, Ore. – September 9, 2022 — Pacific Power continues to monitor the weather system closely. As of 9:30 a.m. Friday, September 9, early forecasted easterly winds near the Cascades and foothills are beginning to develop in the company's service area. The weather forecast for high easterly winds is still Friday through Saturday. As the weather system progresses throughout the day, the company is still anticipating Public Safety Power Shutoffs for specific communities and will provide advance notification to affected customers when possible before turning off power.
Douglas County: Monitoring / Watch
Linn County: Monitoring / Watch
Marion County: Monitoring / Watch
Lincoln County: Monitoring / Watch
Tillamook County: Monitoring / Watch
Polk County: Monitoring / Watch
Temporary Community Resource Centers are available and will remain open Friday and Saturday until 10 p.m. (unless service is restored earlier) at the following locations.
Douglas County – Glide High School – 18990 N. Umpqua Highway, Glide, OR 97443
Marion County – Bethel Baptist Church – 645 Cleveland Street, Aumsville, OR 97325
Linn County – Sankey Park – 877 14th Ave, Sweet Home, OR 97386
For all non-emergency questions about the Public Safety Power Shutoff, customers and the public should call Pacific Power at 1-888-221-7070.
Wildfires have burned through 168,000 acres across Oregon, with emergency power shutoffs by Portland General Electric, Pacific Power, and other smaller electric companies expected to hit thousands of households on Friday.
A red flag warning issued by the National Weather Service for Portland is in place until 11 p.m. on Saturday, with the agency warning of "rapid fire spread" which "may threaten life and property."
There are currently seven active wildfires raging across Oregon, with another two contained, according to the emergency response Northwest Interagency Coordination Center.
The largest is the Double Creek Fire, in the north-east by the Idaho border, which has consumed 100,182 acres.
Further south, just above Oregon Route 58, the Cedar Creek Fire has burned its way through 27,512 acres.
The third largest fire is in the Siskiyou National Forest, near the California border, where 21,227 acres have been destroyed by the Rum Creek Fire.
All three main fires were started by lightning, according to the Northwest Interagency Coordination Center.
On Wednesday, Portland General Electric said it expects to cut power to 30,000 Oregon households on Friday morning, lasting until Saturday night, in a bid to stop damaged powerlines causing more wildfires. These are forecast to take place in Washington, Clackamas, Marion and Multnomah counties, along with the Columbia River Gorge and Mount Hood foothills.
Utility companies Portland General Electric and Pacific Power announced Thursday that they could initiate public safety power shutoffs for areas of multiple counties over the next several days due to the threat of high winds and extreme wildfire conditions.
Pacific Power said that a notice went out to roughly 12,000 customers between Linn, Douglas, Lincoln, Tillamook, Marion and Polk counties. The warning applies from early Friday morning through Saturday.
Utility companies Portland General Electric and Pacific Power announced Thursday that they could initiate public safety power shutoffs for areas of multiple counties over the next several days due to the threat of high winds and extreme wildfire conditions.
Pacific Power said that a notice went out to roughly 12,000 customers between Linn, Douglas, Lincoln, Tillamook, Marion and Polk counties. The warning applies from early Friday morning through Saturday.
PGE's power shutoffs could impact even more people, an estimated 30,000 customers in 10 areas. The company said it intends to provide up to four hours' notice before shutting off power. An interactive map on the PGE website shows exactly where those areas are.
"Based on current information, PGE estimates a PSPS could be called on Friday morning, and power could be out through Saturday night," the company said in a statement. "Assuming this event duration and no damage to our system, power restoration would begin Sunday morning and power to customers could be restored by Monday night."
"Strong east winds will develop across western Oregon Friday and last into Saturday," "While these will be the strongest east winds we've seen since February, they will not be as strong as the east winds of September 2020. And they won't last as long. The winds will back off Saturday evening."
Pacific Power has been accused of starting or contributing to the devastating Oregon wildfires in September 2020 when their equipment failed during that historic wind event.
Public safety power shutoffs in areas at high risk of seeing extreme wildfire conditions have been increasingly adopted as a means of avoiding these risks. PGE and Pacific Power have each used them in the past, but they were not employed widely enough during the 2020 event to address all areas impacted by extreme wildfire conditions.
Weekend weather poses a significant risk of wildfire
Fire officials painted a dire picture of the weather expected this weekend during a Thursday press conference alongside Oregon Gov. Kate Brown.
"The combination of really dry winds, low relative humidity, and an unstable atmosphere can lead to explosive fire growth," said Travis Medema, chief deputy state fire marshal. "And we are very concerned about the next 72 hours and what that means, both in terms of new fires that start, but also larger fires on the landscape."
Medema said over 360 homes are under some level of evacuation due to wildfires across the state. In northeastern Oregon near the community of Joseph, over 100 homes are under evacuation due to the Double Creek Fire, which is burning through over 100,000 acres near the Hells Canyon National Recreation Area.
Another 260 homes in Klamath County are under evacuation due to the Van Meter Fire, 13 miles southeast of Klamath Falls. Medema said that fire "grew rapidly" Wednesday night.
Meanwhile, many fire agencies were able to leave the Rum Creek Fire area burning in Josephine County, which is starting to stabilize, Medema said.
Utilities plan outages for thousands of customers
More than 42,000 Oregonians will likely lose electricity as utilities plan to shut off power to prevent electrical equipment from potentially starting wildfires, utility company representatives said Thursday.
Emergency officials said all Oregonians should be prepared, regardless of where they live.
"Now is the time to charge your devices, ensure you have flashlights and batteries and those essentials like non-perishable food and water and extra medication in case you have to go without power for a couple of days or you need to evacuate your home due to a threat of wildfire," Oregon Department of Emergency Management Director Andrew Phelps said during the conference.
One of the most important steps Oregonians can take to prepare for potential outages is to update their contact information with their utility service, said Kandi Young, public information officer with the Oregon Public Utility Commission.
Oregonians are urged to prepare for planned shutoffs. Some people might also lose power beyond those areas if high winds damage power lines. It's a wind and weather event we're expecting.
"Customers might receive an outage due to weather and not necessarily because it's a planned outage," she said. The Oregon PUC regulates Oregon's three investor-owned utilities: PGE, PacifiCorp and Idaho Power. Under a 2021 law, utilities must produce a public report detailing the steps they're taking to prevent wildfires✎ EditSign✎ EditSign.
In Multnomah County, officials urged residents to keep phones charged and make plans in case of power outages.
Schools close over power outages
Several Oregon schools will be closed Friday due to planned power outages, meant to guard against the rising risks of wildfires over the next few days.
The Santiam Canyon and Sweet Home school districts are both in parts of Linn County that Pacific Power has said will lose power overnight Thursday. Both districts have canceled school in response.
In a message sent to customers, Pacific Power said the lights will start to go out at midnight.
"The Public Safety Power Shutoff will affect approximately 12,000 customers and begin at around 12:01 a.m on Friday, September 9 and could last through Saturday evening," the utility said.
The National Weather Service is anticipating high temperatures and strong winds — conditions that could fuel fires across a large part of the state.
In a statement to the Santiam Canyon school community, Superintendent Todd Miller said the challenges created for schools and families by a loss of electricity made closing school the only option.
"I don't like canceling school, especially the first week, but there are too many safety factors that play into this decision," Miller said. "First off, this event may be traumatizing for many who went through this two years ago and you want to hunker down with family."
In September 2020, wildfires fueled by similar weather conditions tore through the Rogue Valley and other parts of Oregon, including the Santiam Canyon, with downed power lines playing a role.
Speaking at a press conference on Thursday, Chief Deputy State Fire Marshal Travis Medema said: "We're really concerned about the next 72 hours."
Governor Kate Brown said: "Go to bed tonight with a plan in the event your family needs to evacuate or you wake up without power. If you're asked to evacuate, do so immediately."
Brown later tweeted: "The forecasted wind patterns, hot dry weather, and potential for lightning are making a challenging environment for increased fire danger in the coming days. There is also the possibility of public safety power shutoffs to mitigate potential fire risks.
"As with every fire season, we are prepared to do whatever it takes to protect you, your homes, and the places we all love and cherish."
The Van Meter Fire is burning on Stukel Mountain, 13 miles southeast of Klamath Falls.
The fire was reported on September 7, 2022, at 12:24 p.m. Current size estimate is 4,500 acres and no containment.
Fire personnel worked through the night again last night on structure protection and fire suppression.

A total of 260 structures are threatened and five structures have been confirmed lost to the blaze, one of which is a residence. All structures damaged are located on S. Poe Valley Road south of Beta Lane.
For up-to-date evacuation orders call- 541-205-9730.
Local animal businesses have also opened their doors to people who need to evacuate dogs and cats. Cherish K9 House is open for small dogs and cats. Those who are a client of Cherish K9 House are also able to bring in their pet
for evacuation, regardless of size. The dog day care center is located at 2006 Oregon Ave, Klamath Falls, OR 97601.
Double-C Dog Training is also taking in evacuated dogs. They are located at 4141 Washburn Way, Klamath Falls, OR 97603.
UnFurrgettable Pet Care is also open for all evacuated cats and dogs. They are located at 601 S. 5th St, Klamath Falls, OR 97601.
Significant fire potential remains elevated today due to the combination of high fire danger and hot, dry, and unstable
weather.
Roseburg Forest Products Co., the operators of the veneer mill at the center of the Mill Fire, is investigating whether the possible failure of a water-spraying machine from a third-party equipment manufacturer led to the ignition of the Sept. 2 structural fire.
Roseburg's mill produces its own electric power in a co-generation facility fueled by wood remnants. The generator ejects ash after consuming the wood; that ash is sprayed with cooling water, using a third-party-supplied machine. Roseburg is investigating whether the third-party machine failed to cool the ash sufficiently which thereby ignited the fire.
Although the origin of the fire is still to be determined, Roseburg plans to proactively provide up to $50 million for a community restoration fund for the initial recovery needs of impacted residents. The fund will assist residents with temporary shelter, medical supplies and treatment, transportation, clothing, food and water, and childcare/day care services.
Many members of the community are Roseburg employees, who along with their families, have been impacted by the fire. Roseburg team members will be offered counseling and other support services by the company.
The Oregon Office of State Fire Marshal requests additional support ahead of heightened wildfire conditions
To boost capacity ahead of forecasted east winds and heightened wildfire conditions, the Oregon Office of State Fire Marshal has ordered three Washington task forces from Snohomish, King, Pierce, Kitsap, Chelan, and Clark counties through the Emergency Management Assistance Compact (EMAC).
Of the Washington task forces, one is assigned to the Double Creek Fire in Northeast Oregon. Two task forces will be pre-positioned in Wasco and Lane counties. These added resources will give the Oregon Fire Mutual Aid System added capacity to respond quickly should a fire happen and support local fire agencies.
"We want to thank the Oregon fire service and our partners from Washington for their dedication to protecting Oregon communities," Oregon State Fire Marshal Mariana Ruiz-Temple said. "This extra capacity will allow our office to be nimble and help local fire agencies during this critical point in the fire season. We ask those who live in Oregon and those visiting to be aware of the dry conditions and take the necessary steps to prevent sparking a wildfire."

Currently, the OSFM has an incident management team and 11 task forces assigned to the Double Creek Fire and Sturgill Fire in Northeast Oregon. Two strike teams were mobilized on Wednesday to support the Van Meter fire in Klamath County.
ABOUT RESPONSE READY OREGON
The OSFM's Response Ready Oregon initiative was created to help bolster capacity and modernize wildfire response within the Oregon Fire Mutual Aid System (OFMAS). The goal of Response Ready Oregon is to attack fires while they are small and keep them away from communities. To learn more about the OSFM, OFMAS, or Response Ready Oregon, visit oregon.gov/osp/programs/sfm.
Red Cross Cascades Region Urges Residents to be Prepared for Potential Increase of Wildfire Activity
People in Areas Under a Wildfire Watch, or Visiting Them, are Urged to Prepare
The Red Cross Cascades Region is currently supporting two evacuation shelters in Oregon. One for the Rum Creek fire near Grants Pass and another in response to the Van Meter fire burning not far from Klamath Falls.
Trained volunteers are on hand to provide evacuees with food, water and a safe place to sleep. The Red Cross Cascades Region is closely monitoring the changing weather conditions that could make new or existing wildfires spread more rapidly and potentially force new evacuation shelters to open.
For up-to-date information and alerts about emergencies in your area and shelter locations, download the Red Cross Emergency App from your app store. It's free and available to both iPhone and Android users.
The Red Cross urges everyone to be prepared should a wildfire occur in your area.
"Disasters can happen anywhere," says Rebecca Marshall, Regional Disaster Officer, for the Red Cross Cascades Region. "With the forecast calling for high winds and an increased wildfire risk across much of our region, it's important to take the time now to get your family and home prepared. If you are able, you can also register to become a trained Red Cross volunteer to help those in your community."
Follow the steps below to keep your family safe.
Gather your family or household members and delegate responsibilities.
Assemble an emergency kit to take with you when you evacuate. For a detailed list of items to include visit www.redcross.org/get-help/how-to-prepare-for-emergencies.html
Prepare an information kit with important documents like medical, banking and insurance records.
Save a list of emergency numbers on every cellphone.
Plan ahead for your pets and livestock. Ask local officials where you can bring them.
Identify a place to meet in case you are separated.
Plan and practice several evacuation routes from your neighborhood.
If an evacuation is imminent:
Tune in to local radio and television stations for updated emergency information.
Limit exposure to smoke and dust. Keep indoor air clean by closing (but not locking) windows and doors. Close curtains, shutters, and blinds. Use the recycle mode on your air conditioner.
Turn on exterior lights.
Remove flammable items from decks and porches.
Open gates for animals that cannot be evacuated.
Connect a hose to an outside spigot, mark any water sources on your property, and leave a ladder for firefighters.
Put your emergency kit in your car. Back your car into the garage or park it in an open space facing the direction of escape, with windows closed and keys in the ignition.
Put your best driver at the wheel. Turn on lights, drive slowly and watch out for emergency vehicles.

Evacuate as soon as the order is given. Don't delay.
Evacuation Levels – What Do They Mean?
Level 1 – "BE READY!" for potential evacuation.
Level 2 – "BE SET!" to evacuate. You must prepare to leave at a moment's notice.
Level 3 – "GO!" evacuate now. Leave immediately!
Click here for photos from the Rum Creek wildfire evacuation shelter.
About the American Red Cross:
The American Red Cross shelters, feeds and provides comfort to victims of disasters; supplies about 40% of the nation's blood; teaches skills that save lives; distributes international humanitarian aid; and supports veterans, military members and their families. The Red Cross is a nonprofit organization that depends on volunteers and the generosity of the American public to deliver its mission. For more information, please visit redcross.org or CruzRojaAmericana.org, or visit us on Twitter at @RedCross. —- American Red Cross – Cascades Region
We want to keep you informed about COVID-19 in Oregon. Data are provisional and change frequently. For more information, including COVID-19 data by county, visit our dashboard: http://ow.ly/BSWS50KEVEB
With hot weather in the forecast across Oregon, keep your community safe by learning the signs of heat-related illness and what to do if you see someone with symptoms. Remember to check in regularly with family, friends, and neighbors who are vulnerable to heat, especially if they live alone, are older, or don't have AC. If you or someone you know needs help finding a place to cool down, visit http://ow.ly/EkY550Km92X or call 211.
Oregon raises awareness of hope during National Suicide Prevention Month
In recognition of National Suicide Prevention Month and National Suicide Prevention Week (Sept. 4-10, 2022), Oregon Health Authority (OHA) and local partners are continuing efforts to increase awareness of ways everyone can help prevent suicide.
In 2020, Oregon had the 13th highest rate of suicide in the United States, with a total of 833 deaths. Oregon's suicide rate has stayed well above national rates since 2000. Suicide is also the second leading cause of death among youth aged 5-24.
"Suicide remains a persistent and yet largely preventable cause of death in Oregon," said Debra Darmata, adult suicide prevention coordinator at OHA. "Every death by suicide in Oregon carries a substantial and long-lasting ripple effect into our communities. We know that suicide prevention is everyone's business."
Oregon is brimming with advocates and champions for suicide prevention, including the Oregon Alliance to Prevent Suicide. Many organizations also have ongoing social media and awareness campaigns to join.
What can you do to help?
Research shows people who are having thoughts of suicide feel relief when someone asks after them in a caring way. Acknowledging and talking about suicide may reduce rather than increase thoughts of suicide. We all have a part to play in reducing stigma and ensuring people have hope, feel safe asking for help, and can get access to community-based support. You can also:
Photo courtesy: Bella Organic Farm
Some businesses are also using September to raise awareness. Bella Organic Farm on Sauvie Island in Portland, Ore., is using their seven-acre corn maze to promote 988, the number for the new national Suicide & Crisis Lifeline.
"We wanted to be able to spark conversation and to try to destigmatize the idea that you can't talk about your mental health and how you are feeling," said Sofia Kondilis-Hashem, marketing director at Bella Organic Farm, who helps design each year's maze. "We really wanted to do something that inspires hope in people. No matter who it is, you can always reach out to somebody."
If you or someone you know is experiencing a mental or behavioral health crisis, free help is immediately available.
988 Suicide and Crisis Lifeline
The 988 Suicide and Crisis Lifeline is available 24 hours per day, 7 days per week, via phone, text and online chat, offering people compassionate care and support from trained crisis counselors for individuals, families or their loved ones. One does not have to be suicidal to call 988 but can reach out when experiencing any behavioral health crisis. 988 call services are available in English and Spanish, along with interpretation services in more than 150 languages. Texting 988 and online chat are currently available only in English. Veterans and military service members can call 988 and press "1" to connect with the Veterans Crisis Line.
Oregon State Hospital to receive Oregon OSHA violations
SALEM, Ore. — The Oregon Occupational Safety and Health Division (Oregon OSHA) has notified Oregon State Hospital Hospital (OSH) that the hospital will be cited with three violations related to workplace violence and injuries in the areas of documentation, thorough investigation and response. Oregon-OSHA also warned the hospital of three additional issues on the same topics that could become a problem in the future if not addressed.
"One of our guiding principles at the hospital is to ensure the safety of both our patients and our staff," stated OSH Superintendent Dolly Matteucci. "Our staff deserve to come to work each day without the fear of being hurt. We know we have more work to do, and we know more thorough investigation of incidents will help us learn from what happened and prevent future occurrences."
Oregon Health Authority Director Patrick Allen echoed Superintendent Matteucci's statement about the importance of staff and patient safety. "Members of our hospital staff are getting injured while caring for patients, and that is not acceptable. Period. We must do better, and we will do better. We appreciate what the Oregon-OSHA violations bring to light, we will continue to partner with our hospital staff to find additional ways to prevent workplace violence."
Prior to the Oregon-OSHA investigation, OSH had started making proactive and operational changes to reduce workplace violence. Here is some of the work that is underway:
Workplace Violence Prevention Program

SAIF Corporation has hired a workplace violence prevention consultant to work with OSH. That consultation began last month. The work is expected to lead to more recommendations to reduce workplace violence and improve staff safety.

Broset Violence Checklist (BVC) Implementation

The BVC is an evidence-based risk assessment tool that assists in identifying patients at high risk for aggressive behavior within the next 24 hours.

Trainings

The Safe Together team is improving access for staff to attend drills, training opportunities and consultation.
One factor contributing to changes at OSH is a recent shift in the patient population. There has been an increase in "Aid and Assist" patients who are more likely to pose behavioral challenges until medication and other treatment has a chance to work. In addition, staff and patients have coped with inconsistent staffing, Covid-19 restrictions and other external demands.
OSH is expected to receive the official Oregon-OSHA report in the next 2-3 weeks.
Twenty People Arrested In Bend Human Trafficking Investigation
Bend Police say a several months-long investigation into human trafficking, sex work and luring of minors has led to the arrest of 20 people. Investigators put an emphasis on identifying and arresting people who are attempting to meet underage children for sex.
Bend PD says officers posted ads online, then posed as minors in both text and phone conversations. Over the course of the project, people at more than 200 distinct phone numbers answered officers' ads. Many of those people, upon learning they were apparently communicating with a minor, immediately cut off communication. However, of the 200-plus people who answered Bend Police's online ads and learned of a minor child being trafficked for sex, not one subsequently shared that information with law enforcement.
Police identified themselves as underage. Those arrested then agreed to meet, sometimes bringing drugs and alcohol to the agreed-upon location. Upon arrival, they were taken into custody on the above charges and lodged at the Deschutes County Jail.
During the course of the project, multiple people came forward and identified themselves as victims of sexual abuse at the hands of these suspects. Bend Police ask the public to contact nonemergency dispatch at 541-693-6911 if you or someone you know is the victim of any of these suspects.
The agency's goal is to identify traffickers and prevent this activity from taking place in the community. During the operation, Bend Police saw a significant decrease for demand in sex work, and by extension, a decrease in sex workers.
Bend Police also reminds parents, guardians and caregivers to stay involved in their children's digital world, know the apps they are using and implement parental controls when possible. Children should talk with a trusted adult so they understand online risks, only chat with people they know, and make sure their online accounts are private. There are people who target vulnerable youth via online apps and other internet sources, and we have to work together to keep our children safe.
During the investigation, police also arrested eight people who attempted to patronize adult sex workers. They were cited and released. Patronizing a prostitute is a Class A misdemeanor.
Bureau of Land Management to Round Up Horses
In September of 2020, the Bureau of Land Management (BLM) Lakeview District, Klamath Falls Field Office, began a wild horse gather on private property within and adjacent to the Pokegama Herd Management Area (HMA), located about 30 miles southwest of Klamath Falls.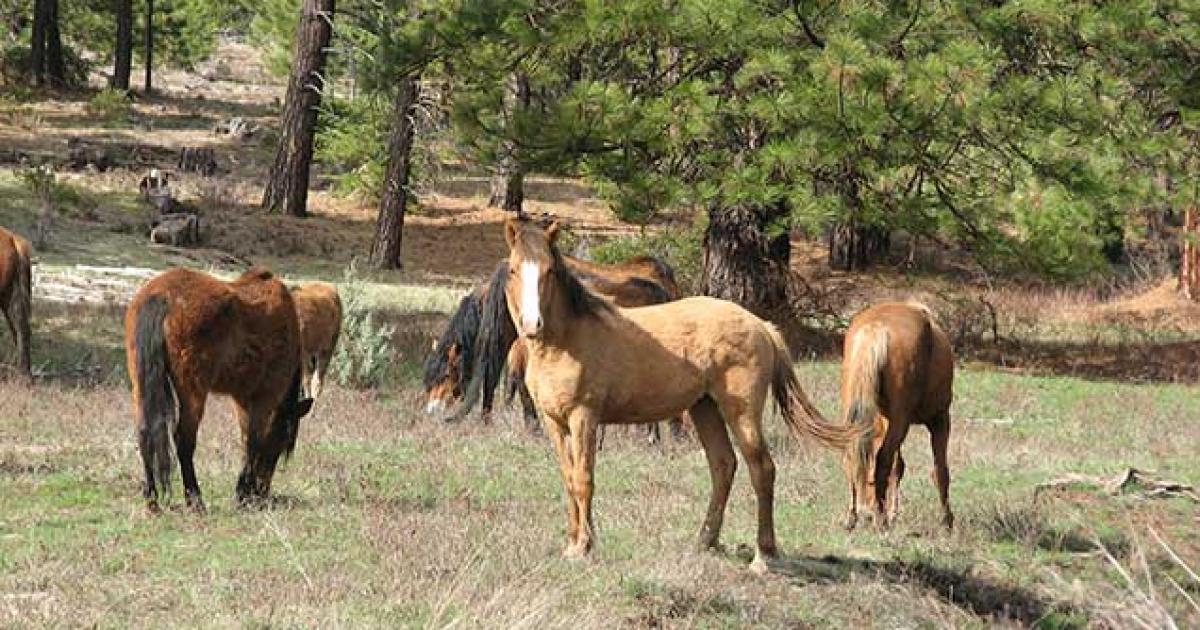 The BLM plans to resume this gather beginning mid-September 2022. The action is at the request of a private landowner to remove horses from private property within and adjacent to the HMA. The Pokegama HMA encompasses more than 80,885 acres of public and private lands.
The BLM plans to gather wild horses from private property only. No horses will be gathered from lands managed by the BLM within the HMA. The BLM will conduct gather operations utilizing temporary bait traps consisting of a series of corral panels stocked with water and hay; no helicopters will be used.
The appropriate management level (AML) for the Pokegama HMA is 30 to 50 horses. Based on the most recent survey, the current estimate is there might be as many as 230 horses within the area; however, the HMA is forested, making it difficult to count. The BLM's priority is to conduct safe, efficient and successful wild horse and burro gather operations while ensuring humane care and treatment of all animals gathered. The BLM and its contractors will use the best available science and handling practices for wild horses while meeting overall gather goals and objectives following the Comprehensive Animal Welfare Policy.
Due to the nature of the bait and water trap method, wild horses are reluctant to approach the trap site when there is too much activity; therefore, only essential gather operations personnel will be allowed at the trap site during operations. Due to private land restrictions, there will be no public viewing opportunities during gather operations or at the holding facilities.
All horses identified for removal will be transported to the BLM's Wild Horse Corrals in Hines, Ore. They will be checked by a veterinarian and readied for the BLM's wild horse and burro Adoption and Sale Program. For information on how to adopt or purchase a wild horse or burro, go to www.blm.gov/whb.
For technical information, contact Wild Horse and Burro Specialist Blair Street at 541-947-6184 or bstreet@blm.gov. MORE INFO: https://www.blm.gov/programs/wild-horse-and-burro/herd-management/herd-management-areas/oregon-washington/pokegama
The 10th Annual Klamath Independent Film Festival Exclusively Showcasing Made-In-Oregon Films
For the 10th anniversary of the annual Klamath Independent Film Festival (KIFF), exclusively showcasing made-in-Oregon films, a grand celebration will commence honoring arguably the greatest comedy film in history and shot on location in Oregon — National Lampoon's Animal House. Taking place Sept. 16-18 at the Ross Ragland Theater in Klamath Falls and streaming online via Eventive, the film festival will feature over 30 films shot in Oregon or made by Oregon resident filmmakers, including several world premieres and multiple films made in the Klamath Basin.
On-stage activities will be simultaneously livestreamed for online viewers and all films made available on-demand for a limited time.Opening KIFF will be a street festival on Friday, Sept. 16 complete with food trucks and beer garden, presented as an Animal House-style toga party. Activities will include a making-of documentary, "Animal House of Blues," a special presentation by original National Lampoon's Animal House Casting Director Katherine Wilson, and a screening of the iconic film complete with toga costume contest and "shout!" dance-off on-stage. The evening will culminate with a cast reunion featuring multiple actors from the film.
Attendees are strongly encouraged to dress up for the occasion in their best toga or college-related attire. The festival will continue on Saturday, Sept. 17 highlighting selected feature-length films shot across the state, including a special panel discussion highlighting the Modoc Wars and Klamath Tribes surrounding two films made about the Modoc Wars –"Modoc Nation: An Untold Story of Survival," and a narrative short film shot near Tulelake last year, "This is Their Land."
Saturday will culminate with a world premiere of a Klamath Falls-produced murder-mystery film, "Duplicity," with cast on hand for the screening. Sunday programming will open with a K-12 student film showcase and short film selections, ending with an awards ceremony that includes $5,000 in cash prizes and custom-made awards by the Southern Cascade Woodcrafters Guild. The Woodcrafters Guild, comprised of master craftsmen in the Klamath Basin, for the third year in a row will produce one-of-a-kind art pieces carved out of native Oregon wood specific to each of the winning films in each category.
Six awards will be distributed in total, divided geographically as northern and southern Oregon divisions among K-12 student films, short films (under 40 minutes in length), and feature films (over 40 minutes). The festival has garnered a reputation as the premier Oregon-centric film fest, drawing filmmakers and film fans to the Klamath Basin from across the Pacific Northwest for a multi-day celebration of Oregon's diverse landscape and artistic endeavors. It features animation, documentaries, and narrative films spanning many genres.
Additionally Klamath Falls last year was honored with a historic marker on the Oregon Film Trail in recognition of the film "Phoenix, Oregon" – made in Klamath Falls in 2018. KIFF is produced annually by Klamath Film – a 501c3 nonprofit that promotes, inspires and supports filmmaking through programming, education, and outreach. Among its endeavors is an annual youth film camp, various film showcases throughout the calendar year, professional film equipment and liaison support for film crews interested in filming in the Klamath Basin, and the annual Klamath Independent Film Festival.
The organization also hosts free monthly member meetings as networking opportunities that feature a Hollywood industry professional as featured guest each month, most recently Wilson regaling the participants with behind-the-scenes stories of the making of Animal House. Tickets for KIFF vary from single-day passes for $25, weekend passes for $40, an online pass for $40, and a festival-wide pass including online livestreaming/on-demand access for $50. Tickets to the opening night street festival and Animal House toga party celebration are $15. Tickets can be acquired in advance at www.klamathfilm.org/festival.
This is just a small compilation of missing women and their pictures in the area. There are of course women missing all over Oregon and men and children missing too. We don't mean to dismiss that, however, there is an inordinate amount of women who go missing each week and there could possibly be a connection with an anomaly or two here and there. Sadly most of them never get any attention. Family and friends must keep any information going and lead investigations so that they aren't just forgotten.
https://www.facebook.com/pg/Have-You-Seen-Me-Southern-Oregons-Missing-People-161249961222839/posts/