The latest news stories across the state of Oregon from the digital home of the Oregon coastal cities, OregonBeachMagazine.com
Thursday, October 7, 2021
Oregon Beach Weather
Today– Sunny, with a high near 61. Breezy, with a north northwest wind 5 to 15 mph, with gusts as high as 21 mph.
Friday– A 40 percent chance of rain, mainly after 11am. Partly sunny, with a high near 60. Calm wind becoming west southwest around 6 mph in the afternoon.
Saturday– Partly sunny, with a high near 62. Light and variable wind becoming southwest around 6 mph in the afternoon.
Sunday– Rain. High near 59. Chance of precipitation is 90%.
Monday– Rain. Mostly cloudy, with a high near 57.
Man Who Killed Couple In Seaside 23 Years Ago Asks For Clemency From Governor Brown
Jesse McAllister shot and killed a couple on a Seaside beach 23 years ago. The murders were dubbed the Seaside "thrill killings".
Gunmen 20-year-old Jesse McAllister and 23-year-old Bradley Price were in Seaside when McAllister told Price he wanted to kill someone just to see what it felt like. Prosecutors believed Price bought the gun McAllister used in the shootings.
Both McAllister and Price were charged with two counts of aggravated murder. McAllister is currently serving two consecutive life terms at the Oregon State Penitentiary. Meanwhile, Price is serving his life sentence at Snake River Correctional Institution.
Two decades later, McAllister has asked Governor Kate Brown for clemency. Governor Brown's Spokesperson for the office, Liz Merah, made a statement that reads:
"Governor Brown believes that granting clemency is an extraordinary act that is generally reserved for individuals who have made incredible changes and who are dedicated to making their communities better — which is why many clemency applications are denied. She evaluates clemency applications on a case-by-case basis and considers a variety of factors about the applicant's history and case when making those decisions. Information is provided from a variety of sources during the review process, including from law enforcement, prison officials, and the district attorney's office (which includes input from victims). The process usually takes about six months before a decision is made, although some cases can take longer.
The governor understands that families may have concerns when someone is being considered for clemency, which is why she takes the review process very seriously. Victims always have an opportunity to be heard through trauma-informed outreach by the district attorney's office. The governor does not grant clemency without considering input from the victim through the DA."
Both The Chief and The Captain of North Bend Police Dept Announce Retirement and Leave Same Day
The chief and captain of the North Bend Police Department both announced their retirement mid-day Wednesday, effective at 5 p.m.
Chief Robert Kappelman said in a press release that he "has accepted an executive position in a private sector corporation in Irvine, California." He served as chief in North Bend for 8 of his 29 years in law enforcement.
"I would like to thank the members of the North Bend Police Department for humbling me with the opportunity to lead such a fine group of professional police staff," Kappelman said in a statement. "Their commitment and dedication are unwavering and the citizens should be grateful for their service. It is my hope that the City will resolve its funding issues for them soon. They are truly exceptional human beings."
Capt. Curt Bennett also voiced support for Kappelman and the local police officer union. "I leave knowing that I have earned the respect of my fellow department members. Likewise, I have unwavering support for the North Bend Police Officers' Association and for Chief Kappelman," Bennett said in a statement released by Roland Iparraguirre of the RI Law Group in Clackamas. "I sincerely hope that our elected leaders do not dismiss serious concerns recently raised and brought to their attention."
Late last month, the City of North Bend announced plans to hire "an outside consultant capable of performing a 360-degree review of our police department, policies, and practices," Mayor Jessica Engelke said Sept. 23, 2021.
"This will include a professional law enforcement study that the Council intends to use as a basis for preparing a strategic plan for future growth and development," the mayor said in a statement.
That news came not long after a July 30 memo to the mayor from the North Bend Police Officers' Association calling for the North Bend City Administrator to resign.
Body of Branda Hoyle Has Been Found
Searchers have recovered the body of Branda Hoyle who went missing on Saturday, September 25, 2021.
43-year-old Branda Hoyle was on an outing with family members when she walked away from the group. When she didn't return, the family became concerned and began looking for her. They later called 9-1-1 when they hadn't located her.
On Monday, October 4, 2021, at approximately 1:00 pm, a 9-1-1 caller reported finding a deceased body along the North Umpqua River approximately 2.5 miles northeast of the Umpqua Hot Springs on the North Umpqua Trail. Deputies and searchers responded and determined the body was that of Branda Hoyle.
The Douglas County Medical Examiner's Office is investigating the death. At this time there are no indications of foul play and prolonged exposure to the elements are considered to be the highest concerning factors.
A large-scale search operation had been underway since her disappearance but revealed no clues as to her whereabouts. Douglas County Sheriff's Office Search and Rescue crews requested and received assistance from the Oregon State Police, Jackson County Sheriff's Office Search and Rescue, Lane County Sheriff's Office Search and Rescue, the Oregon State Search, and Rescue Coordinator, and the United States Coast Guard.
Efforts included ground searchers, mountain rescue searchers, K9 teams, 4×4 teams, and air resources to include aircraft and drones. Pacific Corp and the US Forest Service also provided support. Douglas Co. Sheriff's Office
Oregon reports 1,564 new confirmed and presumptive COVID-19 cases, 33 new deaths
There are 33 new COVID-19 related deaths in Oregon, raising the state's death toll to 3,900. The Oregon Health Authority reported 1,564 new confirmed and presumptive cases of COVID-19 bringing the state total to 338,130.
The new confirmed and presumptive COVID-19 cases reported today are in the following counties: Baker (8), Benton (21), Clackamas (85), Clatsop (13), Columbia (11), Coos (32), Crook (27), Curry (7), Deschutes (130), Douglas (49), Grant (15), Harney (16), Hood River (19), Jackson (102), Jefferson (16), Josephine (19), Klamath (70), Lake (4), Lane (112), Lincoln (19), Linn (69), Malheur (29), Marion (167), Morrow (8), Multnomah (128), Polk (121), Tillamook (6), Umatilla (58), Union (12), Wallowa (22), Wasco (13), Washington (101), and Yamhill (55).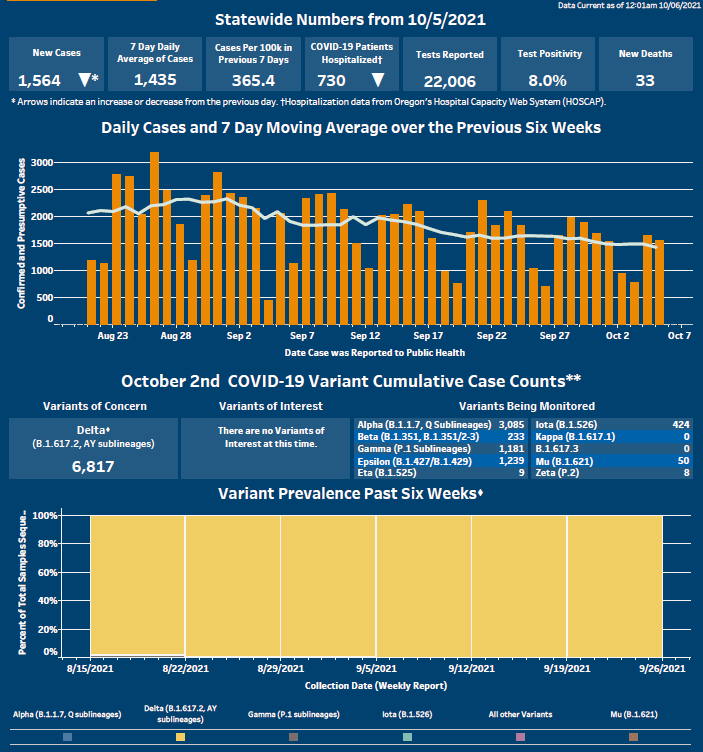 Half of Oregon is officially free of fire season, while the state's eastern and southern regions need significantly more rain before they're in the clear, experts say. Record-breaking September rainfall, longer nights, and more humid air have signaled the beginning of the end of a historic 2021 fire season.
But fall rains have a decades-long drought to overcome in most of the West, meaning thicker fuels like timber aren't yet saturated by the season's precipitation.
The Oregon Department of Forestry has announced an end to the fire season in five of its 10 districts. Those districts include Washington, Clatsop, Columbia, Tillamook, Lane, Benton, Lincoln, Polk and Yamhill counties, as well as the southern part of Linn County.
The five districts that include most of southern and eastern Oregon still remain in fire season.
Oregon Employment Department Economic Update
When federal pandemic-related unemployment benefits expired on Sept. 4, about 81,000 people in Oregon saw their unemployment benefits end. This includes about 49,000 workers whose Pandemic Emergency Unemployment Compensation (PEUC) claims ended, and about 32,000 whose Pandemic Unemployment Assistance (PUA) benefits ended.
Last week's statistics
Last week we paid about $26.5 million in benefits to 32,000 Oregonians.
From Sept. 28 – Oct. 1, 2021, the Department answered 92.4% of calls in under 15 minutes. Of these, 79.6% were answered in under five minutes.
Workers whose PEUC claims ended had jobs with a payroll employer prior to the pandemic. By contrast, about four out of five PUA claimants were self-employed (not on an employer's payroll) before the pandemic. For the workers whose PEUC benefits ended in September, the largest group, at 8,400, had jobs in Oregon's hotels, restaurants, and bars before becoming unemployed. Healthcare and social assistance and retail trade were the next largest groups, at about 6,000 each.
There's been some speculation that the end of federal pandemic unemployment benefits would also mark the end of recent labor shortages in Oregon and across the U.S. However, even though these benefits ended, it's still likely to be difficult for employers to hire as many workers as they'd like to in the coming weeks and months. Some industries have bigger job deficits to overcome than others.
For example, the accommodation and food services industry is about 35,000 jobs below its pre-recession jobs level. So, even if each of the 8,400 claimants who lost their PEUC benefits went back to payroll jobs in hotels, restaurants, and bars, it would only fill 24% of the industry's gap to a full jobs recovery.
Another challenge specific to accommodation and food services is that many workers moved on to other industries. Nearly 37,000 of the people who worked at Oregon's hotels, restaurants, and bars between January and March of 2020 had moved on to a job in a different industry by the winter of 2021. That's a concern for an industry rapidly trying to recover jobs lost to the pandemic.
Another 36,000 former accommodation and food services workers were no longer found working for any payroll employer in Oregon, and they weren't on a UI claim either. These workers likely either moved out of the state, or they dropped out of the labor force. There are many reasons someone may be out of the labor force, including retirement, going back to school, health concerns amid an ongoing pandemic, child care or self-employment constraints.
Research from the Employment Department, a prominent academic study, and private-sector findings all suggest that a combination of ongoing COVID-19 concerns, increasing retirements, and other labor force factors are contributing to continued worker shortages.
Helping Oregonians Get Back to Work
Through ongoing Return to Work efforts, WorkSource Oregon centers refer people to jobs, connect job seekers to resources that reduce barriers to returning to work, help people explore career options and training opportunities, assist with iMatchSkills® and work search requirements, and more. Here are just a few highlights for this week:
Employer Payroll Tax Break
The Employment Department has notified businesses that were initially determined as eligible for the pandemic-related employer payroll tax relief provided by HB 3389, which passed earlier this year.
The state is rolling back employers' UI tax experience ratings for years 2022 through 2024 to the tax ratings they had pre-pandemic 2020. This means employers' UI tax experience rates (benefit ratio) will be based on their experience rate prior to the pandemic, offsetting any increases they would otherwise have experienced due to safety measures they took to keep customers and employees safe from the virus.
Employers who meet all conditions of the relief plan are eligible to defer up to one-third of their 2021 UI taxes until June 30, 2022, without accruing interest or penalties on the deferred amount.
Local help is available during Medicare Open Enrollment
Every October, open enrollment begins for Medicare Advantage and Part D prescription drug plans. Medicare plans and coverage for prescription drugs change each year, so it is important for Oregonians who are enrolled in Medicare to evaluate their plan options and make changes during open enrollment.
Open enrollment for the 2022 Medicare plan year is from Oct. 15 to Dec. 7, 2021.
The Senior Health Insurance Benefits Assistance (SHIBA) program with the Oregon Department of Human Services (ODHS) is available to help Oregonians understand their Medicare options and benefits, provide enrollment guidance, and answer any questions related to Medicare benefits.
"Medicare is a critical benefit for older adults and people with disabilities and navigating the options available can be confusing," said Jane-Ellen Weidanz, ODHS Long Term Services and Supports Administrator. "SHIBA is here to help Oregonians make the right choice for them."
Local SHIBA counselors are available to help and can be found by visiting SHIBA.Oregon.gov or calling (800) 722-4134 (toll-free). To accommodate COVID-19 safety precautions, SHIBA counselors are providing telephone and limited in-person support.
SHIBA's 2022 Oregon Guide to Medicare Insurance Plans is expected to be available on SHIBA.Oregon.gov on or about Oct. 15.
SHIBA provides trained counselors to educate and advocate for Oregonians with Medicare. Get local Medicare help visiting SHIBA.Oregon.gov or (800) 722-4134 (toll-free). — Oregon Department of Human Services
Oregon Parks and Recreation Department Gearing Up for Centennial Celebration
In 2022, Oregon Parks and Recreation Department (OPRD) will kick off a year-long celebration that commemorates 100 years of Oregon State Parks. It all began with a 5-acre land donation in 1922 that became Oregon's first official state park. A century later, the state park system comprises 254 properties and more than 100,000 acres.
From the first 5-acre land donation in 1922 until 1989, Oregon's state park system grew within the Oregon Department of Transportation and its predecessor agencies. Oregon Parks and Recreation officially became an independent agency in 1990 with much fanfare and public engagement.
In 1998, when some state parks were on the verge of closing, voters passed Measure 66, dedicating a portion of Oregon Lottery funding to OPRD. That vote provided the funding stability needed to keep parks open. That year, Oregon celebrated its first annual State Parks Day with free day-use parking and overnight camping.
State parks visitors are encouraged to post photos of their favorite state parks with hashtags #oregonstateparks and #oregonstateparks100. Follow Oregon State Parks on Instagram, Facebook and Twitter for the latest centennial updates, and to participate in digital engagement opportunities.
California Company Buys Oregon Wood Products Company
A California forest products company has bought Seneca, a Eugene, Oregon-based company that had owned more than 100,000 acres of land in southwestern Oregon.
Sierra Pacific Industries announced last week it had completed the acquisition. The combination of the two companies means Sierra Pacific Industries will have more than 2.3 million acres of timberlands, 18 sawmills and eight renewable biomass energy cogeneration facilities, along with millwork and windows operations.
Sierra Pacific Industries is based in Anderson, California. It owns and manages timberland in California, Oregon and Washington and is one of the largest U.S. lumber manufacturers. The company also produces millwork, windows and renewable energy.
Seneca was founded in Eugene in 1953. Seneca owned 131,000 acres of land in Douglas County.
Voting is underway for more than 3,0000 nurses and health care workers for Kaiser Permanente on whether to go on strike.
Members of the Oregon Federation of Nurses and Health Professionals will vote over the next several days after voting began last night. The union and the hospital network are at odds over key issues, including safe staffing levels and wages. The final tally on the strike vote may not be known until next week.
The Oregon Zoo has a new director. The zoo announced yesterday that Heidi Rahn will replace Don Moore, who retired last year after a 45-year career in animal welfare science and wildlife conservation.
Rahn previously worked at the zoo from 2013 to 2018 as head of Metro's 125-million dollar zoo bond program. Under her leadership, the zoo opened some of its most iconic areas including Condors of the Columbia, Elephant Lands, and the Education Center.
https://www.facebook.com/pg/Have-You-Seen-Me-Southern-Oregons-Missing-People-161249961222839/posts/