The latest news stories across the state of Oregon from the digital home of the Oregon coastal cities, OregonBeachMagazine.com
Thursday, September 16, 2021
Oregon Beach Weather
Today– Sunny, with a high near 67. Breezy, with a north northwest wind 5 to 10 mph increasing to 15 to 20 mph in the afternoon. Winds could gust as high as 30 mph.
Friday– Mostly cloudy, with a high near 66. Breezy, with a south southwest wind 5 to 10 mph increasing to 12 to 17 mph in the afternoon. Winds could gust as high as 26 mph
Saturday– Rain before 11am, then showers after 11am. High near 64. Breezy, with a south southwest wind 11 to 16 mph, with gusts as high as 28 mph. Chance of precipitation is 100%. New precipitation amounts between a half and three quarters of an inch possible.
Sunday– Showers and possibly a thunderstorm. High near 62. Chance of precipitation is 80%.
Monday– A chance of showers, mainly before 11am. Mostly sunny, with a high near 65.
COOL AND WET FALL-LIKE WEATHER WILL ARRIVE FRIDAY NIGHT… The weather pattern will change later this week as a series of strong, wet cold fronts will bring an end to this long dry and hot summer.
A strong cold front will push into the region Friday night, bringing the first significant widespread rain to the region since last spring.
Heavy rainfall rates Friday night may lead to some ponding on roadways and minor urban flooding issues in areas of poor drainage. Overall expected rainfall amounts may still be adjusted between now and the event, but at this point 1 to 2 inches of rain are expected for the inland valleys by Monday morning, with 2 to 4 inches possible along the coast and across the higher terrain.
Esquire Names Astoria as One of its Charming American Towns You Haven't Heard of But Should Visit ASAP
Esquire Magazine named Astoria as one of its Charming American Towns You Haven't Heard of But Should Visit ASAP , and it truly is one of the best places to escape for a small-town vacation in America.
https://www.esquire.com/lifestyle/g35036575/small-american-town-destinations/?fbclid=IwAR0RbLq9r2cjonCdZ03kZtcf91l6Nzv04ALX7LxJhira2XmuDkdsIzAtfOs&slide=16
FOR MORE INFO on ASTORIA: https://www.astoria.or.us/
Man Arrested After Trying to Flee With Two Juveniles Listed as Missing in Lincoln City
On Monday September 13, 2021, at about 10:00 PM, Lincoln City Police Officers were dispatched to the Lincoln City Plaza parking lot, located at 4101 NE Logan Road, regarding some suspicious activity occurring in the parking lot.
It was reported there was a male walking around a vehicle and hitting it with a baseball bat. Officers arrived on scene and attempted to make contact with the male at the described vehicle. The male, determined to be 36-year-old Samuel Levi Jemmett of Oregon City, Oregon, was uncooperative and argumentative with officers and locked himself inside the vehicle.
While at the location, officers noticed there were two juvenile females also in the car. Further investigation determined that Jemmett was believed to have unlawfully taken two of his children and fled with them about a month prior. The two juveniles, ages 9 and 7, were listed as missing endangered and there was an active court order for them to be taken into protective custody when found. 
Jemmett had locked himself in his vehicle and officers began trying to negotiate with him in an attempt to get him to safely release the two juveniles. Jemmett refused to cooperate and started his vehicle.
As Jemmett drove away he ran over spike strips that had been previously positioned in the event he attempted to flee with the children. Jemmett drove out to Logan Road before turning north onto HWY 101.
Officers pursued the vehicle with lights and siren as it fled, but the spike strips had been effective, deflating the two rear tires on the vehicle. As Jemmett continued driving his vehicle northbound on Hwy 101, a Lincoln County Sheriff's Deputy attempted to stop it by pulling in front of it. Jemmett rammed his vehicle into the back of the deputy's patrol car twice before coming to a stop just north of the NE West Devils Lake Road intersection. Again, Jemmett refused to exit the vehicle and grabbed onto one of the children. Due to safety concerns for the children, officers deployed the Taser and physically extracted him from the vehicle. Jemmett continued to fight and kick officers as they were removing him, but he was eventually taken into custody.             
The two children where immediately taken into protective custody by officers who were not part of the arrest team. The two children were taken to Samaritan North Lincoln Hospital for medical evaluation and later turned over to the custody of DHS-Child Protective Services personnel.
Inside the vehicle officers found numerous used syringes as well as a loaded handgun. The vehicle was later towed from the scene by a local tow company.
After being taken into custody, Jemmett was also transported to Samaritan North Lincoln Hospital for medical evaluation and treatment of minor injuries. After being treated at the hospital, Jemmett was transported to the Lincoln County Jail and lodged on charges of: two counts of Custodial Interference, two counts of Endangering the Welfare of a Minor, Reckless Endangering, Attempt to Elude Felony, two counts Recklessly Endangering, Felon in Possession of a Firearm, Resisting Arrest, two counts of Attempting to Assault Police Officer, and Interfering with Police. The investigation is still open and additional charges could be filed.
The Lincoln City Police Department with like to express our thanks and appreciation to the Lincoln County Sheriff's Office, North Lincoln Fire & Rescue and Pacific West Ambulance for their assistance with this incident. We are grateful no serious injuries occurred during the incident.   Lincoln City Police
Dutch Bros Rings the Bell at New York Stock Exchange
After humble beginnings as a pushcart operation decades ago in an Oregon town and growing into a company with hundreds of drive-through coffee shops in about a dozen U.S. states, Dutch Bros Coffee on Wednesday launched an initial public offering on the New York Stock Exchange.
Dutch Bros Coffee Executive Chairman Travis Boersma celebrated by ringing the closing bell at New York Stock Exchange.
The offering drew an enthusiastic response from investors, who sent shares of the company up by more than 50% within hours.
The company had an initial public offering price of $23 and the share price jumped to $36 in midday trading. The Pacific Northwest is known for its love of coffee.
Starbucks started in 1971 in Seattle's historic Pike Place Market. Unlike that chain, which is now ubiquitous in the United States and beyond, Dutch Bros is 100% drive-through. The shops with windmill emblems have sprouted up
across the West and are now located as far east as Texas and Oklahoma.
Oregon reports 2,069 new confirmed and presumptive COVID-19 cases, 46 new deaths
There are 46 new COVID-19 related deaths in Oregon, raising the state's death toll to 3,536. The Oregon Health Authority reported 2,069 new confirmed and presumptive cases of COVID-19 bringing the state total to 305,560.
The new confirmed and presumptive COVID-19 cases reported today are in the following counties: Baker (37), Benton (19), Clackamas (80), Clatsop (21), Columbia (17), Coos (56), Crook (18), Curry (7), Deschutes (184), Douglas (126), Grant (9), Harney (24), Hood River (16), Jackson (146), Jefferson (23), Josephine (56), Klamath (40), Lake (15), Lane (157), Lincoln (34), Linn (109), Malheur (73), Marion (204), Morrow (8), Multnomah (164), Polk (69), Sherman (2), Tillamook (25), Umatilla (59), Union (40) Wallowa (3), Wasco (18), Washington (150), Wheeler (3) and Yamhill (57).
Livestream Briefing on COVID-19 – Today, THURSDAY 9/16 at 11:30 am
Dr. Dean Sidelinger, the state epidemiologist, will be available to speak to the media on the latest developments in the COVID-19 pandemic tomorrow, Thursday, Sept. 16, at 11:30 a.m. (PDT). A Livestream—with an American Sign Language simulcast—will be available for the public on YouTube.
Oregon Waiting on Federal Vaccine Mandate Rules
President Biden announced that any company with more than 100 employees will have to require vaccines for their workers or require they provide a negative test weekly. Large entertainment venues will need to require vaccines or negative tests for their patrons.
Enforcement will need to be done at the local level and the Oregon Occupational Safety and Health Administration will be involved.
The Oregon Health Authority said that since the federal OSHA has not created rules for enforcing this, they really have no guidance to go from yet.
For those already required to be vaccinated, like teachers, testing could be an option from employers for workers with a medical or religious exemption. But under OHA's rules, testing instead of vaccination is not an option
OHA Reports More Younger People Are Dying From COVID In Oregon
More people age 29 and younger have died from COVID in Oregon in the last six weeks than they have during the entire rest of the pandemic, according to numbers posted by the Oregon Health Authority (OHA).
From the beginning of the pandemic in the spring of 2020 until the last week of July 2021, 11 people age 29 or younger died from COVID.
From the first week of August through September 13th, 14 people age 29 or younger have died from COVID in Oregon.
OHA reported cases and deaths overall are improving. Last week was the first drop in the weekly death toll after six weeks of increases. From Sept. 6-12, 120 people died from COVID in the state, that's down from 171 people the week before.
"I scan those every day and I do gasp when I see the ages of some of the people who have died," said Dr. Jennifer Vines, the public health officer for Multnomah County who is involved with the county's response to COVID in the greater Portland metro area.
Dr. Vines said advanced age is still the leading factor that will predict whether a COVID patient will die but the delta variant spreads so fast through various communities that relative youth is not always enough— especially if they are not vaccinated.

"The risk of death is not zero in any age group and I think just the sheer number of people being infected by the highly contagious delta variant – it means its finding its way into enough young people to find that person who is going to succumb to the infection," said Dr. Vines.
The OHA also states in its weekly update that the number of new reported infections is down 11% to 12,997 for the week of Sept. 6-12.There were 149,123 tests for COVID during that same time period. OHA reports the percent of positive tests was 12%.
See OHA's latest weekly report here.
Merkley, Wyden, Defazio Applaud New Fema Steps To Make It Easier For Oregonians Impacted By Future Wildfires To Access Assistance
Oregon's U.S. Senators Jeff Merkley and Ron Wyden, alongside Representative Peter DeFazio (D-OR-04), announced today that the Federal Emergency Management Agency (FEMA) is making a number of changes to reduce barriers for underserved populations seeking to access federal assistance in the wake of future natural disasters, including wildfires.
The announcement comes a year after the 2020 Labor Day fires—and their plumes of hazardous smoke—devastated families, businesses, and communities across Oregon, and after Merkley led Wyden and DeFazio in pressing FEMA to address obstacles that have made it harder for some natural disaster survivors to access resources from the agency.
"Last year's Labor Day fires were an apocalyptic tragedy. The blazes claimed lives, destroyed businesses, forced tens of thousands of people to evacuate, and destroyed or damaged more than 5,000 buildings across Oregon—thousands of which were homes belonging to low-income families," said Merkley. "The last thing anyone should have to worry about after making it through this kind of traumatic event is jumping through hoop after hoop of bureaucratic nonsense, or not being able to make crucial repairs they need to stay safe when they return to their home. I'm relieved that FEMA is heeding our call to make it easier for survivors of future disasters to get the help they need to get back on their feet as quickly as possible, and I will continue to work with the agency to make sure these reforms are meaningfully implemented. These, and additional changes, are needed to ensure that all Oregonians receive the resources they need to cope with our changing climate."

"When wildfires or another disaster strike any community in our state, every Oregonian trying to put their lives back together deserves equal and speedy access to FEMA resources," Wyden said. "I'm gratified that FEMA has responded to our request to cut through needless red tape that slowed the delivery of aid after the 2020 Labor Day fires. I'll keep watchdogging these reforms to ensure they're carried out so all survivors of wildfires or other natural disasters in Oregon can count on the aid that's needed for a full recovery."

"I am glad that FEMA has heard our calls and will take steps to expedite the distribution of federal assistance to future disaster survivors," said DeFazio. "That said, this assistance is still desperately needed for Oregonians affected by the 2020 wildfire season, particularly low-income communities. As Chair of the Transportation and Infrastructure Committee, which has jurisdiction over FEMA, I will continue fighting to ensure that impacted Oregonians receive the federal assistance they require to recover."
Specifically, FEMA is moving to expand the types of documentation it accepts to prove ownership or occupancy of a resident for homeowners and renters; expand financial assistance for disaster-caused disability and require that components, like ramps and grab bars, be installed in survivors' homes when needed; and provide expanded housing assistance—including resources to cover disaster-caused property damage—and other needs-assistance funding, including funds to repair homes impacted by disaster-caused mold growth.
Weekend Rain Should Help Put Out Oregon Wildfires
We are expecting a moisture-heavy system to move in this weekend, providing steady rain and soaking hours for the Pacific Northwest (PNW). The heavy rain has become more and more confident since the weekend. There will only be micro-adjustments as we approach the weekend.
There will be plenty of rain for the Cascades this weekend. The combination of a strong frontal boundary, moisture, wind, and orographic lift from the mountains, should help sustain a deep rain for the mountain range and nearby foothills.
Fuel moisture elevates to a point where the growth of new or existing fires is unlikely. This is usually after a sustained autumn rain.
The date is late enough in the autumn that the combination of shorter days, cooler weather, and lower sun angle limit the potential for fuel moisture to dry out sufficiently to support fire growth or new or existing fires.
This should help the fuels around the Cascades, but it doesn't mean it will completely terminate the wildfires.
Saltenberger recalls last September, "on September 17-18th of 2020, only 10 days after the catastrophic Labor Day fire outbreak, a soaking rain hit western Oregon. After the rain stopped, little further growth and little lingering smoke was observed on the fires in the Oregon Cascades and coast range."
This type of rain will definitely prevent the drought monitor from worsening, but it won't fix our drought in just a weekend. We are still well behind this water year.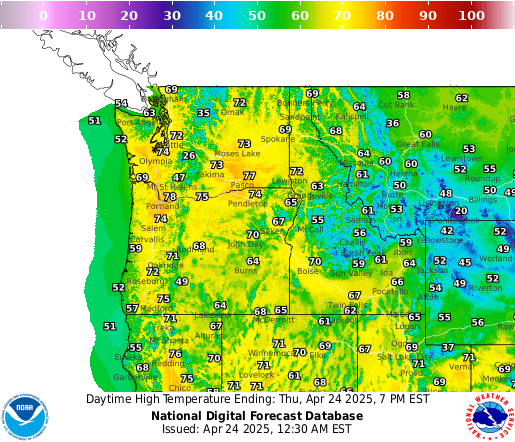 MORE WEATHER INFO HERE: https://graphical.weather.gov/sectors/pacnorthwest.php?element=Wx
InciWeb has INFO on the larger fires still burning in Oregon.

This public lands link is super helpful to check before you head outdoors. The Keep Oregon Green website carries ODF's public use restrictions. Click the link for up-to-date information: https://keeporegongreen.org/current-conditions/
NASA Tests New Spacesuit in Central Oregon
Scientists and engineers spent two weeks in August in areas outside of Bend as part of NASA's Artemis Program, which aims to send the first woman and next man to the moon by the end of this decade.
NASA returned to the region to test new spacesuit technology after more than 50 years when astronauts trained on Central Oregon's volcanic terrain for the first moon landing,
The same locations were used in the mid-1960s prior to the first lunar landing on July 20, 1969, when Neil Armstrong and Buzz Aldrin landed the Apollo 11 Lunar Module Eagle on the moon.
Dr. Pascal Lee, a planetary scientist with the SETI Institute and the Mars Institute, and director of the NASA Haughton-Mars Project, said he was impressed by the diversity of the landscape in Central Oregon, which includes lava flows, caves and steep hills.
Armstrong and Aldrin were among the astronauts who trained in Central Oregon. "You can see why they chose it," Lee said. "In some sense, it looks exactly the way it looked during the Apollo program."
"What is extraordinary about Oregon is the combination of things you can find in a relatively limited range," Lee said. "Going to Oregon is a package deal."
Lee and about nine others involved in the testing visited the original NASA training locations at Lava Butte, Big Obsidian Lava Flow, Fort Rock, Hole in the Ground and Yapoah Lava Flow at McKenzie Pass.
Last month, the testing was focused on new technology from Collins Aerospace, a company that has created space suits for NASA since the Apollo missions.
The new technology puts electronics inside spacesuits to allow astronauts to check their heart rate and location. Previously most data was kept in a spiral binder tied to the spacesuit, Lee said.
"If you are exploring the moon and roving around, you are going to need more than the spiral binder," Lee said.
NASA has been hesitant to add electronics to spacesuits, since electronics can catch fire or start overheating and fill the suit with smoke. But technology has advanced in recent years, making the built-in electronics more viable, Lee said.
"Now we are getting to a point where we have had decades of stability," Lee said. "Time has come to start integrating."
In addition to the original training sites, the research team tested the new technology on rugged terrain at Crater Lake National Park and the Painted Hills at John Day Fossil Beds National Monument.
The new locations are mountainous like the South Pole of the moon, where NASA plans to focus its latest mission. The Oregon landscape also featured caves and steep hills that astronauts will eventually face during future missions to Mars, Lee said.
"We want to explore the caves on the moon to get ready to explore them on Mars," Lee said.
Lee said he usually tests equipment at a crater on an island in the Arctic, which scientists consider Mars on Earth. But due to the COVID-19 pandemic, his team was unable to make the Arctic trip the past two years.
When those plans fell through, Lee was thrilled to have another option in Central Oregon.
"There are so many things that can be understood better by just being in the field and doing the real thing," Lee said. "It's worth it."
FBI Arrests Albany Man For Threats Against Oregon Public Official
FBI agents, with the assistance of the Albany Police Department, arrested David Scott Ryder, age 64, this morning, September 15, 2021, on charges of interstate transmission of a threat and stalking.
The arrest, based on a criminal complaint, involved threats allegedly made to an Oregon public official. The threats included three emailed messages between August 10, 2021, and August 23, 2021. They also included a voice mail left on an office phone on August 23, 2021. Some of the statements included:
"… all the people that won't get your FAKE [expletive] vaccine are the same ones who you will see hang you in a public place for crimes against America. Resign today!!!"
"I wish you would show your face you punk! I'd take your WORTHLESS SOUL from you. [Expletive] ALL DEMOCRAT COMMUNISTS like you. Resign today! I'd love to get my [expletive] hands around your neck SCUM!!!"
"… if you don't call me back, I'm going to start sending threats and then we'll get some of your [expletive] little cop friends down here to see me and I'm going to [expletive] kill them. They come in my [expletive] yard. Anybody from the state or federal come in my yard, I'll kill them."
Ryder made his initial appearance before a U.S. Magistrate Judge today. The judge ordered him released pending further court proceedings. "Threats of any kind against a public official are not acceptable in this country," said Kieran L. Ramsey. "Anyone who has information about threatened criminal activity or violence should contact the FBI at 1-800-CALL-FBI or online at tips.fbi.gov." A criminal complaint is only an accusation of a crime, and a defendant is presumed innocent unless and until proven guilty.
Rabid Bats Found in Portland and Beaverton
The Multnomah County Health Department and the Washington County Department of Health and Human Services both made announcements that two rabid bats were discovered this month, one in Northeast Portland and one in Beaverton.
In Multnomah County, officials said the bat was found after a dog was playing with it. The dog is quarantining for 45 days but is up-to-date on its rabies vaccine and has received a booster.
This is the first animal to test positive in the county since September 2014.
According to the county, "rabies is a viral disease of mammals that attacks the nervous system. Rabies symptoms in wildlife include lethargy, walking in circles, loss of muscular coordination, convulsions, irritability or aggressiveness, and disorientation."
Washington County said the rabid bat in Beaverton was found by a homeowner on September 10. A pet that may have been in contact with it is up-to-date on vaccines but is being observed for 45 days.
Serious Horse Viruses Confirmed In Oregon
The Oregon Department of Agriculture received six confirmed reports of West Nile virus diagnosed in Oregon horses in the past two weeks, according to a news release on Sept. 13. One additional suspected case is under investigation.
The affected horses live in multiple counties throughout the state, including Malheur, Umatilla and Klamath.
None of the infected horses were recently vaccinated against West Nile virus, and most of the horses have never been vaccinated for the virus.
Numerous additional West Nile virus cases have also been reported recently in Washington, Idaho, and California near the Oregon border. Therefore, ODA advises annual vaccination as an effective tool for preventing WNV infection in horses.
On Sept. 9, 2021, Oregon State Veterinarian, Dr. Ryan Scholz, DVM, received a report that Equine Herpesvirus Myeloencephalopathy (EHV-1) was diagnosed in one horse and suspected in a second horse on a private farm in Linn County. A third horse on the same farm tested positive for EHV-1, with a fourth and fifth horse exposed. Two of the affected horses were euthanized. A preliminary investigation shows none of the five horses have been moved off the farm or in contact with other horses in the past four weeks. As a result, Dr. Scholz placed the farm under quarantine.
EHV-1 is highly contagious. While there are no known exposures linked to the Linn County farm, Dr. Scholz recommends that horse owners concerned about exposure monitor their horse's temperature and contact their veterinarian if a fever or clinical signs develop. EHV-1 testing is generally not advised in asymptomatic horses.
The Equine Disease Communication Center's website has more information on reportable equine diseases and West Nile Virus. https://www.equinediseasecc.org/