The latest news stories across the state of Oregon from the digital home of the Oregon coastal cities, OregonBeachMagazine.com
Friday, July 2nd, 2021
Oregon Beach Weather
Today– Patchy fog before 8am. Otherwise, cloudy, then gradually becoming mostly sunny, with a high near 67. Breezy, with a light northeast wind becoming north northwest 12 to 17 mph in the morning. Winds could gust as high as 29 mph.
Saturday– Patchy fog before 8am. Otherwise, mostly sunny, with a high near 67. Breezy, with a north northwest wind 5 to 10 mph increasing to 15 to 20 mph in the afternoon. Winds could gust as high as 30 mph.
Sunday: Independence Day– Mostly sunny, with a high near 67. Breezy, with a north northwest wind 7 to 15 mph, with gusts as high as 25 mph
Monday– Patchy fog before 7am. Otherwise, sunny, with a high near 66.
Tuesday– Sunny, with a high near 66.
Oregon reports 198 new confirmed and presumptive COVID-19 cases, 4 new deaths
There are four new COVID-19 related deaths in Oregon, raising the state's death toll to 2,778. The Oregon Health Authority reported 198 new confirmed and presumptive cases of COVID-19 bringing the state total to 208,834.
The new confirmed and presumptive COVID-19 cases reported today are in the following counties: Benton (1), Clackamas (21), Clatsop (1), Columbia (3), Coos (1), Crook (2), Curry (1), Deschutes (12), Douglas (7), Hood River (1), Jackson (9), Jefferson (4), Josephine (5), Klamath (5), Lake (2), Lane (18), Lincoln (1), Linn (15), Malheur (1), Marion (17), Morrow (1), Multnomah (21), Polk (9), Tillamook (5), Umatilla (12), Union (1), Wasco (1), Washington (13) and Yamhill (8).
OHA releases latest monthly report on breakthrough cases
Through June 30, Oregon Health Authority has identified 1,790 COVID-19 vaccine breakthrough cases. There were 7,241 cases of COVID-19 in June and 92% of these cases were among people who were unvaccinated.
More than 9 in 10 of the 63 COVID-19-associated deaths in June were among people who were not vaccinated. The majority of vaccine-breakthrough associated deaths have occurred in the elderly.
The number of vaccine breakthrough cases identified in Oregon remains very small when compared to the more than 2.18 million people who have completed their COVID-19 vaccination series.
Vaccine breakthrough cases are defined as instances in which an individual received a positive COVID-19 test result at least 14 days following the completion of any COVID-19 vaccine series.
Of the 1,790 reported vaccine breakthrough cases, approximately 10% (n=177) were observed in individuals who reside in long-term care facilities or other congregate care settings.
OHA provides updates on breakthrough cases the first Thursday of each month. The current breakthrough report can be found here.
Vaccinations in Oregon
Today, OHA reported that 8,535 new doses of COVID-19 vaccinations were added to the state immunization registry. Of this total, 4,395 doses were administered on June 30 and 4,140 were administered on previous days but were entered into the vaccine registry on June 30.
The seven-day running average is now 7,514 doses per day.
Oregon has now administered 2,534,832 first and second doses of Pfizer, 1,740,400 first and second doses of Moderna and 168,932 single doses of Johnson & Johnson COVID-19 vaccines.
As of today, 2,401,167 people have had at least one dose of a COVID-19 vaccine and 2,189,221 people have completed a COVID-19 vaccine series. The number of adult Oregonians needing vaccinations to reach the 70% threshold is 5,119. A daily countdown can be found on the OHA vaccinations page.
Cumulative daily totals can take several days to finalize because providers have 72 hours to report doses administered and technical challenges have caused many providers to lag in their reporting. OHA has been providing technical support to vaccination sites to improve the timeliness of their data entry into the state's ALERT Immunization Information System (IIS).
To date, 2,961,495 doses of Pfizer, 2,236,460 doses of Moderna and 299,100 doses of Johnson & Johnson COVID-19 vaccines have been delivered to sites across Oregon.
These data are preliminary and subject to change. OHA's dashboards provide regularly updated vaccination data, and Oregon's dashboard has been updated today.
COVID-19 hospitalizations
The number of hospitalized patients with COVID-19 across Oregon is 134, which is two fewer than yesterday. There are 27 COVID-19 patients in intensive care unit (ICU) beds, which is four fewer than yesterday.
The total number of COVID-19 positive patient bed-days in the most recent seven days is 1,018, which is a 3.0.% decrease from the previous seven days. The peak daily number of beds occupied by COVID-19 positive patients in the most recent seven days is 160.
The total number of patients in hospital beds may fluctuate between report times. The numbers do not reflect admissions per day, nor the length of hospital stay. Staffing limitations are not captured in this data and may further limit bed capacity. More information about hospital capacity can be found here.
LOCAL HEADLINES:
UPDATE – New Details in Death Investigation of Child Remains Found in Lincoln County
Investigators have developed new information about a girl found dead inside a duffel bag stashed in the forest near the H.B. Van Duzer Forest State Scenic Corridor.
Her body was found December 10, 2020 – and police do not believe anyone ever reported her missing. She has likely not been seen since November 2020, police said.
On December 10, 2020, the Oregon State Police recovered the remains of a female child in the forest immediately adjacent to the H.B. Van Duzer Forrest State Scenic Corridor rest area.
Her body was inside a duffle bag that had been concealed in the forest near the rest area. Based on the condition of the remains, little was known about the deceased's race, appearance, or other identifying characteristics. In an attempt to identify the deceased, the Oregon State Police and Oregon State Medical Examiner's Office used a specialty lab to extract DNA information to aid in her identification.
With the assistance of Parabon Nanolabs, investigators now know more identifying details which will hopefully assist in her identification. The following new information is being released:
· Age: 7 – 9
· Eye color: Hazel / Brown
· Hair color: Brown / Black
· Skin color: Light Brown / Fair with no freckles
· Race: She has been identified as mostly Caucasian with some Central American ancestry
· She was wearing a pull-up diaper
The Oregon State Police has been working in partnership with the National Center for Missing and Exploited Children (NCMEC) since the discovery of the child's remains. Over the past six months, detectives have definitively ruled out more than 60 potential missing kids from information provided by NCMEC and tips from the public.
While investigators continue to work in partnership with NCMEC, there is a strong likelihood this child has not been reported missing. Investigators would like the public to know, we are already considering all children listed on the NCMEC website and therefore, there is no need to contact the Oregon State Police to highlight those names.
This child would likely not have been seen since November 2020. If you have any information that might help investigators in identifying this child, please call 800-442-0776 or OSP (677).
Oregon State Police investigators have received and investigated more than 180 tips from the public, law enforcement partners and the National Center for Missing and Exploited Children.
Using available dental records, field contacts, and other investigative techniques, investigators have been able to exclude 61 individuals from being the child whose remains were recovered.
Investigators are still actively working to identify the deceased, and reviewing information regarding missing children which changes and is updated frequently.
Several different investigative efforts are underway, including DNA analysis. With the assistance of the Oregon State Medical Examiner's Office, DNA has been extracted and is awaiting analysis. This analysis is expected to provide investigators additional information regarding the race, origin, eye color, and other genetic details that may help lead to her identity. A sketch with the updated race and genetic details will be released upon receipt of the DNA information.
Anthropological and forensic dental examinations of the female child recovered at in the H.B. Van Duzer State Forrest Scenic Corridor have so far determined she is between 61/2 and 10 years old. She stood between 3'10' and 4'6" tall. She had long black or dark brown hair. She died at least 30 days prior to her discovery on December 10, 2020.
Investigators continue to ask anyone with information about the identity of the deceased or the circumstances surrounding her death to call the Oregon State Police at 800-442-0776 or OSP (677).
As part of the ongoing investigation into the discovery of a female child's remains at the Van Duzer Rest Area in Lincoln County, the Oregon State Police (OSP) continues to solicit the public's assistance in identifying the child and the circumstances around her death. To date, we have received over 150 tips from citizens in the United States and Canada. We are deeply appreciative of the public's input so far, and continue to accept information that may lead to the identification of the child.
The Oregon State Medical Examiner's Office has estimated the child's age to be 6.5 to 10 years old. She is approximately 3'10" to 4'6" tall, and has long hair that is dark brown or black. Her race or ethnic origin has yet to be determined, but DNA analysis is not complete. A sketch completed by the Clackamas County Sheriff's Office at our request has also been released.
OSP, in partnership with the Oregon State Medical Examiner's Office, the National Center for Missing & Exploited Children (NCMEC), and numerous state and local agencies across the United States, are using a variety of means to include or exclude known missing persons who match the general description and/or sketch previously released. This may include, but is not limited to, dental records, age, descriptors, and confirmed sightings via verifiable sources, and/or recent contacts with family or friends that demonstrate they were alive after the remains of the unidentified female were discovered in Lincoln County.
OSP will not comment on the individual methods used to exclude each child.
In an effort to refocus the public's attention and reduce duplicative tips, OSP is now prepared to publicly exclude the following reported missing children from our investigation:
Dulce Alavez, age 6, from Bridgeton, NJ
Addyson Gibson, age 12, from Portland, OR
Noelle Johnson, age 7, from Portland, OR
Niayah Bylenga (AKA Niayah Crawford), age 7, from Pendleton, OR or Ritzville, WA
Tarie Price, age 8, from Gretna, NE
Breasia Terrell, age 10, from Davenport, IA
OSP reminds the public that while these children have been excluded from our investigation, they are all still reported missing and we ask the public to continue to be vigilant for these children and all other missing persons reported across the nation.
The Oregon State Police is releasing the attached approximation sketch of the child that was found in Lincoln County on December 10, 2020. Sketch was provided with assistance of the Clackamas County Sheriff's Office.
The area is a heavily wooded state park in Lincoln County, Oregon. Due to the terrain OSP Detectives were assisted by Lincoln County SAR members.
At this time the deceased has yet to be positively identified. No further information regarding this individual is available for release until identity is established and next of kin can be notified.
An investigation into the circumstances of this incident is active and ongoing. No further details are available for release at this time. —- Oregon State Police
If you have any information that might help investigators in identifying this child, please call 800-442-0776 or OSP (677).
Fire Damages Three Homes in Winchester Bay
A home in Winchester Bay caught fire at about 1 p.m. and spread to other homes nearby on Thursday.
According to the Winchester Bay Rural Fire Department Chief, it took about two hours to get the fire that affected three homes under control.
"We have major damage to the structure and an attached building and also some minor exposure damage to two others," said Chief Scott Anderson.
They started out with 10 firefighters from Reedsport, Winchester Bay and Gardiner fighting the fire but ultimately need more assistance.
Anderson says there were about 9 agencies from Florence to North Bend on scene helping.
Everyone, including pets, was able to get out safely. The cause of the fire is under investigation.
AROUND the STATE of OREGON
High and dry: Firefighting leaders urge the public to celebrate the 4th of July responsibly because fire risk is high and it's extremely dry
Fire potential remains high through the 4th of July weekend. The continued drought, recent heatwave, and forecasted hot temperatures means there is more need for caution.
Oregon's State Fire Marshal (OSFM) Mariana Ruiz-Temple and the Oregon Department of Forestry (ODF) Chief of Fire Protection Doug Grafe ask people to be mindful of these conditions when celebrating the holiday. Before lighting off fireworks, they encourage people to know when and where it is allowed.
"The continued drought, coupled with the current weather means everything including forests are extremely dry," Grafe said. "It's been a tough year. We have a lot to celebrate this 4th of July. While we do that, I ask you to help prevent fires, which helps protect our forests, communities, and firefighters."
This year, some Oregon cities and counties put restrictions in place on the use of fireworks through the weekend. If using legal fireworks in communities where they're allowed, always have a bucket of water on hand to drown spent or used fireworks, have a charged hose nearby, and never light fireworks near dry grass or areas that could catch fire easily.
"Please check with your local municipality, fire service agency, or county on the local laws where you will celebrate the holiday," Ruiz-Temple said. "Safety of those in Oregon is not only a priority for those who live, work and visit, but for our firefighters as well. We ask that you follow all restrictions and help us in being safe and responsible this holiday weekend."
In Oregon, it's illegal to possess, use, or sell fireworks that fly into the air, explode, or travel more than 12 feet horizontally on the ground without a permit. The OSFM can issue permits. Bottle rockets, Roman candles, and firecrackers are illegal without a permit. Officials may seize illegal fireworks and charge offenders with a class B misdemeanor with a fine of $2,500 per firework. A person misusing or causing damage using fireworks can be required to pay firefighting costs and for other damage. Parents are liable for fireworks damage caused by their children.
During fire season it is illegal to use fireworks on ODF-protected lands. While enjoying the forests or outdoors here are ways you can help prevent fires:
Skip the campfire – it's already hot enough
Use a camp stove for cooking
Don't use fireworks – enjoy a community's firework display instead
Stay on the roads – heat from vehicles can easily start grass on fire
Don't smoke – if you do, put the butts out and dispose of them properly
Don't use anything with open flame or that could cause sparks
Check trailer chains to ensure they don't drag along the road
Here are some resources to help keep Oregon's forests and communities safer this 4th of July. ODF's current public fire restrictions map and OSFM Fireworks FAQ — Oregon Dept. of Forestry
New Fire Burning Fast near The Dalles and Fires Still Burning Around the State
The Oregon State Fire Marshal's Office says a new wildfire that started on Thursday is growing significantly near The Dalles.
At 3:45 p.m., a brush fire located at the 3100 block of Valley View Drive started moving southeast, this is east of The Dalles near Highway 197. It started at 50-75 acres but has grown significantly because of wind. At least one home has been damaged.
Evacuation notices are located on the The Wasco County Sheriff's Office Facebook Page.
Agencies that were already in the area fighting the Wrentham Fire were able to try and contain the new wildfire. The state fire marshal's office called in air support to help firefighting efforts. Oregon State Police have closed Highway 197 south of Interstate 84.
Lightning strikes ignite several new wildfires around Central Oregon
Thunderstorms that moved through Central Oregon Wednesday evening and early Thursday blanketed the landscape with hundreds of lightning strikes and spotty rainfall, sparking two-dozen or more new wildfires.
Oregon Gov. Kate Brown (D) on Wednesday declared a state of emergency amid a wildfire covering thousands of acres and extreme heat in the Pacific Northwest.
Oregon Gov. Kate Brown (D) on Wednesday declared a state of emergency amid a wildfire covering thousands of acres and extreme heat in the Pacific Northwest.
"With wildfires already sparking this year, it is imperative that we act now to prevent further loss—of life, property, business, and our natural resources," Brown said.
The extreme heat wave spreading throughout the region complicates wildfire management.
Brown said in a news release her decision is aimed at mitigating damage by ensuring "every resource is made available for firefighting efforts" across the state, adding that the state is still recovering from the the loss of life and property brought on by the previous year's fires.
"With wildfires already sparking this year, it is imperative that we act now to prevent further loss—of life, property, business, and our natural resources," Brown said.
"With fire seasons increasingly starting earlier and lasting longer, it is up to each of us to do our part to prevent wildfires and be prepared for the ones we can't prevent," Brown continued. "I am urging Oregonians to take charge in preventing human-caused fires by being prepared, safe, responsible, and aware."
The governor also invoked the state's Emergency Conflagration Act in view of a wildfire that began Tuesday night and is roughly 10,000 acres in size. The Wrentham Market Fire has resulted in evacuations in part of Wasco County. Brown's executive action placed the state's fire marshal in charge of oversight and streamlining resources from neighboring counties.
"With high temperatures and weather conditions helping fires grow quickly, I have invoked the Emergency Conflagration Act to make more state resources available to the fire crews on the front lines in Wasco County at the Wrentham Market Fire," Brown said.
Oregon's 2020 fire season was the second largest in state history. Fires consumed more than 1.07 million acres and cost roughly $354 million. Wildfires between 2012 and 2020 burn on average 650,000 acres per year.
Stay safe and healthy during Fourth of July weekend
10 ways to prevent injury and illness during holiday
As the Fourth of July weekend approaches, public health officials are reminding Oregonians about a few simple steps they can take to stay safe and healthy.
"The Fourth of July holiday is a great time to celebrate with family and friends. At the same time, it's important to stay safe," said Richard Leman, Public Health Physician at OHA. "With the recent hot weather, fires are a real risk. If your community allows use of fireworks this year, take care how you use them."
"If you're going to the beach or spending time at a river or lake, the water's often still pretty cold this time of year and can cause problems for even the strongest swimmer. If you go in the water, stay where it's shallow, wear a life jacket when boating, and keep a close eye on kids when they're around the water."
Food safety is another thing to keep in mind. Warmer weather makes it easier for food to spoil. The Centers for Disease Control and Prevention (CDC) estimates that each year roughly 1 in 6 Americans get sick from foodborne diseases. Cooking meats to a proper internal temperature and keeping cold foods cool helps reduce foodborne bacteria from growing.
Here are 10 ways to prevent injury and illness this holiday weekend:
Avoid alcohol when swimming or boating.
Young and weaker swimmers should wear life jackets for swimming and boating.
Don't swim alone or in bad weather and stay where it's shallow.
Supervise children at all times in and near the water.
Prevent sunburns, use plenty of sunscreen.
Drink lots of water to stay hydrated.
Keep meat and poultry refrigerated until ready to use.
Don't leave food out for more than two to three hours.
To prevent foodborne illness, don't use the same platter and utensils for raw and cooked meat and poultry.
Cook meats to minimum internal temperature to destroy harmful bacteria; 160°F for ground beef, pork and lamb; 165°F for poultry.
Oregon offers a wide variety of recreational opportunities. Whether it's swimming, surfing, fishing, or some other outdoor play, stay aware of any current health alerts and advisories.
For more information on water recreation, please visit http://public.health.oregon.gov/HealthyEnvironments/Recreation/Pages/index.aspx
For more information on food safety, visit http://public.health.oregon.gov/DiseasesConditions/CommunicableDisease/Pages/index.aspx
Oregon FBI Accepting Applications for its 2021 Fall Citizens Academy Program
The FBI in Oregon is now accepting applications from business, religious, and community members for its Citizens Academy Program. The Citizens Academy allows leaders to come together to explore the work of the FBI, both in Oregon and around the world.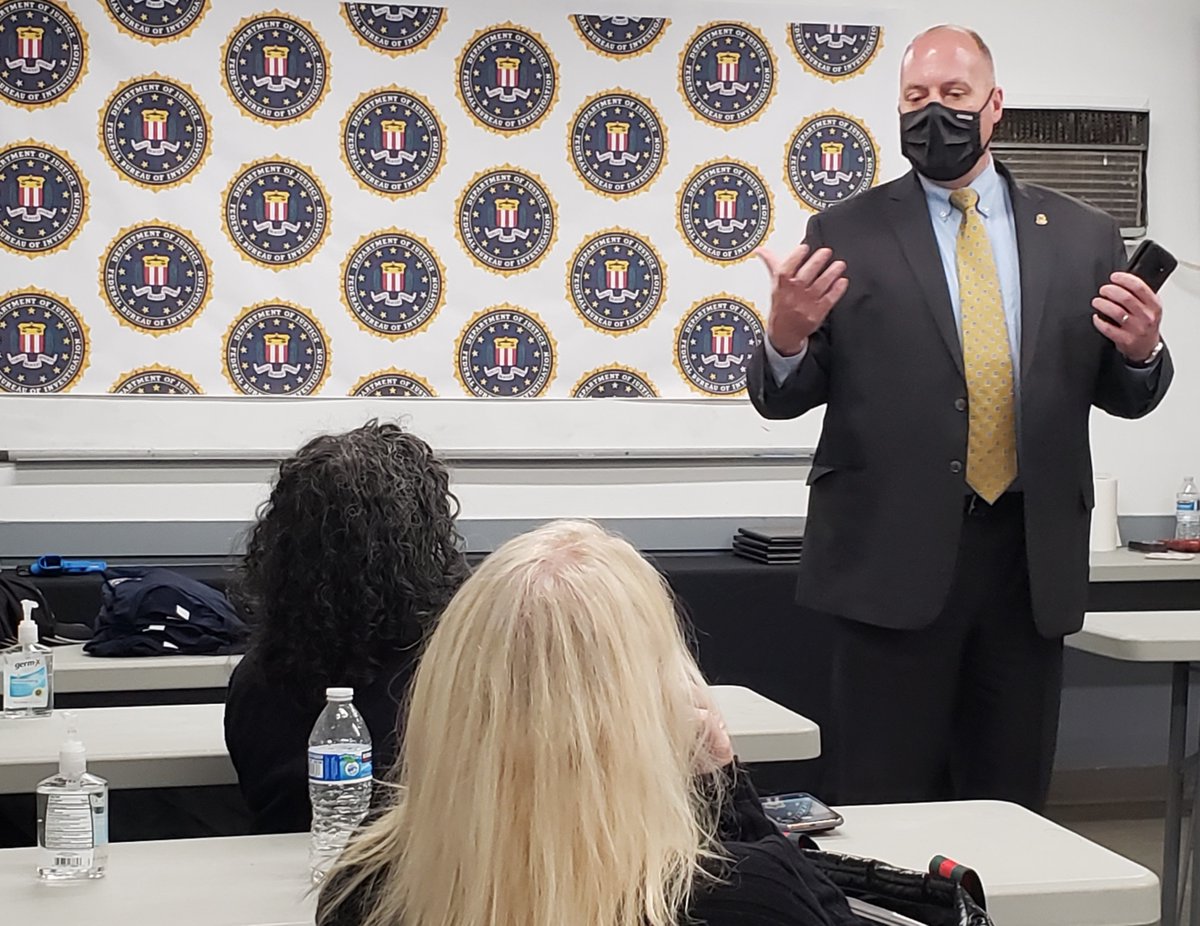 Over the course of seven weeks, participants will have a chance to engage with FBI leadership, case agents and professional staff as they learn about what it is really like to live the Bureau's mission to "protect the American people and uphold the Constitution of the United States."
Applicants may nominate themselves for a participant slot at this link. Nominations are due by Friday, July 16, 2021. Acceptance into the program is competitive. Selections will be made by the field office.
"The Citizens Academy program gives the people we serve a rare chance to see the FBI in action. This is a great opportunity not only for leaders in our community to learn, ask questions, and really engage with our people, but it is also an opportunity for us to learn more from those we serve," said Special Agent in Charge of the FBI in Oregon Kieran L. Ramsey.
Those who apply will be notified of their status no later than August 6, 2021. Once selected, applicants must complete a background check and return the required paperwork by Friday, August 13, 2021.
The intention is to hold the class in-person (pending any health restrictions) for people in the Portland area. Those who live in other parts of the state may participate virtually through an online platform.
Class Information
Most of the academy sessions will be held on Wednesday evenings from 6:00 p.m. to 8:30 p.m.
• September 15: Citizens Academy class
• September 22: Citizens Academy class
• September 29: Citizens Academy class
• October 8 (Friday): Training Range Day
• October 13: Citizens Academy class
• October 20: Citizens Academy class
• October 27: Citizens Academy class
For further information, contact Community Outreach Specialist Antonia Kreamier at ajfabiankreamier@fbi.gov. – https://www.fbi.gov/contact-us/field-offices/portland/news/press-releases/oregon-fbi-accepting-applications-for-its-2021-fall-citizens-academy-program
Hillsboro Man Pleads Guilty in Mail and Identity Theft Scheme
A Hillsboro, Oregon man pleaded guilty today after stealing hundreds of pieces of residential mail throughout the Portland Metropolitan Area and using the personal identity of one local resident to purchase a luxury car.
Dwayne Leroy Daan, 42, pleaded guilty to possessing stolen mail and a counterfeit U.S. Postal Service arrow key, bank fraud, and aggravated identity theft.
According to court documents, between February and May 2020, Daan stole more than 800 pieces of mail from residences in Portland, Beaverton, West Linn, Milwaukee, and Hillsboro, Oregon. Some of the mail was stolen using a counterfeit U.S. Postal Service arrow key. On April 20, 2020, Daan used the stolen identity of a local resident to obtain a line of credit and purchase a 2018 Audi for $51,031 from a car dealership in Milwaukee.
On July 16, 2020, a federal grand jury in Portland returned a four-count indictment charging Daan with possessing stolen mail and a counterfeit U.S. Postal Service arrow key. Later, on June 29, 2021, a superseding criminal information added felony charges for bank fraud and aggravated identity theft.
With his continued acceptance of responsibility, the U.S. Attorney's Office will join Daan in jointly recommending a 90 months federal prison sentence to run concurrently with sentences previously imposed in the Multnomah and Washington County Circuit Courts for similar conduct. If the recommended federal sentence is imposed, the Clackamas County District Attorney's Office will move to dismiss pending charges filed against Daan in the Clackamas County Circuit Court.
Daan will be sentenced on September 29, 2021 before U.S. District Court Judge Michael W. Mosman.
As part of his plea agreement, Daan has agreed to pay restitution in full to his victims and abandon his right to criminally derived proceeds and property seized by law enforcement.
Acting U.S. Attorney Scott Erik Asphaug of the District of Oregon made the announcement.
This case was investigated by the U.S. Postal Inspection Service with assistance from Homeland Security Investigations, the Portland Police Bureau, West Linn Police Department, and Hillsboro Police Department. This case was prosecuted by the U.S. Attorney's Office for the District of Oregon. — U.S. Attorney's Office – District of Oregon
Oregon Bottle Drop mark Bottle Bill's 50th birthday with 'Hidden Bottle Hunts' Across the State
Oregon's iconic Bottle Bill is turning 50! On July 2, 1971, Governor Tom McCall signed into law the nation's first bottle and can redemption system, which has helped keep Oregon clean and litter-free for 50 years. Not only was it the first, but it remains among the best, with Oregon regularly seeing some of the top redemption and recycling rates in the nation.
To mark the 50th Anniversary of the Bottle Bill, the Oregon Beverage Recycling Cooperative (OBRC), parent company to BottleDrop, is hosting a treasure hunt by hiding six commemorative, gold-colored, 50th Anniversary bottles in parks throughout the state.
The six, statewide Hidden Bottle Hunts will take place July 7-11. OBRC will release one clue per bottle, per day, on this webpage, leading hunters to the final hiding spot. The lucky winners will get to keep the commemorative bottle and select a BottleDrop nonprofit partner to receive a $500 donation through BottleDrop's Containers for Change program.
Participants can sign up to receive daily clues at our BottleDrop Hidden Bottle Hunt webpage, or can view new clues each day at bottledropcenters.com/hunt. Six separate hunts, geographically dispersed across Oregon, will be conducted simultaneously, with separate clues being released daily for each hunt.
"There's no better way to celebrate the Bottle Bill's 50th birthday than to engage Oregonians in a fun outdoor activity that features the special places it helps keep litter free," said Eric Chambers, external relations director for OBRC, the not-for-profit cooperative that serves as the operational steward of the Bottle Bill.
"Our Hidden Bottle Hunts will be fun for individuals and families, connect closely with the Bottle Bill's mission of protecting public spaces, and best of all, the winners get to 'redeem' their bottle for a nice donation to one of 4,000 participating nonprofits serving communities across Oregon," Chambers added.
What is the Bottle Bill?
On July 2, 1971, Oregon became the first state in the nation to pass a Bottle Bill – a system that provides a redemption value to Oregonians, incentivizing recycling and keeping bottles and cans out of our natural areas. It remains a groundbreaking approach to addressing the issue of litter in our forests, rivers, beaches, scenic byways and other natural areas. Over time, Oregon's system has grown and innovated, and has become a national model of beverage container redemption and recycling, inspiring national and international delegations to visit Oregon to learn about its unique and effective system. Learn more about the Bottle Bill here.
About BottleDrop and the Oregon Beverage Recycling Cooperative
The Oregon Beverage Recycling Cooperative (OBRC) is the industry steward of Oregon's nationally recognized beverage container redemption system and operator of the BottleDrop network. Headquartered in Clackamas, Ore., OBRC is a statewide, not-for-profit cooperative, formed by the beverage industry to serve as the operational steward of Oregon's Bottle Bill. OBRC helps keep Oregon beautiful by providing outstanding services to partners, distributors, retailers and the public for the recovery, reuse and recycling of beverage containers. Through OBRC's BottleDrop Redemption Centers and container pickup service for more than 2,500 retail partners, the co-op recycles nearly two billion beverage containers annually, protecting the Oregon we love, supporting the causes we cherish, and inspiring innovation beyond our borders – all without any taxpayer funding.