The latest news stories across the state of Oregon from the digital home of the Oregon coastal cities, OregonBeachMagazine.com
Wednesday, May 5, 2021
Oregon Beach Weather
Today- Partly sunny, with a high near 65. Northeast wind around 6 mph becoming west northwest in the afternoon.
Thursday- Rain likely before 11am, then a chance of showers after 11am. Cloudy, with a high near 57. Breezy, with a south wind 9 to 16 mph, with gusts as high as 23 mph. Chance of precipitation is 60%. New precipitation amounts of less than a tenth of an inch possible.
Friday- A 50 percent chance of showers. Partly sunny, with a high near 56. West northwest wind 6 to 10 mph.
Saturday- A 20 percent chance of showers before 11am. Partly sunny, with a high near 58.
Sunday- Mostly sunny, with a high near 59.
Oregon reports 748 new confirmed and presumptive COVID-19 cases, 6 new deaths
There are six new COVID-19 related deaths in Oregon, raising the state's death toll to 2,508. The Oregon Health Authority reported 748 new confirmed and presumptive cases of COVID-19 today, bringing the state total to 187,611.
The new confirmed and presumptive COVID-19 cases reported today are in the following counties: Baker (3), Benton (20), Clackamas (69), Clatsop (2), Columbia (3), Coos (5), Crook (11), Curry (1), Deschutes (58), Douglas (7), Grant (3), Harney (1), Jackson (36), Jefferson (3), Josephine (16), KIamath (52), Lake (2), Lane (50), Lincoln (2), Linn (30), Malheur (13), Marion (45), Morrow (2), Multnomah (115), Polk (15), Tillamook (4), Umatilla (16), Union (2), Wasco (2), Washington (148) and Yamhill (12).
1st Virus Death Since Early April Reported In Lane County As Case Count Climb
A Lane County resident hospitalized with COVID-19 has died, the first pandemic fatality here since early April.
Steve Adams, incident commander for the county's COVID-19 response, said the individual had been hospitalized for 2 weeks.
Lane County Public Health had noted that deaths had not increased along with cases in recent weeks. Senior citizens and vulnerable citizens were the first Oregonians to become eligible for the vaccine this spring.
Adams said residents ages 10 to 29 account for the majority of cases in the community.
The number of new COVID-19 cases in Lane County has continued to trend up, according to the latest numbers from the Oregon Health Authority. The county went from an average of just under 215 cases per 100,000 residents for April 11 to April 24 up to over 230 cases per 100,000 residents for the 2-week period April 18 through May 1.
The threshold between High and Extreme risk is 200 cases per 100,000 residents.
Vaccinations in Oregon
Today, OHA reported that 28,336 new doses of COVID-19 vaccinations were added to the state immunization registry. Of this total, 19,574 doses were administered on May 3 and 8,762 were administered on previous days but were entered into the vaccine registry on May 3.
The seven-day running average is now 32,503 doses per day.
Oregon has now administered a total of 1,668,141 first and second doses of Pfizer, 1,324,331 first and second doses of Moderna and 98,485 single doses of Johnson & Johnson COVID-19 vaccines. As of today, 1,314,226 people have completed a COVID-19 vaccine series. There are 1,870,643 who have had at least one dose.
Cumulative daily totals can take several days to finalize because providers have 72 hours to report doses administered and technical challenges have caused many providers to lag in their reporting. OHA has been providing technical support to vaccination sites to improve the timeliness of their data entry into the state's ALERT Immunization Information System (IIS).
To date, 2,024,685 doses of Pfizer, 1,667,200 doses of Moderna and 240,100 doses of Johnson & Johnson COVID-19 vaccines have been delivered to sites across Oregon. These data are preliminary and subject to change.
OHA's dashboards provide regularly updated vaccination data, and Oregon's dashboard has been updated today.
COVID-19 hospitalizations
The number of hospitalized patients with COVID-19 across Oregon is 345, which is six fewer than yesterday. There are 79 COVID-19 patients in intensive care unit (ICU) beds, which is one fewer than yesterday.
The total number of COVID-19 positive patient bed-days in the most recent seven days is 2,371, which is a 14.9% increase from the previous seven days. The peak daily number of beds occupied by COVID-19 positive patients in the most recent seven days is 351.
The total number of patients in hospital beds may fluctuate between report times. The numbers do not reflect admissions per day, nor the length of hospital stay. Staffing limitations are not captured in this data and may further limit bed capacity. More information about hospital capacity can be found here.
Governor Kate Brown announced on Tuesday that the 15 Oregon counties currently on Extreme Risk status will be able to step back down after a week on the heightened restrictions — a move that will apply to Jackson, Josephine, and Klamath counties.
The change will go into effect on Friday, May 7, allowing the counties that jumped to Extreme Risk last Friday to resume High-Risk status. In all, 24 Oregon counties will be at High Risk, four at Moderate, and eight at Lower Risk
In a statement, Brown's office said that the seven-day average increase for hospitalized COVID-19 patients dropped below 15 percent, putting the state below the threshold outlined in early April. She said she does not anticipate that any counties will return to the state's highest level of restrictions "for the duration of this pandemic."
Oregon OSHA adopts rule extending COVID-19 workplace protections
Oregon OSHA has adopted a rule to maintain risk-reducing safety measures for workers across the state against the coronavirus. Although the rule includes several changes based on the public comments received since the rule was proposed in late January, the basic requirements are largely consistent with those that have been in place since Oregon OSHA adopted a temporary workplace rule in November of last year.
The rule – which will be repealed when it is no longer needed to address the COVID-19 pandemic in the workplace – takes effect today, at the end of a public process that included both stakeholder involvement and more than two months of public comment. As with the temporary rule it replaces, the rule includes such health protection measures as physical distancing; use of face coverings; employee notification and training; formal exposure risk assessment and infection control planning; and optimization and maintenance of existing ventilation systems.
One of the most significant areas of public comment concerned the lack of a specific sunset date or other trigger to automatically repeal the rule. As a result, the final rule includes considerably more detail about the process and criteria that will be used to make the decision o repeal the rule. Oregon OSHA determined that the ongoing pandemic required that the rule be extended to ensure workers receive basic protections from the workplace health hazard presented by COVID-19.
The rule went through the normal process, unlike the greatly abbreviated process allowed for a temporary rule, because Oregon state law does not allow a rule using that temporary process to be in place more than 180 days.
"We reviewed all of the comments – including the many comments that opposed the rule – and we gave particular consideration to those comments that explained their reasoning or provided concrete information," said Michael Wood, administrator of Oregon OSHA. "Although we chose to move forward with the rule, the final product includes a number of changes based on that record."
"At the same time, we are keeping in place key protections for workers as part of Oregon's larger and ongoing project to defeat COVID-19," Wood said. "To allow the workplace COVID-19 protections to simply go away would have left workers far less protected. And it would have left employers who want to know what is expected of them with a good deal less clarity than the rule provides."
Because Oregon OSHA determined it is not possible to assign a specific time for a decision to repeal the rule, Oregon OSHA has committed to consulting with the Oregon OSHA Partnership Committee, the two Infectious Disease Rulemaking Advisory Committees, the Oregon Health Authority, and other stakeholders to help determine when the rule can be repealed. The first of these discussions will take place no later than July 2021, and will continue every two months until the rule has been repealed. The indicators factoring into the decision will include infection rates (including the rate of spread of COVID-19 variants), positivity rates, and vaccination rates, as well as hospitalizations and fatalities.
While the final rule broadly reflects the temporary rule, it also includes some significant changes. Those include:
Reducing the number of industry-specific appendices by six and limiting such requirements specifically to those involving worker protection (which reduced the length of the appendices, and, therefore, of the entire rule, by more than 50 pages)
Dramatically reducing the K-12 schools appendix and removing all references to cohorts and square footage limitations, as well as physical distancing between students.
Requiring employers to consider alternatives to transporting multiple people in a single vehicle and providing other guidance about reducing risk while sharing vehicles. The rule does not, however, require using multiple vehicles to transport multiple employees.
Requiring employers with more than 10 employees – and that have existing ventilation systems – to state in writing that, to the best of their knowledge, they are running their systems in line with requirements. The final rule does not require the purchase or installation of new ventilation systems.
Reducing required sanitation measures to reflect the most up-to-date Centers for Disease Control and Prevention guidance.
Requiring employers to provide written notification to employees of their rights to return to work when employees must quarantine.
Requiring health care employers to provide respirators to employees working with known or suspected COVID-19-positive patients, unless such respirators are unavailable.
The final rule also makes clear that the risk assessment, infection control plan, and infection control training completed under the temporary rule do not need to be repeated as a result of the adoption of the final rule.
The division offers resources to help employers and workers understand and apply the requirements. Those resources include consultation services that provide no-cost assistance with safety and health programs and technical staff, who help employers understand requirements.
Meanwhile, the division has also adopted COVID-19 workplace requirements for workers who rely on housing provided by employers, including as part of farming operations. Those requirements were adopted April 30, and will work in tandem with the comprehensive COVID-19 rule by providing specific guidance for situations involving such housing.
Learn more about the division's workplace guidance and resources related to COVID-19: https://osha.oregon.gov/Pages/re/covid-19.aspx
Oregon OSHA, a division of the Department of Consumer and Business Services, enforces the state's workplace safety and health rules and works to improve workplace safety and health for all Oregon workers. For more information, go to osha.oregon.gov.
The Department of Consumer and Business Services is Oregon's largest business regulatory and consumer protection agency. For more information, go to www.oregon.gov/dcbs/. — Oregon Dept. of Consumer & Business Services
Oregon Extends COVID Workplace Mask Rule Indefinitely
Oregon adopted a controversial rule on Tuesday that indefinitely extends coronavirus mask and social distancing requirements for all businesses in the state.
State officials say the rule, which garnered thousands of public comments, will be in place until it is "no longer necessary to address the effects of the pandemic in the workplace."
"We reviewed all of the comments – including the many comments that opposed the rule – and we gave particular consideration to those comments that explained their reasoning or provided concrete information," said Michael Wood, administrator of the state's department of Occupational Safety and Health. "Although we chose to move forward with the rule, the final product includes a number of changes based on that record."
Oregon, which has been among those with the country's most stringent COVID-19 restrictions, had previously had a mask rule for businesses, but it was only temporary and could not be extended beyond 180 days. That prompted Wood to create a permanent rule with the intent to repeal it at some point.
"To allow the workplace COVID-19 protections to simply go away would have left workers far less protected. And it would have left employers who want to know what is expected of them with a good deal less clarity than the rule provides," Wood said.
But the proposal prompted a flood of angry responses, with everyone from parents to teachers to business owners and employees crying government overreach.
Wood's agency received more than 5,000 comments —mostly critical — and nearly 70,000 residents signed a petition against the rule.
Opponents raised concerns that there is no sunset date or specific metric for when the rule would automatically be repealed. As a result, Wood said the final rule includes considerably more detail about the process and criteria that will be used to make the decision to repeal the rule.
The rule requires that employers make sure that under most circumstances people wear masks while working inside and use face coverings outside if they have to be within six feet of people. It also mandates that businesses make sure people aren't within six feet of each other – unless that's not practical for certain activities.
The agency said it would be considered if the rule can be repealed, starting no later than July.
Besides mask and distancing requirements, the rule — which also includes requirements and guidelines regarding air flow, ventilation, employee notification in case of an outbreak, and sanitation protocols — dovetails with separate actions and restrictions by Gov. Kate Brown, the latest being increased county risk levels.
Last week Oregon recorded the fastest-growing COVID-19 infection rate in the nation, and as a result Brown implemented further restrictions in 15 counties, including banning indoor dining at restaurants and bars and significantly decreasing capacity in gyms and indoor entertainment spaces.
The restrictions were criticized by business owners and Republican lawmakers.
On Tuesday, those counties were moved back a level, effective Friday, because the statewide seven-day average increase for hospitalized COVID-19 positive patients dropped below 15 percent. This means indoor dining and other activities will be allowed.
"With Oregonians continuing to get vaccinated each week, my expectation is that we will not return to Extreme Risk again for the duration of this pandemic," Brown said.
So far, about one-third of Oregon's population has been fully vaccinated.
Around 75% of the state's staffed adult ICU beds and about 85% of the state's staffed adult non-ICU beds are occupied, based on Oregon Health Authority data provided.
In the past month, COVID-19 hospitalizations in Oregon have more than doubled, with 345 people hospitalized with the virus as of Tuesday.
LOCAL HEADLINES:
Oregon Coast Facing A Labor Shortage As Economy Starts to Recover From The Pandemic
After a year of business closures, layoffs and other disruptions to the economy from the coronavirus pandemic, many businesses are eager to hire, but are finding that some people are reluctant to return to the workforce.
The McDonald's restaurant in Astoria upped its starting wage to $15 amid a coronavirus pandemic that has led to a labor shortage.
Unemployment benefits, child care, family obligations and health concerns are among the factors, along with a weariness over the unpredictability of virus restrictions. Clatsop County moved back into the state's high-risk level in late April after a surge of new virus cases this spring.
While businesses have always competed for skilled workers, the pandemic-related labor shortage has created competition for traditionally lower-wage, entry-level and seasonal workers, leading some to offer higher pay and other incentives to attract a deeper pool of job candidates.
Oregon's seasonally adjusted unemployment rate in March was 7.1%, down 1% from February but still more than twice the rate for the same month last year, just before unemployment jumped to more than 23% after virus shutdowns.
State unemployment paid $370 a week on average the first quarter of the year, in addition to $300 a week from the federal government. The benefits total $16.75 an hour for someone working full time, or $34,840 a year.
Regional workforce analyst Shawna Sykes said most of the shortages appear to be in lower-paying hospitality jobs, where front-line workers often have to enforce health and safety guidelines to protect against the virus.
"One of the things we've been hearing from employers is the frustration with enforcing the COVID restrictions with guests that don't want to comply," Sykes said. "That confrontational aspect that is really difficult for some people to handle as wait staff or hostesses … even retail."
People who want to come back to work face pressures from child care to the lack of affordable housing. The county, like all of Oregon, is considered a child care desert. Even small differences between pay and unemployment benefits can have an impact when rents routinely surpass $1,000 a month for one-bedroom apartments.
Sykes said the county has a unique set of housing challenges, with a higher proportion of retirees, remote workers moving to the coast and around 22% of homes being second or vacation properties, compared to 4% statewide.
Curry County Sheriff's Office Collects 75 Pounds of Unused Medications
On April 24, the Curry County Sheriff's Office partnered with Coos Curry Electric Co-Op and the DEA to participate in the 20th National Prescription Drug Take Back Day. The sheriff's office collected approximately 75 pounds of unused, unwanted and/or expired medications between the collection sites in Gold Beach and Port Orford. This collection prevented these medications from potentially being misused and abused or being improperly disposed of.
This spring, the sheriff's office brought the event to North Curry County with the partnership from Coos Curry Electric Co-Op. CCEC graciously allowed the sheriff's office the use of their property in Port Orford for a collection site. Every year, deputies see more support for this event and more medications being collected. It is the Curry County Sheriff's Office's intention to hold this event in Harbor in the fall and Port Orford in the spring moving forward.
The Curry County Sheriff's Office wants to remind people that they can bring in unwanted medications to the sheriff's office lobby in Gold Beach anytime throughout the year for disposal. You may also contact your local pharmacy for medication disposal. Many have collection boxes or are aware of resources to help. The only items that cannot be accepted are liquids, syringes and sharps materials. People with these items are encouraged to contact Curry Transfer & Recycling for options on proper disposal.
For more information regarding the Drug Take Back day event national statistics, please go to www.DEATakeBack.com
May is Wildfire Awareness Month —- Webinar for Public and Media to Address Wildfire Preparedness and Prevention THURSDAY 12 pm
WHAT: May is Wildfire Awareness Month, and the Oregon Office of Emergency Management (OEM) is scheduled to host a wildfire preparedness and prevention panel webinar event in partnership with Keep Oregon Green, Oregon Office of State Fire Marshal, Oregon Department of Forestry, Deschutes County Sheriff's Office, and the Oregon State University Forestry & Natural Resources Extension Fire Program.
WHEN: 12 p.m. Thursday, May 6. The webinar is scheduled for 40-minutes with time allowed for Q&A.
WHERE: Register here: https://bit.ly/3dH4bOk
After registering, you will receive a confirmation email with information about joining the event. Pre-registration is required to attend.
OEM will also live stream the webinar on the agency Facebook page: https://www.facebook.com/OMDOEM/.
WHO:
Carrie Berger, Forestry & Natural Resources Extension Fire Program Coordinator, Oregon State University
Doug Grafe, Chief Fire Protection, Oregon Department of Forestry
Claire McGrew, Assistant Chief Deputy, Oregon State Fire Marshal
Kristin Babbs, President, Keep Oregon Green Association
Traci Naile, Operations & Preparedness Manager, Oregon Office of Emergency Management
Nathan Garibay, Deschutes County Emergency Manager
WHY: As Oregon continues to recover from the devastating 2020 wildfires, we are already seeing higher-than-usual fire activity in Oregon. This year's Wildfire Awareness Month campaign will remind the public how important it is to prevent and prepare for wildfires. At 12 p.m. on May 6, OEM and partners will be hosting a webinar and Facebook Live panel event focusing on wildfire recovery and this year's fire season, with an emphasis on creating defensible space, debris burning, campfire safety, as well as emergency preparedness and evacuation. — Oregon Office of Emergency Management
AROUND the STATE of OREGON
Jackson County State Rep Pam Marsh Leading Way for Statewide Alert System to Go Live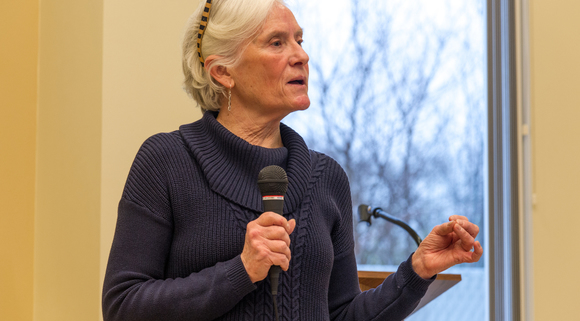 State Rep. Pam Marsh, D-Jackson County, has lead the way for lawmakers working on OR-Alert and making it a reality for the whole state.
The 2021 wildfire season is quickly approaching as many communities are still recovering from last year's wildfires.
After those disastrous fires, Oregon lawmakers worked quickly on an alert system to make sure Oregonians were aware of disasters happening around them.
The system, called OR-Alert, would operate statewide, rather than in individual counties, ideally improving communication in the event of a disaster. It's a statewide alert system that will automatically alert people of wildfires and other weather events. It can also warn people of active shooter situations, hazmat concerns, and 911 outages.
Marsh says some counties already have systems like this but some don't have any system to warn people of a potentially dangerous disaster.
"So what we're trying to do with a state system is essentially for communities that have nothing, we will be that notification system. And for communities that have something, the state system will complement that. It will fill in the gaps," she said.
People have to opt-in to most local emergency alert systems currently. But this one would allow notifications to be sent out to devices automatically, including social media, text message and landline calls.
Marsh says technology in the new alert system is functionally the same as what exists on local levels, but it would be implemented more broadly than current notifications.
"It's one thing to have the availability of technology," said Marsh. "It's another thing to have it integrated into our emergency response systems and have it assigned to the right person or persons so that it's actually used when it needs to be used."
The system is expected to be available to all counties in the state and should be up and running by this summer.
Most of Oregon Poised for Drought this Summer
More than three-fourths of Oregon is in some stage of drought entering May — and forecasters expect it to stay that way into the summer. More than 97% of Oregon is abnormally dry or worse, according to the U.S. Drought Monitor.
The National Weather Service's Climate Prediction Center projects drought will persist across Southern, Central and Eastern Oregon and even the Willamette Valley throughout the summer. The center's latest monthly drought outlook released Friday also shows drought is likely to develop in the northeast corner of the state.
"Drought varies from year to year in its coverage and severity," said Brad Pugh, a meteorologist with the Climate Prediction Center. "But during the past decade, across the Western U.S., drought has become more common and more intense as well."
Oregon saw little precipitation through March and April of this year, and once-promising snowpack levels have plummeted during an unseasonably warm, dry start to spring.
All but one watershed in the state had below-normal snowpack by the end of April. Many had about half the snowpack typical for this time of year.
Snowpack in the Malheur Basin in Eastern Oregon ended the month at just 12% of normal, the lowest in the state.
Drought results from prolonged periods of insufficient precipitation, leading to water shortages. That has implications for fish and wildlife, wildfire, irrigation, drinking water and recreation. It will force difficult decisions about how to ration water to make it through the dry season.
Those problems compound the longer drought persists, which is the issue currently facing the Klamath Basin. Year after year of drought has set the conditions for what could be one of the driest years there in the past century.
Oregon Gov. Kate Brown has declared a drought emergency in Klamath County and the U.S. Interior Department has promised "an all-hands-on-deck approach" to mitigating effects of drought in the region.
The National Resources Conservation Service is set to release Oregon's next water supply outlook report the first week of May.
Fire-injured trees may fall prey to native beetles as drought adds to stress
Trees injured by the Labor Day wildfires last year may face a new threat in the form of tree-killing beetles, which emerged in April looking for new homes.
ODF Forest Entomologist Christine Buhl warns that fire-injured trees can attract bark beetles, which lay their eggs under the bark. When the larvae hatch, they begin feeding on the tree, destroying the tissues needed to send water from the roots to the needles and return nutrients.
The two main culprits, both of which are native to Oregon, are:
Douglas-fir beetle, which attacks and kills large-diameter Douglas-fir
Ips beetles, some of which are lethal to small-diameter pines, including ponderosa, lodgepole, sugar and western white pine, as well as introduced pines
"These two beetles do not attack trees that are already dead but they will readily go after living trees that have been weakened by drought, storms or by being scorched or partly charred in a wildfire."
If enough fire-injured or drought-weakened trees are available, populations of either beetle can in a year or two build up enough numbers that they can overwhelm the defenses of a healthier tree.
"Not every fire-injured stand may experience an uptick in infestation, and not every infestation will spread to healthy trees," Buhl points out. "But the likelihood is greater when otherwise healthy trees are already struggling due to prior stress, such as drought. This is especially true on poor sites with thin or compacted soils, sun-soaked south-facing slopes, or former farmlands converted to woodlots."
Forest landowners concerned about beetles should look for brown frass – sawdust-like piles dug out of trees by the insects. Ips, however, tend to damage smaller diameter portions of pines (tops, branches), which can make it hard to recognize an infestation until treetops begin to die. By the time trees are dying, beetles may have moved on to other trees nearby so check those, advises Buhl. Infested trees will usually die within a year or less.
Landowners can remove beetle-infested trees early to reduce the risk of a larger outbreak, taking care in pine stands to burn or chip pine that's 3 to 8 inches in diameter. "From April through September Ips beetles can infest pine slash. So if you can't burn or chip slash it is best to wait till just after fire season in late October or November to limb up pine trees or conduct operations that create pine slash," Buhl recommends.
She said landowners who want to forestall an outbreak of Douglas-fir beetle next spring might want to review their situation with a specialist (ODF stewardship forester, ODF entomologist, OSU forestry extension) to determine the health of their stand and infestation levels.
Based on the review, it might be recommended that they consider buying the beetle pheromone repellant MCH. If applied in March, MCH discourages this beetle from gathering and attacking trees en masse when they emerge in April from their winter homes.
For more information about insects that affect forest trees visit https://www.oregon.gov/odf/forestbenefits/pages/foresthealth.aspx — Oregon Dept. of Forestry
Oregon to Receive $803,500 in American Rescue Plan Funding from the National Endowment for the Arts
The National Endowment for the Arts is recommending an award of $803,500 to the Oregon Arts Commission in the NEA's first distribution of funds from the American Rescue Plan (ARP). This emergency rescue funding is designed to support the arts sector as it recovers from the devastating impact of the COVID-19. It is part of the $135 million allocated to the Arts Endowment which represents a significant commitment to the arts and a recognition of the value of the arts and culture sector to the nation's economy and recovery.
"The release of these American Rescue Plan funds marks an important step in the economic recovery of the creative sector," said NEA Acting Chair Ann Eilers. "The knowledge of the Oregon Arts Commission about the arts and culture landscape in Oregon makes it an ideal steward of federal dollars. The Arts Endowment is grateful for the continued leadership of the Oregon Arts Commission as the arts sector rebuilds in a way that works better for all arts organizations." – https://www.oregonartscommission.org/
Bill Up For Senate Vote Would Allow Oregon Motorcyclists to Ride Between Slow Or Stopped Traffic
Motorcyclists could drive between lanes of traffic in certain conditions under a bill scheduled for a vote Wednesday in the Oregon Senate.
Senate Bill 574, sponsored by a bipartisan group of urban and rural lawmakers, lays out some very specific requirements. First, it can only happen on roads with two or more lanes of traffic heading in the same direction. Surrounding traffic has to be traveling at ten miles per hour or slower before the motorcyclist can move between the lanes.
Called "lane splitting" or "lane filtering," the idea is to give motorcycles the ability to slip between slow or stopped vehicles. While riding between the slow or stopped traffic, motorcyclists could go up to ten miles per hour faster than surrounding vehicles. Once traffic speeds up to at least ten miles per hour, the cyclist would have to merge back into a regular lane.
Lane splitting would only be allowed on highways with a speed limit of 50 miles per hour or greater. That means most surface streets in the Portland metro area would not qualify, but freeways such as U.S. 26, Interstate 5 and Interstate 84 would.
This isn't the first time the concept has come before lawmakers. In 2017 and 2019, the proposal failed to make it out of committee. Many of the lawmakers sponsoring Senate Bill 574 this year also sponsored the previous versions. The scheduled vote in the full Senate this week marks the proposal's most significant advance in recent years.
Unlike some previous versions of the bill, Senate Bill 574 would not allow motorcyclists to use either the left or right shoulders of the highway to advance through slowed or stopped traffic.
Lane splitting has been legal in California for many years. Utah and Montana have legalized it more recently, although the exact parameters differ somewhat from state to state.
"I'm not a motorcyclist myself," said one of the bill's chief sponsors, Sen. Michael Dembrow, D-Portland. "But I am interested in motorcycles being one of the tools that we can use to reduce congestion and reduce reliance on single-occupancy cars."
More than a hundred people submitted testimony in favor of the bill. Many motorcyclists said they feel vulnerable when sitting at the end of a line of stopped traffic. Being able to move ahead through the backup would make them less vulnerable to rear-end collisions, they argue.
But not everyone on the road is a fan of the idea.
"Motorcycles, when they split lanes, often pass on the right-hand side of a heavy truck, without realizing the blind spot that exists for a truck driver," said Jana Jarvis, president of the Oregon Trucking Association. "They are simply not visible."
Jarvis said if a truck is moving to the right in slowed traffic to get around an accident or lane closure, they would have little chance of seeing a motorcycle driving just inches away from its right side. "The consequences would be severe for a motorcyclist, and life-impacting for the driver of the truck," she said.
OIT Strike Ending – Agreed on Contract
In the early hours of Tuesday morning, Oregon Tech administration and its faculty union agreed on a five year labor
contract, ending a strike that had stretched into its second week. Both parties agreed to new workload expectations which will allow faculty to spend more time with students and in the classroom, according to administration.
An Oregon Tech spokesperson said that OIT offered a guaranteed 11.5 percent increase over the life of the contract,
with an additional 3.5 percent possible through merit increases. It also includes healthcare, in which Oregon Tech will pay nearly 100 percent of healthcare costs.
Officials said that both parties agreed to new workload expectations which will allow faculty to spend more time with students and in the classroom. The union, Oregon Tech – AAUP, said that the faculty's right to bargain over future workload changes is also protected in the contract.
The tentative contract still must go through a ratification process, Oregon Tech – AAUP said, where union members will vote on whether to accept the final contract. OIT faculty are expected to return to work on Wednesday, and
union officials said that they are eager to get back into classrooms.
PRESS RELEASE: Oregon Tech – AAUP Negotiates Historic First Contract; Oregon Tech Strike is Over
For immediate release: In the early hours of Tuesday morning, the bargaining team from Oregon Tech – AAUP came to tentative agreements on a historic first contract for Oregon Tech faculty, achieving their goals of fair wages, a reasonable workload, and secure public employee benefits. The tentative agreements that were reached this week will now move to a ratification process, where union members will vote on whether to accept the final contract.
"We could not have done it without faculty, students, and community supporters far and wide showing up to the lines—both physical and digital—in solidarity with the faculty of Oregon Tech-AAUP," said Kari Lundgren, associate professor in the communication department and OT-AAUP spokesperson. "We are immensely grateful for their generosity and spirit."
A tenacious bargaining team and a strong strike action were an essential part of winning this contract. Faculty in Portland, Klamath Falls, and Salem all came together to take decisive collective action.
Workload for both tenure-track and non-tenure-track faculty had been a sticking point, and now there are protections for faculty with regard to excess workload assignments. Non-instructional workload is also better addressed, meaning faculty will receive workload units for advising students and other related activities that faculty do that make the university function and thrive. Perhaps most importantly, faculty's right to bargain over future changes to workload is protected.
Fair compensation is now enshrined in this first contract, with guaranteed compensation increases through the life of the contract and mechanisms to address existing inequities.
Benefits are secured through the life of the contract in their current form and are tied firmly to the benefits of all other Oregon Tech employees.
All of this certainty is now formalized in the faculty's first union contract, which, once ratified, will be in place through June 30, 2025. Faculty are thrilled to soon have the contract in place to support them in attracting and retaining excellent faculty and providing the best possible education to the students of Oregon Tech.
Negotiations lasted until the early hours of Tuesday morning when a deal was reached, ending a strike that took place at all of Oregon Tech's teaching sites across the region. OT-AAUP's faculty-led negotiating team worked tirelessly since bargaining began in October 2019, especially in the weeks leading up to and during the strike. While other faculty were picketing physically and digitally, bargaining team members were on call 24/7 drafting proposals, researching contracts of other unionized faculty, and meeting with senior administrators in mediation.
Faculty will return to work Wednesday, May 5, and are very eager to get back in their classrooms. "I teach proposal writing, and my students have definitely gotten a great look at how one kind of proposal works over the last 45 days," said Matt Frye, assistant professor in the Communication Department.
Much work remains to rebuild relationships affected by senior administration's persistent mendacity, and, while OT-AAUP's contract should be ratified soon, the timeline for other healing processes is unknown.
Oregon Tech faculty first organized in 2018 over an ongoing struggle to secure fairer labor practices. Bargaining of their first contract began in fall 2019 and continued for over 500 grueling days in order to reach a contract. They became the first public university faculty to go on strike on April 26.
OT-AAUP is proud to have fought tirelessly for a contract that secured for fair wages, secure benefits, and reasonable, clearly defined workload for Oregon Tech faculty.
____________________________________________________
OT-AAUP Mission:
We are the united faculty of Oregon Tech. Through teaching, outreach, and scholarship, we generate and share knowledge to advance the lives of students, the well-being of communities, and the understanding of the world in which we live. We believe that an empowered and organized faculty will help build a better Oregon Tech for current and future generations, which is why we are organizing our union. https://oregontechaaup.org/
OT-AAUP principles:
Defend and implement the principles of public education so that students of diverse backgrounds are provided opportunities to excel.
Champion academic freedom, rigorous discourse, and scientific inquiry so that all members of the university community are encouraged and supported in their endeavors to contribute to the mission of Oregon Tech.
Uphold shared governance of the university characterized by open and responsible communication, fair treatment of individuals, participatory processes, and collaborative decision-making.
Secure working conditions that promote and protect excellence and innovation in all aspects of faculty life at Oregon Tech.
About AAUP: The mission of the American Association of University Professors (AAUP) is to advance academic freedom and shared governance; to define fundamental professional values and standards for higher education; to promote the economic security of faculty, academic professionals, graduate students, post‐doctoral fellows, and all those engaged in teaching and research in higher education; to help the higher education community organize to make our goals a reality; and to ensure higher education's contribution to the common good. Founded in 1915, the AAUP has helped to shape American higher education by developing the standards and procedures that maintain quality in education and academic freedom in this country's colleges and universities. https://www.aaup.org
Lawmakers Pass Bill to Make it Easier for Communities to Create Shelters and Temporary Housing
A lack of adequate shelter beds has long plagued Oregon. It was recently estimated that 10,000 people in the state sleep outside on any given night — a number that has likely increased during the pandemic.
But on Monday, Oregon lawmakers passed a bill that will make it easier and quicker for communities to create emergency shelters and temporary housing. House Bill 2006, which the Senate passed 26-1, will remove barriers to siting shelters by temporarily adjusting land use laws and waiving some design, planning and zoning regulations.
Shelters would still be required to comply with certain building codes along with meeting public health and safety requirements. A similar bill was passed in June but expired after 90 days. The new bill, which is awaiting consideration by Gov. Kate Brown, would expire in July 2022, although shelters could remain open.
Oregon Cannabis Sales Sets New Monthly Record in April
Oregon's cannabis industry has set another monthly sales record, reaching $110.4 million in April.
Taxed adult-use sales also cracked the $100 million mark for the first time, at $100.3 million, according to preliminary data from the Oregon Liquor Control Commission.
It was the second straight month of record sales — just topping a revised $109.6 million for combined adult-use and medical sales in March — amid government stimulus and an improving economy.
A pandemic boom last year brought several monthly records.
With the 4/20 cannabis "holiday," April always brings big promotional efforts by retailers. But sales this April were 23% higher than last year and a whopping 77% higher than April 2019.
For the first four months of 2021, sales are running 31% above last year, at $409.4 million.
About 91.2% of that total, $373.4 million, was spent on adult-use products that are taxed at 17% by the state and 3% by cities or counties. Medical sales are not taxed.
State economists recently forecast $301 million in cannabis tax collections in the two-year budget period that ends June 30, but the spring uptick appears likely to push the total past that. In the 2018-19 biennium, the tax brought in $184.3 million.