The latest news stories across the state of Oregon from the digital home of the Oregon coastal cities, OregonBeachMagazine.com
Friday, September 15, 2023
Oregon Beach Weather
SMALL CRAFT ADVISORY ISSUED: 2:25 AM SEP. 15, 2023 – NATIONAL WEATHER SERVICE
...SMALL CRAFT ADVISORY REMAINS IN EFFECT UNTIL 2 AM PDT SATURDAY...

* WHAT...North winds 15 to 20 kt with gusts up to 25 kt and steep wind-driven seas 5 to 6 ft at 5 to 6 seconds.

* WHERE...All waters.

* WHEN...Until 2 AM PDT Saturday.

* IMPACTS...Gusty winds and steep seas could capsize or damage smaller vessels, and will pose an increased risk to inexperienced mariners.

* View the hazard area in detail at https://go.usa.gov/x6hks
Anvil Fire Near Port Orford Update
Preliminary reports are showing that the Anvil Fire tripled in size yesterday and is now at more than 4,400 acres!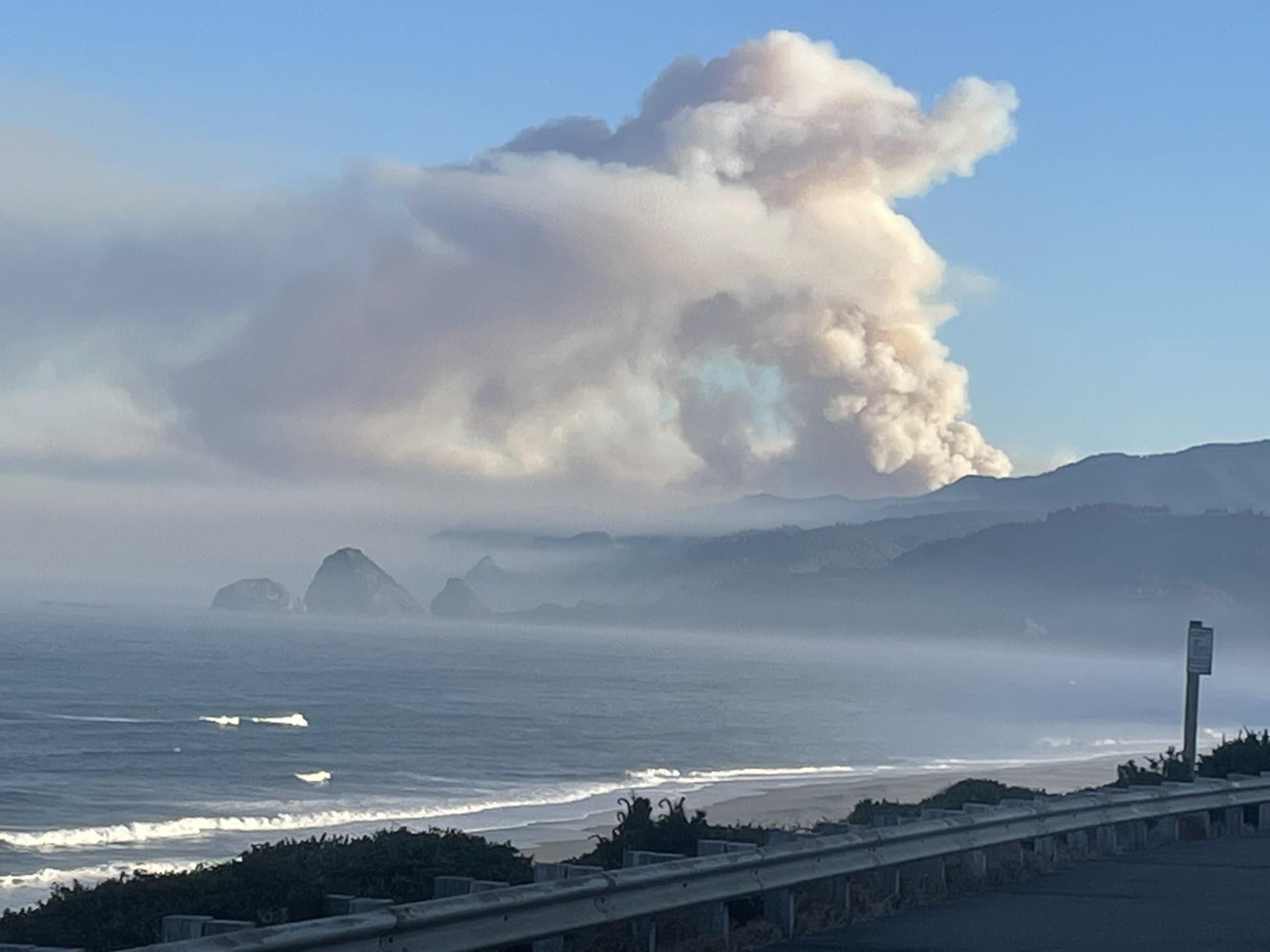 Firefighters continued their efforts to protect area residences by digging firelines and preparing hoses and pumps used to protect homes if the fire approaches them. Morning winds out of the north shifted to the northeast by afternoon, when gusts reached up to 25 mph on ridgetops. Heavy smoke was visible over the Port Orford area as fire activity increased on the north and west sides of the fire.
Helicopters dropped approximately 49,000 gallons of water on the fire yesterday to support fire crews working on the ground. Increased afternoon winds prevented flying later in the day and helicopters were set down for safety. Firefighters worked late into the night as the fire continued to burn actively due to low overnight humidity. In the valleys, humidity is higher and the winds have not been as strong, which has led to less fire activity at lower elevations.
Evacuations: A Level 3 "Go" evacuation status was initiated this morning along Elk River Road from milepost 4 to the Butler Bar Campground by the Curry County Sheriff. The Sheriff assigned a Level 2 "Get Set" evacuation yesterday from Edson Creek Campground to Sixes River Campground, about 16 miles east of U.S. Highway 101, on Sixes River Road. Sign up for Curry Co. emergency alerts at https://bit.ly/CurryCoEM.
Direct action on the Three Buttes Fire continues as containment has risen to 26%. Due to more accurate mapping, the fire size has decreased to 117 acres.
This new mapping was conducted by firefighters walking the entire perimeter of the fire, where safe to do so, while the previous total acreage was calculated by a combination of walked fireline and helicopter reconnaissance by air, fire officials reported.
Action on the Three Buttes Fire continues as containment has risen to 26%. Due to more accurate mapping, the fire size has decreased to 117 acres.
This new mapping was conducted by firefighters walking the entire perimeter of the fire, where safe to do so, while the previous total acreage was calculated by a combination of walked fireline and helicopter reconnaissance by air, fire officials reported.
In addition to ground-truthing the fire perimeter, crews have been working hard within the direct fire area to secure the perimeter. This work includes putting out burning stumps, cooling ash-pits, and walking the ground repeatedly to 'cold trail' by hand. This has helped increase containment.
The indirect fireline is complete except for a section on the southeast side near the intersection of Forest Road 712 and Forest Road 673. Firefighters continue to reinforce the fuel break around the Herman Peak communication site. There are 88 people assigned to the fire including two crews, one engine, three water tenders, and thirteen pieces of heavy equipment.
Several popular Forest Roads remain partially closed including Forest Road 58 and Forest Road 1057.
The Upper North Fork Siuslaw Road is open for travel. Drivers should maintain safe speeds and watch for increased fire traffic. For the complete Three Buttes Fire closure order, including a map of the closure area, please visit: https://www.fs.usda.gov/Internet/FSE_DOCUMENTS/fseprd1135475.pdf
For more information, visit the Siuslaw National Forest Facebook page (@SiuslawNF) and the Siuslaw National Forest Webpage.
Free Disaster Readiness Fair in Astoria on September 30th
Senior Communications Specialist Jennifer Benoit of Astoria, Oregon, has cordially invited the community to attend a free readiness fair. The event is scheduled from 11 a.m. to 2 p.m. on Saturday, September 30, at Warrior Hall at Camp Rilea in Warrenton.
The fair aims to educate the community about preparing for natural disasters. Free lunch and survival tools will be provided to attendees, however, these are subject to availability. The event invites not only adults but also children, with planned activities specifically targeted for their entertainment and knowledge growth.
Opportunities to interact with local experts, view outdoor displays, and win prizes are some additional highlights of the event.
This initiative by the local authority intends to increase disaster preparedness among the community while promoting engagement and learning in a relaxed setting. https://www.facebook.com/events/2150610985143287/?ref=newsfeed
LCPD Plans Traffic Safety Enforcement Operations Including Upcoming Pedestrian Safety Operation and Distracted Driving Operations
The Lincoln City Police Department plans to conduct a Pedestrian Safety Operation on Monday, September 18, 2023, on Hwy 101 in the area between N 10th Street and N 14th Street.
The primary focus of this operation is to raise pedestrian safety awareness. With the use of a decoy pedestrian, the Lincoln City Police Department hopes to raise the awareness of drivers through education and enforcement of pedestrian right-of-way laws. The operation will be conducted between the hours of 3:00 PM and 6:00 PM. Warning signs will be posted prior to entering the pedestrian safety operation zone.
LCPD last conducted a pedestrian safety operation on August 11, 2022. During that operation, twenty-one citations and thirteen warnings were issued for violations of the crosswalk laws (Failing to stop for pedestrian in crosswalk or Passing vehicle stopped at a crosswalk).
In addition to the pedestrian safety operation, the Lincoln City Police also plans to conduct several Distracted Driving Enforcement operations through the end of September 2023. These operations are designed to stop drivers who are distracted while operating their vehicles and talking on their cell phones or other electronic devices. In addition, the officers will be looking for drivers who are driving aggressively by speeding, following too close, making dangerous or unsignaled lane changes, or running stop signs.
The members of the Lincoln City Police Department are dedicated to enhancing the safety of our citizens and guests of the city, and these safety operations are conducted in an effort to reduce the potential for injuries or death caused from traffic collisions.
Funding for the pedestrian safety operations and the distracted driving operations are made possible through grants provided by the Oregon Department of Transportation and Oregon Impact.
Federal Officials To Meet With Oregonians About Controversial Offshore Wind Energy Projects
Federal Bureau of Ocean Energy Management officials will meet with Oregonians concerned or curious about potential floating offshore wind energy projects following public and political outcry.
Officials will host three in-person meetings in Gold Beach, Coos Bay and Brookings on Sept. 26, 27 and 28. The agency also doubled the public comment period from 30 to 60 days, until Oct. 16.
Generating clean energy from wind turbines floating in the Pacific Ocean is part of state and federal plans to rapidly reduce greenhouse gas emissions contributing to global climate change. But some residents of the Oregon Coast and several tribal nations are concerned about the potential impact to marine life, fisheries and the industries and people who depend on them.
Coos Bay and Brookings are closest to the two swaths of Pacific Ocean identified by the ocean energy agency as ideal for large wind turbines that would float about 18 to 32 miles from land. Energy generated across the 344 square miles of open ocean identified for the projects could power nearly 200,000 homes. The federal agency would like to host an auction by year's end, allowing companies interested in developing ocean wind energy to bid on leases for the sites. A similar auction in California in 2022 brought in $757 million in winning bids for four companies.
Brad Kneaper, chair of the tribal council of the Confederated Tribes of the Coos, Lower Umpqua and Siuslaw Indians said he supports green energy development, but he said the current plans for projects along the Oregon Coast would risk the health of fisheries and the local fishing industry.
"We cannot support offshore wind development until we are provided assurance that it will do good and not harm the tribe, its members and the greater community," he said in a statement.
The decision to host the in-person meetings about the projects, and to double the standard 30-day comment period required of such plans, follows pressure from Gov. Tina Kotek and U.S. Sens. Ron Wyden and Jeff Merkley of Oregon and Oregon's congressional Reps. Suzanne Bonamici and Val Hoyle.
Submit comments online here through Oct. 16.
The group sent two letters to Elizabeth Klein, the ocean energy agency's director, in June and August asking the bureau to pause the process of identifying and leasing offshore wind areas until there was more collaboration with stakeholders.
"Renewable energy is an essential piece of the strategy to combat the climate crisis. However, local communities and fishermen have to be at the center for decisions about offshore wind projects that affect their livelihoods," Wyden said in a statement.
The federal agency and the Oregon Department of Land Conservation and Development have held more than 75 meetings with Oregonians about offshore wind development since 2021. These include meetings with coastal communities, the public, elected officials, county commissioners, Oregon seafood commodity commissions, tribal nations, representatives from the wind industry, research and environmental organizations, the Oregon Ocean Policy Advisory Council and the Pacific Fishery Management Council.
The public can comment at a Sept. 18 virtual meeting of the Oregon Intergovernmental Renewable Energy Task Force. The group has met more than 10 times since 2011 and is made up of tribal, federal state, and local government officials. On Sept. 21, the ocean energy agency will also host a webinar for anyone interested in learning more about its data on offshore wind energy generation and the health of fisheries. (SOURCE)
SOLVE Beach & Riverside Cleanup
SOLVE is hosting over 60 project sites statewide between September 9th through September 17th – with the main events culminating on Saturday, September 16th. This extensive reach encompasses locations from the Coast to Portland, as well as the Willamette Valley, Central and Eastern Oregon. Volunteer registration is now live. Visit www.solveoregon.org to learn more about the available projects and to register for this impactful event.
– Get ready to participate in a time-honored tradition as SOLVE presents the Annual Beach & Riverside Cleanup. This eagerly anticipated event brings families and communities together to engage in beach cleanups, river cleanups, habitat restoration projects, and neighborhood litter pickup events throughout Oregon.
From its inception in 1986, the Beach & Riverside Cleanup has evolved into a cherished annual event for countless Oregonian families. "It stands as a testament to our shared dedication to environmental stewardship, offering a safe and efficient way to make a lasting impact," says Kris Carico, SOLVE's Chief Executive Officer. "Our journey through the years has fostered a deep connection to Oregon's waterways, from their origin to the sea. We encourage all fellow Oregonians to sign up for this statewide cleanup event."
Since its start, the Beach & Riverside Cleanup has accounted for the removal of more than 2.5 million pounds of litter and marine debris. To put this in perspective, that's equivalent to the weight of six Boeing 747 airplanes. Last year's impressive effort involved almost 3,000 volunteers across 147 sites in Oregon, resulting in the collection and removal of approximately 50,000 pounds of discarded trash. September 16th is also International Coastal Cleanup Day and SOLVE is proudly joining forces with the Ocean Conservancy Group, contributing to a global endeavor aimed at preserving our coastlines.
SOLVE's Beach & Riverside Cleanup is in partnership with Subaru of Portland, with additional support from OnPoint Community Credit Union, Bamboo Sushi, Oregon Parks and Recreation Department, Metro, BottleDrop, Knife River, Koin, Fred Meyer, Chevron, Clean Water Services, Tillamook County Creamery Association, and Tektronix.
About SOLVE — SOLVE is a statewide non-profit organization that brings Oregonians together to improve our environment and build a legacy of stewardship. Since 1969, the organization has grown from a small, grassroots group to a national model of volunteer action. Today, SOLVE mobilizes and trains tens of thousands of volunteers of all ages across Oregon to clean and restore our neighborhoods and natural areas, and build a legacy of stewardship for our state. Visit solveoregon.org for more information.
Woman sentenced to (20) months in prison for incident involving vandalizing the Millington Fire Department and ramming a Sheriff's Deputy's patrol vehicle in mid-August 2023
On August 12th, 2023, Chelsea A. Praus (38) of Coos Bay was arrested on several charges after damaging the Millington Fire Station and subsequently ramming a Sheriff's Deputy's patrol vehicle.
Deputy District Attorney John Blanc diligently worked with the victims in this case (Millington Fire, Deputies J. Gray & H. Francis) and the defendant's attorney. Ultimately, a decision was reached which was supported by the victims in this case to offer Ms. Praus a plea agreement for several reasons.• Hold Ms. Praus accountable for her actions.• Ensure Ms. Praus has access to drug treatment programs/classes in prison• Continue Ms. Praus' supervision post-prison during her re-integration period into society.
As a result, on September 11th, 2023, Chelsea A. Praus (38) pleaded guilty to Burglary I, Criminal Mischief I (2 Counts), Unlawful Use of a Weapon, Attempt to Commit a Class B Felony (Assault II), and Reckless Endangering Another Person. Ms. Praus was sentenced to (20) months in the Department of Corrections. Ms. Praus will have (36) months of post-prison supervision.
For the complete sentencing order, click the link and search case 23CR39091https://webportal.courts.oregon.gov/portal/
Lincoln Co. Sheriff's Office Introducing Quarterly Coffee with a Deputy
The Lincoln County Sheriff's Office is excited to introduce quarterly "Coffee with a Deputy" events. Every three months our office will partner with a local coffee shop in Lincoln County to provide a time, space, and coffee for community members to meet our team and share what's on their minds. Coffee with a cop events are a friendly and relaxed way for communities to connect with the deputies that serve them.
To kick off our first Quarterly Coffee with a Deputy event, Pirate Coffee Company in Depoe Bay will be hosting our team. Join us on Wednesday, October 4, 2023, from 9am – 11am for a cup of coffee and a conversation at Pirate Coffee Company (located at 10 Vista St., Depoe Bay, Or 97341).
These events offer a unique opportunity for community members to directly engage with law enforcement, ask questions, voice concerns, and build positive relationships. Whether you're a regular coffee drinker or simply curious about the work of law enforcement, this is a chance to connect with deputies on a personal level, learn about each other's experiences, and share local feedback. Join us on October 4, 2023, at Pirate Coffee Company to connect with your Lincoln County Sheriff's Office.
The divestiture plan also includes 104 stores in Washington state and 13 from the Albertsons portfolio in Idaho.
The deal would give an enlarged retail operation of more than 500 stores to the privately held C&S.
Founded in 1918, C&S is a wholesale supplier to more than 7,500 independent supermarkets, retail chain stores and military bases. It runs Grand Union grocery stores and Piggly Wiggly franchise and corporate-owned stores in the Midwest, the Carolinas, New York and Vermont. It also operates a wholesale warehouse in Troutdale.
The sell-off is part of Kroger's efforts to mollify antitrust regulars at the Federal Trade Commission who are evaluating the proposed merger.
Kroger, the nation's largest supermarket chain, which bought Fred Meyer in 1998, announced plans in October to buy its next largest competitor, Albertsons Cos. Inc., for $24.6 billion. The companies hope to finalize the sale early next year.
The Pacific Northwest is one of the regions where the two companies compete directly, so the combination could leave Oregonians with fewer choices for grocery shopping. In Oregon, Kroger and Albertsons are two of the biggest grocery chains, with a combined market share that's even bigger than Walmart.
The Oregonian/OregonLive identified roughly 33 Kroger and Albertsons-owned stores across the state that sit within a mile of one another, including 20 in the Portland metro area. More than 100 are less than two miles apart.
Many are within line-of-sight of a neighboring store. In Oregon City, for example, a Fred Meyer, Safeway and Albertsons are within blocks of one another.
Kroger and Albertsons are two of the state's biggest grocery chains, with 171 stores altogether.
Gary Millerchip, Kroger's chief financial officer, told investors during an earnings call Friday that C&S will acquire three banners — Mariano's, QFC and Carrs — as part of the divestiture package. He said the company will also receive a license to operate under the Albertsons banner in four states — California, Colorado, Wyoming and Arizona.
"If they ultimately buy stores that are different banners than those four today, they would need to re-banner those stores over a period of time," Millerchip said.
The acquisition, which the companies say would allow them to take on the likes of Walmart and Amazon, comes as shoppers continue to battle historic inflation at grocery stores.
The deal contemplates the possibility that regulators may balk at the merger plan and demand more store divestitures.
Before the deal with C&S closes, "Kroger may, in connection with securing FTC and other governmental clearance, require C&S to purchase up to an additional 237 stores in certain geographies," the companies said in the news release.
C&S has prior experience with divestitures related to mergers and has successfully transitioned union employees and their associated collective bargaining agreements in the past.
"Importantly in our agreement, C&S commits to honoring all collective bargaining agreements which include industry-leading benefits, retaining frontline associates and further investing for growth," Kroger CEO Rodney McMullen said in a statement on Friday.
Stores in 17 states and the District of Columbia will be affected including 49 Albertsons Cos. and Kroger stores in Oregon. (SOURCE)
Save Eugene's Hospital Press Conference UPDATE
Officials and the public gathered on the sidewalk in front of PeaceHealth Sacred Heart Medical Center University District Monday afternoon in response to PeaceHealth intent to close Eugene's only hospital–PeaceHealth Sacred Heart Medical Center University District. This dangerous decision would leave more than 200,000 residents with no hospital in Oregon's 2nd largest city.
The press conference was livestreamed on the Oregon Nurses Association's (ONA's) Facebook page here.
Local frontline health care workers, city and county elected officials, union leaders, students and community advocates held a press conference Monday, Sept. 11 urging PeaceHealth to reverse its decision to close Eugene's only hospital and calling on state leaders and the Oregon Health Authority to do everything in their power to protect Oregonians' access to local health care.
Prominent local elected officials, along with frontline health care workers, union leaders, community advocates and patients spoke including members of the Eugene City Council, Lane County Commission, Teamsters Local 206/CAHOOTS (Crisis Assistance Helping Out On The Streets), the Oregon Nurses Association (ONA), the Oregon Federation of Nurses and Health Professionals (OFNHP), SEIU 49, the Graduate Teaching Fellows Federation, Health Care for All Oregon (HCAO) and other leading community organizations.
Speakers included:
Eugene Mayor Lucy Vinis
Lane County Commissioner Laurie Trieger
Chelsea Swift, Teamsters Local 206 member and CAHOOTS Medic and Agency Outreach
Lorie Quinn, Vice-President of SEIU 49 and health care worker at Sacred Heart
Marianne Zundel, ONA member and registered nurse at Sacred Heart University District
Kevyn Paul, ONA member and registered nurse at Sacred Heart University District
Tina Davis, OFNHP member and pharmacy tech at Sacred Heart Riverbend
Lou Sinniger, AFSCME Retirees & Health Care for All Oregon member
Rajeev Ravisankar, Former President of the GTFF at the University of Oregon
Anne Tan Piazza, ONA Executive Director
WHY: On Aug. 22, PeaceHealth executives in Vancouver notified our community that they planned to close Eugene's only hospital–PeaceHealth Sacred Heart Medical Center University District–this fall.
This dangerous and irresponsible decision would leave nearly 200,000 people in Oregon's second largest city without a hospital.
Losing our only hospital is a clear and present danger to the entire Eugene community—particularly our most vulnerable residents. PeaceHealth is gambling with our families' long-term health and safety and putting profits ahead of people.
Local elected officials, frontline health care workers, unions, allies and residents are calling upon PeaceHealth to reconsider this disastrous decision and asking the Oregon Health Authority and state leaders to do everything in their power to save lives and keep Eugene's only hospital open.
Learn more at www.SaveEugenesHospital.com.
Join us in asking the Oregon Health Authority (OHA) and Governor Tina Kotek to do everything in their power to prevent PeaceHealth's from closing Eugene's only hospital!
Use this easy tool to email OHA and ask them to save Eugene's hospital and protect Lane County residents: https://actionnetwork.org/letters/save-eugenes-hospital?source=direct_link&
The Oregon Nurses Association (ONA) is the state's largest and most influential nursing organization. We are a professional association and labor union which represents more than 16,000 nurses and allied health workers throughout Oregon. ONA's mission is to advocate for nursing, quality health care and healthy communities. For more information visit: www.OregonRN.org.
Former Portland Marathon President Sentenced in Federal Court
PORTLAND, Ore.—The former president and event director of the Portland Marathon pleaded guilty and was sentenced in federal court today for evading taxes due on the funds he stole from the charitable organization that had backed the race since the early 1980s.
Lester V. Smith, Jr., 83, of Tomball, Texas, was sentenced to three years' federal probation to include eight months of home confinement. Smith was also ordered to pay $411,279 in restitution to the IRS.
Prior to being sentenced, Smith pleaded guilty to one count of attempting to evade and defeat income taxes.
According to court documents, for nearly 35 years, Smith served as the president and event director of Portland Marathon Inc. (PMI), the charitable organization formerly responsible for planning and operating the Portland Marathon. In these roles, Smith managed the organization's day-to-day operations and finances, and had sole authority to approve expenses paid from PMI's business bank account.
Beginning in January 2012 and continuing through 2017, Smith made or directed others to make unauthorized transfers of funds from PMI's bank account to his own personal checking account, paid various personal credit cards with PMI funds, and wrote unauthorized checks from PMI payable to himself. On one occasion, Smith used a PMI check to purchase a $60,000 Infiniti sport utility vehicle. Smith also used stolen funds to pay for home remodeling projects, shopping sprees at department stores, home décor, furniture, and other luxury goods and services.
Smith and another individual also incorporated a for-profit company called Next Events Productions, LLC to consult with PMI about setting up running events. Between 2012 and 2017, PMI made more than $302,000 in payments to Next Events. Investigators later discovered bank records from Next Events showing that once PMI funds were deposited, a substantial portion was transferred to Smith's personal bank account.
While defrauding PMI, Smith also substantially underreported more than $1.2 million in taxable income to the IRS. Despite retaining an accountant to prepare his and his wife's personal income tax returns for 2012 through 2017, Smith failed to disclose to the accountant payments received from PMI, the purchase of the Infiniti SUV with PMI funds, or funds received from PMI via Next Events.
On February 17, 2022, a federal grand jury in Portland returned a seven-count indictment charging Smith with wire fraud and attempting to evade and defeat income taxes.
This case was investigated by the FBI and IRS Criminal Investigation. It was prosecuted by Claire M. Fay, Assistant U.S. Attorney for the District of Oregon.
Red Cross Facing a National Blood Shortage
Donors needed now as hospital demand outpaces blood donations
Portland, Ore (Sept. 11, 2023) — The American Red Cross is experiencing a national blood shortage. Fewer donors than needed gave this summer, drawing down the national blood supply and reducing distributions of some of the most needed blood types to hospitals. Hurricane Idalia further strained the blood supply with blood drive cancellations and reduced blood and platelet donations in affected areas.
Donors of all blood types are urgently needed, and there is an emergency need for platelet donors and type O blood donors to make an appointment to give now to ensure patients across the country continue to receive critical medical care.
When Idalia slammed into the Southeast – leading to widespread power outages, travel hazards and flooding – the storm also forced the cancellation of over a dozen blood drives and caused hundreds of blood and platelet donations to go uncollected. This compounded a shortfall of about 30,000 donations in August. Right now, blood product distributions to hospitals are outpacing the number of blood donations coming in.
The Red Cross needs blood and platelet donors now. Schedule an appointment to give by downloading the Red Cross Blood Donor App, visiting RedCrossBlood.org or calling 1-800-RED CROSS (1-800-733-2767).
In thanks for helping rebuild the blood supply, all who come to give Sept. 1-18 will receive a limited-edition Red Cross T-shirt, while supplies last. Those who come to give throughout September will also receive a coupon for a free haircut by email, thanks to Sport Clips Haircuts. Plus, they'll be automatically entered for a chance to win a VIP NASCAR racing experience. Details are available at RedCrossBlood.org/RaceToGive.
Visit www.redcrossblood.org and put in your zip code to find a donation site near you.
September is Sickle Cell Awareness Month
One in 3 African American blood donors is a match for people with sickle cell disease. To help ensure patients have the blood products they need, the Red Cross launched the Sickle Cell Initiative in 2021 to grow the number of blood donors who are Black and improve health outcomes for patients. Together longtime and first-time blood donors are helping patients with sickle cell manage their symptoms and showing support for their community.
Joined by Blood is the initiative's focus during Sickle Cell Awareness Month in September and continues through October. This year, the Red Cross is proud to partner with organizations focused on mentorship, including 100 Black Men of America, Inc.; Kier's Hope Foundation, Inc.; historically Black colleges and universities and member organizations of the National Pan-Hellenic Council; as well as the Black Radio Hall of Fame and others, who are all showing up for patients with sickle cell by hosting blood drives. To learn more, visit RedCrossBlood.org/OurBlood.
How to donate blood
To make an appointment, simply download the American Red Cross Blood Donor App, visit RedCrossBlood.org, call 1-800-RED CROSS (1-800-733-2767) or enable the Blood Donor Skill on any Alexa Echo device to make an appointment or for more information. A blood donor card or driver's license or two other forms of identification are required at check-in. Individuals who are 17 years of age in most states (16 with parental consent where allowed by state law), weigh at least 110 pounds and are in generally good health may be eligible to donate blood. High school students and other donors 18 years of age and younger also have to meet certain height and weight requirements.
Amplify your impact − volunteer
A stable blood and platelet supply is critical to national preparedness. Additionally, as we are in the beginning of what is expected to be another active hurricane season, the Red Cross urges everyone to get ready now and consider becoming a volunteer to help people affected by the growing number of climate-driven disasters.
Support impacted communities by assisting at Red Cross shelters, using your professional skills as a licensed health care provider or becoming a member of the Red Cross Disaster Action Team. To learn more, visit redcross.org/volunteertoday.
About the American Red Cross:
The American Red Cross shelters, feeds and provides comfort to victims of disasters; supplies about 40% of the nation's bloodand is the primary blood supplier to 65 hospitals throughout Washington and Oregon; teaches skills that save lives; distributes international humanitarian aid; and supports veterans, military members and their families. The Red Cross is a nonprofit organization that depends on volunteers and the generosity of the American public to deliver its mission. For more information, please visit redcross.org/Oregon or CruzRojaAmericana.org, or visit us on Twitter at @RedCrossCasc. American Red Cross – Cascades Region
83-year-old Clarence Edward Pitts walked away from his home in Bandon on Tuesday, January 31 at around 1:00 p.m. Pitts is described as:
6′ 00″
150 lbs
Gray hair
Brown eyes
Last seen wearing an orange beanie, plaid jacket, tan pants and white shoes
May have a walking cane
Has dementia and PTSD
Pitts may be in a vehicle that was also found to be missing from the home:
1999 Toyota Van
White
Oregon license plate: WYN 788
If you see Clarence or have any information pertaining to where he may be, please call the Coos County Sheriff's Office Dispatch Center at 541-396-2106 or the Bandon Police Department at 541-347-3189.
Contact us: Info@OregonBeachMagazine.com