The latest news stories across the state of Oregon from the digital home of the Oregon coastal cities, OregonBeachMagazine.com
Friday, April 16, 2021
Oregon Beach Weather
Red Flag Warning
URGENT - FIRE WEATHER MESSAGE
National Weather Service 
900 AM PDT Fri Apr 16 2021

...RED FLAG WARNING LATE THIS MORNING THROUGH LATE EVENING FOR A
LARGE PORTION OF NORTHWEST OREGON...

.Strengthening offshore low-level flow today in conjunction with
unseasonably warm and dry conditions and abnormally dry smaller
fuels will result in critical fire weather conditions over much of
northwest Oregon. Expect strong and gusty northeast to east wind
to develop late this morning and continue through the evening.
Minimum humidity values of 15 to 25 percent will be common this
afternoon.
Today- Sunny, with a high near 72. Northeast wind 6 to 8 mph.
Saturday- Sunny, with a high near 69. East southeast wind 5 to 8 mph becoming northwest in the afternoon.
Sunday- Patchy fog before 9am. Otherwise, sunny, with a high near 61. Calm wind becoming west around 6 mph in the afternoon.
Monday- Mostly sunny, with a high near 60.
Tuesday- Mostly sunny, with a high near 59.
Oregon reports 733 new confirmed and presumptive COVID-19 cases, 6 new deaths
There are six new COVID-19 related deaths in Oregon, raising the state's death toll to 2,455. The Oregon Health Authority reported 733 new confirmed and presumptive cases of COVID-19 bringing the state total to 172,931.
The new confirmed and presumptive COVID-19 cases reported today are in the following counties: Baker (16), Benton (18), Clackamas (63), Clatsop (3), Columbia (10), Coos (9), Crook (5), Curry (3), Deschutes (53), Douglas (10), Grant (1), Hood River (6), Jackson (34), Jefferson (5), Josephine (13), Klamath (46), Lane (74), Lincoln (6), Linn (23), Malheur (2), Marion (56), Morrow (1), Multnomah (120), Polk (22), Tillamook (3), Umatilla (9), Union (3), Wasco (8), Washington (98) and Yamhill (13).
Vaccinations in Oregon
Today, OHA reported that 44,971 new doses of COVID-19 vaccinations were added to the state immunization registry. Of this total, 29,445 doses were administered on April 14 and 15,526 were administered on previous days but were entered into the vaccine registry on April 14.
The seven-day running average is now 38,728 doses per day.
Oregon has now administered a total of 1,242,066 doses of Pfizer, 1,069,417 doses of Moderna and 87,339 doses of Johnson & Johnson COVID-19 vaccines.As of today, 966,834 people have completed a COVID-19 vaccine series. There are 1,492,658 who have had at least one dose.
Cumulative daily totals can take several days to finalize because providers have 72 hours to report doses administered and technical challenges have caused many providers to lag in their reporting. OHA has been providing technical support to vaccination sites to improve the timeliness of their data entry into the state's ALERT Immunization Information System (IIS).
To date, 1,499,355 doses of Pfizer, 1,301,500 doses of Moderna and 215,000 doses of Johnson & Johnson COVID-19 vaccines have been delivered to sites across Oregon.
These data are preliminary and subject to change.
OHA's dashboards provide regularly updated vaccination data, and Oregon's dashboard has been updated today.
Lane County Experiencing COVID-19 Case Spike
Lane County is seeing another surge in COVID-19 cases, in large part because of small gatherings, spread in workplaces, and a significant increase of cases in K-12 students and staff.
Local case counts had recently plateaued, but from Wednesday to Thursday, the county saw a jump of 75 new cases, bringing the total case count to 11,430. While hospitalizations are down slightly, the county is still on track to being placed back in the state's "high risk" category if this continues.
"These latest numbers are very troublesome and represent what we believe is a surge," county spokesperson Jason Davis said. "I think the message the community is very clear, that when we let our guard down, this is what happens and fortunately we know how to counteract this."
Spread seen in K-12, other gatherings — The increase in cases is attributed to a few different causes, some major ones being households, small gatherings, workplaces and K-12 education.
"Since March 24, we've seen 93 K-12 cases, and that is very significant and represents some of the highest numbers of school-aged children that we've seen yet in the pandemic," Davis said. "I think the message to parents needs to be louder and clearer than ever about how to keep your kids safe and how to prevent transmission … ."
Some schools, such as those in Springfield, have been open to students since the first week of February in a hybrid learning model (some days at school and some days distance learning). The other two major metro-area districts — Bethel and Eugene 4J — brought elementary students back mid-March, with K-5 back the week after spring break, per Gov. Kate Brown's executive order.
Local schools also will need to bring all students through high school back for some form of in-person or hybrid learning by April 19, under that order. On Tuesday, Davis said virtually every district in the county was represented in the K-12 case count.
"We know that our school districts are laboring toward health and doing everything possible to protect the health of their teachers and students," Davis said. "Really what this boils down to is individual choices — parents making choices for their children, educating their children about the importance of the mask, which is no doubt a hard thing to do, especially with a younger child."
These individual decisions also go for school staff. — "We've had several cases of teachers who chose not to get vaccinated, and then unfortunately exposed colleagues and children," Davis said. "So I think we need to put the focus back on the good of the community and do everything we can to help protect our community through these pro-health measures like masking, distancing, even when it seems like we are approaching the end of pandemic.
"There's still obviously a lot of work to be done and a lot of opportunity for cases to spread if we let our guard down."
Davis also pointed to extracurricular activities, small gatherings, Bible studies and among workplaces.
Several variants have been identified in Lane County. Senior Public Health Officer Dr. Patrick Luedtke said that transmissibility of these variants is higher, which does impact an unvaccinated community. However, there's not as much severe disease from these variants as was expected when they first appeared last fall.
"Variants are a concern, but they're not scary," Luedtke said, but vaccination efforts need to continue as well as masking and other precautions.
Vaccinations — Vaccinations are also on the rise, with 46.52% of the adult population having received at least one dose, and 27.8% fully vaccinated. This equals 86,187 people fully vaccinated.
These preventative measures are stymying hospitalizations, which decreased to 10 people on Thursday and two in intensive care.
"Looking at our community immunity that 70% to 75% of our overall population needs to be vaccinated to prevent large scale outbreaks, we need your help in that — so please do not hesitate or wait to get your vaccination," Davis said.
Vaccinations are also notably up in racial and ethnic minority groups, said Martin Allums, one of the county's BIPOC community communication liaisons.
"We talk about COVID-19 and how communities of color have experienced the higher (case) rates as well as lower rates of vaccinations, and now we've seen how our response has helped to alleviate some of their day-to-day effects," Allums said.
A vial of COVID-19 vaccine awaits distribution at a drive-thru Lane County clinic.
Through community partnerships and county communication, they have vaccinated more than 14,000 individuals who identify as Black, Hispanic or Pacific Islander, and an overall increase in sign ups for Latino community members. They are continuing to expand outreach to Asian American Pacific Islander communities and others.
The Eugene Mission also now has a 90% vaccination rate for current residents.
Administration of the Johnson & Johnson single-dose vaccine is still paused as the FDA reviews the six cases of a rare and severe type of blood clot in women ages 18-48. The county is still expecting an increase in vaccine allotment from the state; however, part of the increase was supposed to be those Johnson & Johnson doses.
The county is continuing to do weekend clinics, especially with a focus on second-dose booster shots. Starting Monday, residents will be able to schedule appointments on the county's website for first and second doses up to two to three weeks out, which was not available before.
South African Variant Turns Up In Oregon
Oregon's top state epidemiologist said Wednesday that the state has detected its first cases — eight in total — of the B.1.351 coronavirus variant that has been linked to South Africa.
State epidemiologist Dr. Dean Sidelinger told a group of state lawmakers that other COVID-19 "variants of concern" first linked with Brazil, the United Kingdom and California also increased by notable levels. The reported numbers jumped from April 5 to April 10 — with the latest figures just showing up on the Oregon Health Authority's website Wednesday.
Experts are closely watching the spread of variants in Oregon and across the globe — saying they could complicate efforts to reach herd immunity as they continue to mutate and attempt to evade the effectiveness of current vaccines.
The B.1.351 variant previously hadn't been identified in Oregon before last Saturday. It's thought to possibly be more contagious and more successful at undermining the effectiveness of current vaccines.
Sidelinger said he has no data yet on whether the eight cases were among people who'd recently traveled to countries with higher rates of B.1.351 or whether any of those infected are linked to each other. More than 450 cases of B.1.351 have been identified in at least 35 states other than Oregon, according to the Centers for Disease Control and Prevention.
Cases of P.1, initially linked to Brazil, grew from one previously reported case to a total of four. The strain is believed to be more contagious and possibly in the process of mutating to become more successful at evading the effectiveness of current vaccines.
The state reported a more than three-fold increase in cases of B.1.1.7, the variant first detected in the United Kingdom — from 22 to 69.
"We're seeing a fairly significant rise in B.1.1.7," Sidelinger said.
B.1.1.7 is thought to be 60% more contagious and studies show conflicting data on whether it causes more serious disease than the strains that had been dominant in the United States up until last week, when federal officials said B.1.1.7 had taken over as the most common strain.
"I think the verdict is really still out on whether this is more transmissible and more serious or just more transmissible," Sidelinger said.
The variants first identified in California, however, continue to show up in higher numbers in Oregon than all the other variants of concern combined. Reported cases of those strains, B.1.427 and B.1.429, more than doubled in Oregon, from 271 to nearly 600 from April 5 to April 10.
Experts say the number of reported cases of any of these variants of concern are only a fraction of the true number. Sidelinger said the state is testing about 2.6% of cases for variants — ranking it fifth highest in the nation among states conducting genomic sequencing.
As of Wednesday, the state reported more than 172,000 known COVID-19 cases since the beginning of the pandemic last year.
Testing event at "The Cut" is a step to building trust with folks living on the street
A lot of people camp out and live along a bike path in the St. Johns neighborhood of Portland. The area is informally known as "The Cut." In March, Oregon Health Authority (OHA) worked closely with grassroots activists and community organizations to test 49 people living there for COVID-19.
It was an event that required careful planning to establish trust. "This is a population where we need to be especially mindful," says Mehera Christian, regional testing coordinator at OHA.
"These are individuals with complex physical and mental health issues. There is a lot of fear and mistrust. We work with community partners who know and serve the community to help connect with sensitivity and compassion."
Every Saturday, grassroots activists and organizations go to a central location along the path with services and supplies. People who live there go to get food, blankets and socks, or to recycle their bottles and cans to get money back.
A couple weeks ahead of the testing event, OHA staff went out with trusted community partners to introduce themselves and spread the word about the upcoming testing event.
"We were able to find out what some of their concerns were before the day of testing. They heard about the event and could ask questions, and then they knew some of our faces when we came back," says Christian.
One key partner was Portland People's Outreach Project (PPOP). The all-volunteer organization has been doing emergency and outreach work directly along The Cut for two years. To reduce risk, they provide clean syringes, Naloxone (Narcan) and other supplies directly to users.
That part of town, says PPOP volunteer Sam Junge, is especially short on low-barrier health services. The testing event, he says, was a start to establishing trust and affirms the need for health services in this area going forward. Junge also added that "it's a testament to the importance of serving and investing in people who use drugs."
OHA staff brought a mobile lab to The Cut and tested 49 people in two hours using rapid results tests.
"We were set up for motel referrals and had transportation arranged if people tested positive," says Junge. But there were zero positive tests.
"It's just a big relief for people," says Christian. "They're aware of the risks and, of course, being on the street, they're especially vulnerable. If we make it past the trust issue and people see you're there and caring and wanting to help, there's a real gratitude."
LOCAL HEADLINES:
FEMA Officials Deal With Visitors Carrying Guns Near Reedsport Wildfire Victim Housing Site
FEMA officials are still trying to combat misinformation about why they're parking trailers at an old mill site north of Reedsport.
The empty field in Gardiner is being used as a parking lot for trailer homes destined for wildfire survivors across the state — and not for any of the purposes that have cropped up on social media and in the minds of armed visitors who confronted guards at the site.
According to Toney Raines, FEMA's federal coordinating officer for Oregon, the trailers are just for Oregonians who lost their homes in last summer's disastrous wildfires, not for housing undocumented immigrants, those who won't give up their guns or those who won't get vaccinated, as some online have posited.
"Without any yielding, any explanation, those rumors are false," Raines said Friday in press conference FEMA officials set up to combat the misinformation. "These units are specifically acquired to help the citizens of Oregon who have been impacted by the wildfires."
The long-empty lot is just one piece of the puzzle to deliver the trailers to survivors and manage the agency's direct housing relief program, according to Oregon Emergency Management Director Andrew Phelps.
"Recovery is a complex operation, and this is certainly the most complex disaster our state has ever faced," Phelps said Friday.
The trailer parking lot has been the subject of rumors for weeks, since the trailers first appeared with guards and security equipment in tow. Those rumors have appeared most often in hyper-local Facebook groups dedicated to sharing news and local events in the Reedsport area.
"Our government is shady now and untrustworthy. Until we hear the truth no one will believe why there really there," one commenter wrote in one such group late last month.
The tide of misinformation began to turn as other commenters pointed out the unlikeliness of those theories, and as The World spoke with FEMA officials about the site — but not all were convinced.
"Still not buying the story about why the (FEMA) trailers are in (Gardiner)," another commenter wrote in a post last week. "It (doesn't make) sense…."
And the misinformation hasn't been limited to cyberspace.
Earlier this month, several individuals showed up to the site and questioned the security guards there, according to Raines.
One of the individuals was openly carrying a firearm, but didn't brandish their weapon, Raines said.
"That does make us somewhat concerned," Raines said. "Everyone has a right to bear their arms as appropriate under the state laws, we would not infringe upon those rights. But we are concerned when people start showing up with those type of sidearms, for the safety of all the employees and the individuals themselves."
According to Raines, the Gardiner site was picked among many because it's within a few hours' drive of where the units will be moving — namely Jackson, Linn, Lane, Lincoln and Marion counties — and is the right kind of space to move the units in and out over several months.
FEMA teams will be onsite for several months, Raines said. FEMA has been working on helping survivors of the wildfires since they began and is slated to continue doing so until at least next March.
Between now and then, Raines said he expects around 100 or so more trailers to move through the site.
The staging site is important because of the logistics involved, Raines said: The trailers come from Texas, and take about 10 days to arrive. But housing parks can be ready to accept them at any time, and the agencies don't want to have to wait all that time for the trailers to arrive.
"So, it can be a challenge, by the time a site becomes available, if we have to wait 10 additional days. Because every day we wait is another day a survivor waits," Raines said.
Some online have been concerned by the level of security the site is under, with new fencing, signs and private security guards. That's standard practice, and keeps the site safe as heavy equipment moves around, according to Raines.
"We are the federal government," Raines said. "We have an obligation to protect federal property. It is standard — especially in these storage areas — that we do assign guards to those sites to oversee and watch the facility and to protect the property that we've brought here to help disaster survivors recover."
According to OEM's Phelps, local residents are right to notice the work that's going on.
"It looks a little out of place, out of normal. I get that, it is out of place and out of normal. We don't have disasters like this every year," Phelps said.
The relief effort isn't the first time the summer's wildfires have been the subject of misinformation. Soon after the fires began burning, rumors that they'd been set by Antifa, a loosely defined leftist group, were quickly spread online and debunked by law enforcement agencies.
"From the time these fires started, there was, I think, misinformation, perhaps disinformation about the cause of the fires, and certainly now we're hearing the same rumors that the media's hearing about the use of the storage site," Phelps said.
Still, the disasters and subsequent relief efforts won't be the last in the state, Phelps said, noting Oregon's wildfires will continue to worsen, and the state always faces the possibility of a devastating earthquake.
"2020 was not an anomaly," Phelps said. "2020 was an indicator of the types of disasters we'll be facing in the future."
The officials said Friday that anyone who's still in need of housing as a result of the wildfires can call 211 or can contact FEMA if they're already signed up with the agency by calling 1-800-621-3362.
This follows story we reported earlier in the week: FEMA Trailers Being Used for Oregon Wildfire Survivors Brings Out Gun-Toting Conspiracists
Federal officials say that trailers at an industrial site in Medford, which were rumored to house unaccompanied immigrant children, are actually for survivors of the September 2020 wildfires. Rumors spurred people with guns to show up at the site to protest the presence of the trailers.
A new staging area for wildfire disaster trailers has rumors flying and has attracted visitors armed with guns.
The Federal Emergency Management Agency has about a hundred trailers set aside for wildfire survivors from Jackson County.
It originally had those trailers staged at the Jackson County Fairgrounds, known as the Expo, as officials looked for potential housing sites nearby. But they recently had to relocate them three hours away to an old mill in Gardiner, which is on the coast north of Reedsport.
Since then, FEMA officials say they've been fielding phone calls from locals concerned about the trailers' sudden appearance.
"A lot of conspiracy theories that we were developing this RV park for immigrants from the southern border," says FEMA spokesman Paul Corah. "The truth is we need those mobile homes for fire survivors in Oregon."
Some calls have come from local and national media, including two people who said they represented the American Free Press, a far-right newspaper. Corah says they showed up to the site carrying sidearms — which alarmed some FEMA staffers — but the incident ended without physical confrontation. The newspaper didn't respond to requests for comment.
Despite the rumors, Corah says all of these trailers are intended for wildfire survivors and the agency isn't currently housing undocumented immigrants in Oregon.
Officials say the group did not brandish their weapons in a threatening manner and no one was hurt.
Toney Raines, the Federal Emergency Management Agency's coordinating officer for the state of Oregon said Those rumors are false. We are not utilizing the manufactured home units or any of the travel trailers to house unaccompanied immigrants or individuals who are crossing the border in the south, the north or any other border. The trailers and units have been hauled to several communities impacted by the fires, including 96 in Jackson County.
Escaped Debris Burns Causing Fires Along the Coast and Throughout Western Oregon
Southwestern Oregon fire officials are urging property owners to exercise caution after crews responded to five small fires Tuesday.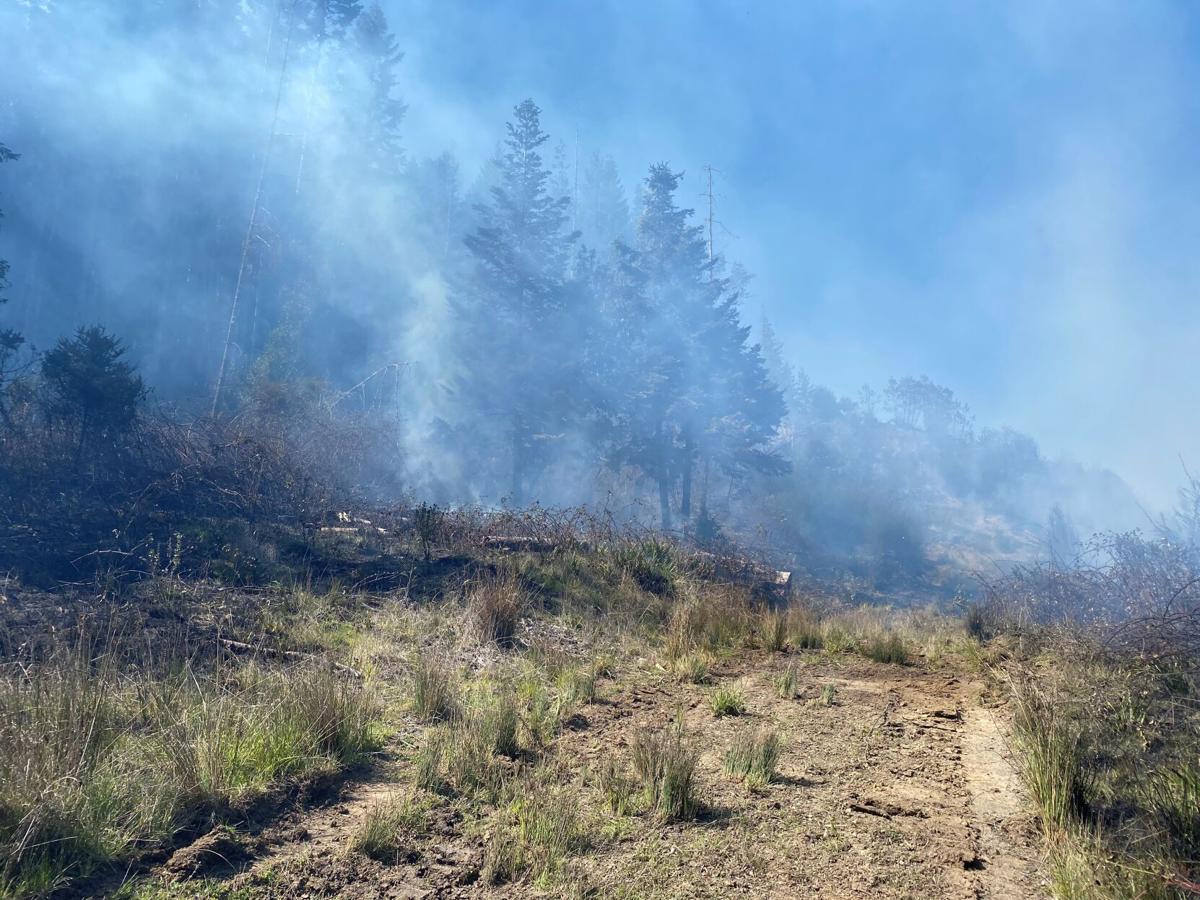 "If you don't need to burn, hold off on burning," said Jef Chase, a spokesperson for the Coos Forest Protective Association, Wednesday.
According to Chase, the five fires Tuesday were sparked when high winds pushed debris burns into surrounding areas with unusually dry fuels.
Tuesday's first fire was reported in the Gaylord area south of Myrtle Point, and burned about a quarter of an acre. Several engines and pickups responded and, while on the scene, were called to another fire.
That one, near Dement Creek west of Gaylord, was the largest fire crews responded to throughout the day, totaling between 10 and 15 acres, according to Chase.
Additional fires included a half-acre fire on the Coos River, a tenth-acre fire in Lee Valley east of Coquille and a fire of unknown size near Port Orford.
The fires, while small, are unusual this early in the year, Chase said. This year, the weather has kept fuels across the region drier than usual.
"Normally April and May, we get some good, decent rainfall," Chase said. "But this year, we haven't had the consistent rainfall, so we haven't gotten the green-up."
What's more, cold temperatures night contribute to the drying, by freezing moisture and bringing it to the surface of fuels to be evaporated by morning sun, Chase said.
Tuesday's fires came before CFPA had completed its hiring for the summer season, meaning the agency called anyone they had available to assist on the fires. A Shutter Creek Correctional Institution crew assisted on the Dement Creek fire, as did the Myrtle Point Fire Department, Chase said.
"Anybody that's available, we send them out there," Chase said.
The five fires were not the cause of light smoke in the air some county residents noticed midday Wednesday — that came from a controlled burn in Douglas County, according to fire officials.
"There were two burns ignited (Wednesday) morning for about 1,700 tons in (northwestern Douglas) County about 33 miles (north-northeast) of Coos Bay," Oregon Department of Forestry spokesperson Jim Gersbach said. "Coos Bay had a light smoke impact (incident) from those burns."
According to Chase, the early fires are a sign to residents to be cautious when burning debris, especially in high winds and on dry days.
Not having a safe clearing around piles, leaving piles unattended, failing to make sure the pile is completely out before adding to it and burning too large a pile can all be causes of debris burn escape, Chase said.
"A lot of folks have burned for years, and never had a problem — they usually don't until they do," he said. "They definitely don't want to be one of the folks that has several fire departments at their house putting fires out."
The South Coast's fires weren't the first in Oregon this year: ODF said Tuesday the agency has already responded to 70 fires this spring, more than three times as many as an average year.
CFPA's fire danger remains low, but Chase said the agency will continue monitoring the spring's weather and could declare a fire season and prohibit certain activities, as it did last summer. The agency updates fire risk and restrictions on its website at www.coosfpa.ne
AROUND the STATE of OREGON
Red Flag Warning Issued for Much of Northwest Oregon – The West Coast Experiencing Increased Risk of Fire Danger
Much of northwestern Oregon will be under a Red Flag Warning on Friday, according to the National Weather Service.
Starting Friday morning, the warning will last into the evening, from 11 a.m. until 10 p.m. Red Flag Warnings are issued when warm temperatures, combined with low humidity and gusty winds create an increased risk of fire danger.
According to the NWS, northeast to east winds of 10 to 20 mph, with gusts up to 35 mph, are expected late Friday morning and will last through the day. Minimum humidity is projected to be around 15 – 25%.
The warning covers the Willamette Valley and extends west out to the coastal towns of Florence and Newport, as well as northwest of Portland.
The memory of wildfires from last fall are still fresh. And fire officials are taking extra precautions as the weather turns hotter and drier. On Wednesday, several counties, including the tri-county area, implemented burn bans. This restricts the outdoor burning of yard debris, campfires, and fire pits.
It comes after several counties in the Portland Metro area issued burn bans on Wednesday, including Washington, Clackamas, and Multnomah counties. Polk, Linn, Marion, Yamhill counties also announced burn bans, as well.
On Thursday, Clark County and Cowlitz County also issued temporary burn bans.
The wildfire season "is coming quickly and it's coming earlier."
That's the message from meteorologist Eric Kurth and the National Weather Service in Sacramento, California, as the state deals with a crippling drought and vegetation and grasses that are already beginning to brown.
"We are seeing record levels of dryness for this time of year. It's more like what we would see later in June than mid-April," said Kurth.
He is concerned about this year's fire season on the heels of an extremely dry year in 2020, and the most active fire season that California has ever recorded.
Vegetation still dormant, making fires more likely
Someone who gets up close to California's vegetation is Craig Clements. He's a professor of meteorology and director of the Fire Weather Research Laboratory at San Jose State University.
He and his students visit various sites every two weeks to take samplings of the plants to study their moisture content. On April 1 they noticed something quite alarming when they went to Blackberry Hill just outside of San Jose. He tweeted this graph that illustrates the grim discovery.
"April 1 is usually the time of year we have the highest fuel moisture content, and this year they are still dormant because lack of rain," said Clements.
"They are stressed and there's no new growth. The plants aren't responding because of the lack of moisture." In fact, two out of the three sites they visited, plants were showing no new growth.
Moisture in plants and new growth are what California depends on to help keep wildfires at bay. When the plants lack moisture, fires ignite much more easily and spread faster.
Clements' trip up to Blackberry Hill uncovered a record low for new growth. A dire situation, but one he isn't surprised by. "It's a telling sign of the impact of drought," said Clements.
He said the plants still have a small window of time to sprout new growth, but because of the delay in new growth, the plants most likely won't reach their peak and will dry out faster.
Clements said this could lead to more large fires in June than California typically would see.
California's worsening drought
California depends on atmospheric rivers, or plumes of moisture, streaming in off the Pacific to bring in much needed rain each year.
This year, most of the rain events followed a more northerly track, sending a huge majority of the rain and moisture to the Pacific Northwest.
Clements watched these weather events miss Central California time and time again.
"It was dry in January and February, then there was no miracle March," he said. The result is that 92% of the state is now under drought conditions, which is the largest percentage since March 2016.
"It could be a big year when it comes to fire acres," he said. "Climate change has impacted our fire season."
Climate change is causing tremendous variations in our day-to-day weather. The world is experiencing more weather extremes, and the West Coast is feeling the effects.
The state is 70% below normal for total precipitation this water year. The water year begins October 1 and last through September 30 of the following year.
The rainfall deficit is 50 inches below normal, leaving many of the reservoirs extremely low. The California Department of Water Resources is forecasting the statewide reservoir storage to be about 60% of normal after the snowpack melts.
The Sacramento Valley usually receives about 85% of its water supply by April 1. This year it has only received just 43%. Many of the streams in this region are flowing at less than 10% of normal. It's a huge wake-up call for the area as it stares head-on at the upcoming fire season.
"We're seeing more extremes in terms of year-to-year — big pendulum swings from wet to dry. It's very unusual," said Kurth. He worries that these extremes are making the vegetation more vulnerable and unable to recover from one year to the next. "We get these extremes and in recent years it's been even more extreme," he says.
Last year, California wildfires burned more than 4.2 million acres. The August complex Fire alone, burned more than 1 million acres — something California hasn't seen before. In response, California's Gov. Gavin Newsom has signed a landmark $536 million wildfire package that will accelerate projects to protect high-risk communities.
'Every year we keep topping the year before'
Chief Jesse Alexander is with the Yuba City Fire Department, north of Sacramento. He along with 51 other firefighters have been on the front lines of some of the most devastating fires in California's history.
He lists several of the most horrific fires that California has ever seen. He fought the Camp Fire within his own community and explains the toll it takes on the department.
"The Camp Fire impacted you because of the loss of life and devastation, it's overwhelming." The Camp Fire was the most deadly and destructive wildfire in California's history — killing 85 people and nearly wiping the town of Paradise off the map. It burned nearly 19,000 structures. Luckily Alexander's home was spared.
"Every fire is different, but it seems to keep escalating. Every year we keep topping the year before," said Alexander.
Alexander said his department will deploy for several weeks at a time. "Especially when there is a fire with a large loss of life, those start to take a toll on you."
He and his colleagues are many times fighting fires while they don't know if their own families are safe or if they will have a home to return to. It's a grim reality they face, yet they continue to fight on the front lines.
Staying fire aware
Clements and his students will continue their bi-weekly treks, visiting sites to check for growth. They hope in the tiny window that's left for growth, plants will quickly begin to sprout. "Fuel moisture content is one of the most important factors of fire behavior. It's very critical, so we are constantly monitoring," said Clements.
But in the meantime, Clements stresses the importance of the public staying vigilant. "If we don't have an ignition, then we don't have a fire," he said.
Check the fire weather in your area
"People need to be aware there is a high threat and this year that threat is coming earlier. The grasses are drying out sooner, so things are quicker in terms of us getting into that extreme fire season. Be careful you aren't a part of starting these fires," said Kurth.
The weather service also suggests that people should make a defensible space if they live in vulnerable areas.
Create a buffer between vegetation and your home. Also, have a "go bag" and a plan ready in case you need to evacuate. The time to plan is now, before it's too late.
OREGON LEGISLATIVE NEWS:
— Democrats have agreed to give up an advantage in redrawing the state's political districts for the next 10 years in exchange for a commitment from Republicans to stop blocking bills in the Oregon Legislature with delay tactics. Oregon Public Broadcasting reports the surprise deal was reached Wednesday evening after a weeks-long standoff. With the agreement, Democrats, stymied so far despite holding supermajorities in both legislative chambers, appear to have gained an easier path to passing much of their agenda. But they've essentially granted veto power to
Republicans, who can now block any map of legislative or congressional districts from passing.
— Democratic U.S. Senator Ron Wyden of Oregon is voicing his support for a proposal to end the draft. Wyden, who is co-sponsoring the bill, says the Selective Service program disproportionately harms disadvantaged young men and should be eliminated. He adds that it costs 25-million dollars a year to operate. Republican co-sponsor Senator Rand
Paul of Kentucky says it's been 50 years since the draft was used, and he believes thatif Congress votes to declare a war, people will volunteer to serve.
— Oregon's U.S. Senator Jeff Merkley is one of the chief sponsors for a bill that proposes greatly expanding Medicare access — a potential stepping stone to "Medicare for All," Merkley's office said in a statement. Merkley joined Democratic Senators Chris Murphy of Connecticut and Dianne Feinstein of California in introducing the bill, dubbed the Choose Medicare Act. According to Merkley's office, the bill would allow anyone who is not currently eligible for Medicaid or Medicare the opportunity to enroll in Medicare as an individual, and allow employers the ability to purchase Medicare coverage for employees. If passed, the bill would create an addendum to Medicare,
called Medicare Part E, that would be open to consumer access. Merkley's office said that the Medicare expansion would be "fully paid for by premiums" and would be offered on all state and federal exchanges. Current Affordable Care Act subsidies would then apply to help pay for it. Employers would also be able to choose the new Medicare Part E instead of a private insurance plan.
Man Dies After Arriving At Eugene Hospital With Gunshot Wound
Eugene Police Department's Violent Crimes Unit is investigating a gunshot wound death that happened Wednesday evening, EPD said.
Around 6:18 p.m. on April 14, a man came to University District Hospital on Hilyard Street with a gunshot wound.
"He subsequently died of his injuries," police said Thursday night. Eugene Police Patrol as well as Violent Crimes Unit responded. Victim identification is not being released at this time, pending next of kin notification.
EPD VCU is continuing the investigation. If anyone has tips in the case they are asked to call (541) 682-5166 for Detective Curry and reference the case No. 21-05675.
KNOW WHAT'S BELOW, CALL 811 BEFORE YOU DIG
April is National Safe Digging Month
SALEM, Ore. – In honor of National Safe Digging Month, Oregon's Public Utility Commission (PUC) reminds Oregonians to call 811 at least two business days before digging to have underground utility lines marked to avoid life-threatening injuries and prevent damage to necessary services.
"With the continuation of the pandemic into 2021 and the return of nice weather, we recognize more people may be spending time doing yard-improvement projects, so we want to remind homeowners and contractors to call 811 before any digging is done to reduce the risk of striking an underground utility line," said Megan Decker, PUC Chair. "This is essential to ensure utility services are not interrupted for community members as we continue to deal with COVID-19, as well as to avoid costly repair bills."
The Oregon Utility Notification Center, who operates the free 811 one-call center, notifies the utility companies that serve the area of the planned project. Utility personnel then visit the project site to mark the approximate location of the underground lines, pipes and cables in the planned digging area at no cost to the homeowner.
"Never assume a digging project is too shallow and won't hit a utility line," added Decker. "Whether planting a tree or a shrub, building a deck, or installing a fence, always call 811 at least two business days ahead to have your lines located. This is the only way to know what's below."
Statistics show that a majority of line strikes occur during the warmer months when excavation and construction work is being done. In 2019 an estimated 453,766 line strikes occurred nationwide, 22 percent of which were due to insufficient notice to the 811 service.
Call 811 or visit digsafelyoregon.com to submit a locate request or to learn more about safe digging practices.
NASA Launches Research Balloon Over Oregon
A NASA-sponsored research team launched the balloon at about 6 a.m. Thursday from the Madras Municipal Airport. The balloon carried a 100-pound cone-shaped device that later in the day was dropped with a parachute over the high desert east of Prineville.
The 150-foot-tall balloon, made of plastic thinner than a sandwich bag, rose above the high desert at sunrise with the goal of helping future missions in space. The helium-filled balloon shined in the early morning sunlight as it disappeared into the atmosphere, on its way to an altitude of 110,000 feet.
"That went well," said Kevin Tucker, president at Near Space Corp., who oversaw the test flight. "It's always interesting. The wind was actually changing, and that's a big deal. We were very careful about that."
Tucker's company, which produces balloons for scientific tests, partnered with researchers from the University of Kentucky to launch the balloon and test a delivery system that could be used to return individual items from the International Space Station back to Earth. The team tracked the balloon's flight Thursday and recovered the dropped device.
"The Kentucky team will be gathering a lot of data as this travels from 110,000 feet back to the Earth's surface," Tucker said before the flight.
The university engineering students call the delivery system the Kentucky Re-Entry Universal Payload System and their research was sponsored by NASA's Flight Opportunities program, said NASA spokesperson Megan Person.
"The flight aims to enable testing of the technology's electronics and communications systems in preparation for further research as part of a commercial resupply mission to the International Space Station later this year," Person said.
NASA regularly identifies projects, such as the balloon launch, and connects research teams with companies and locations to help generate a test. In this case, NASA connected the Kentucky students with Tucker's company and coordinated with the Madras airport.
"Today's successful flight is one example of how the Flight Opportunities program helps advance promising space technologies before they move on to riskier orbital missions," said Paul De Leon, NASA Flight Opportunities campaign manager.
Tucker and his crew originally scheduled the balloon flight Wednesday, but called it off because of high winds. On Thursday, conditions were mild enough to allow the launch.
Tucker, who runs his company out of Tillamook, said Madras was the ideal location for the balloon flight. The open spaces around Madras offer several options to drop and retrieve the device from the balloon, Tucker said.
In addition, the Madras airport is smaller and quieter than other commercial airports in the region, which allows the team to work without interfering with other aircraft. The team still has to coordinate with the Federal Aviation Administration.
"The airport doesn't have a huge amount of traffic," Tucker said. "We are not causing mayhem if we do a launch."